Home
The Nation
Senate confident of passing legislation under bicam, treaties despite Congress suspension due...
Senate confident of passing legislation under bicam, treaties despite Congress suspension due to COVID surge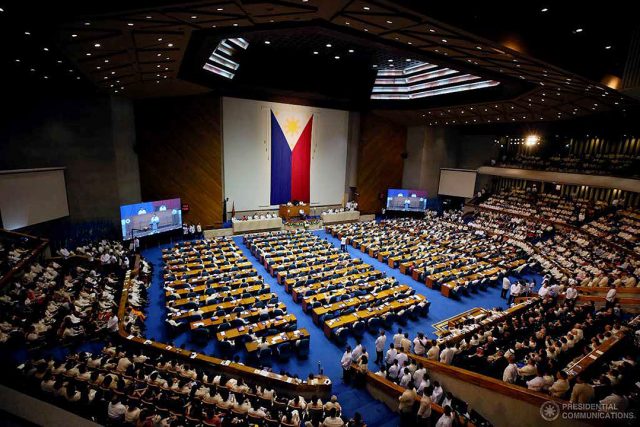 BOTH CHAMBERS of Congress have declared a suspension of plenary sessions this week due to a surge in coronavirus cases among staff and members, but the Senate leader is confident that legislation before the bicameral conference committee and pending international treaties will be passed before the recess for the May elections.
"It's a blessing in disguise that the bicams are scheduled this week so that when we resume on Monday, hopefully, most if not all bicameral conference committee reports will be ratified by the Senate," Senate President Vicente C. Sotto III said in a Zoom meeting with reporters on Tuesday. 
Other scheduled committee hearings in both the Senate and House of Representatives will also push through online. 
Congress will take a recess from Feb. 5 to May 22 in line with the May 9 national and local elections. 
Some bills due to be ratified are the consolidated versions of the Public Service Act amendments, SIM Card Registration Act, the National Transportation Safety Board, Teacher Education Excellence Act, Night Shift Differential Pay bill, Judiciary Marshalls Act, and the Expanded Solo Parents Welfare Act. 
On international treaties awaiting ratification, Mr. Sotto said the Regional Comprehensive Economic Partnership, Treaty to Reduce Statelessness, and Arms Trade Treaty have already been sponsored at the plenary.
"There are three treaties pending," Mr. Sotto said, "so we will have two weeks to do that, but I think by Monday we will be able to ratify these three treaties and if a third reading is necessary, we have enough time to do that."
The Senate chief also said they are eyeing to rush the passage of a bill mapping out the Philippines' maritime zones and the proposed law seeking to provide allowances and benefits to all health workers.
The proposed Financial Consumer Protection Act (FCPA), however, will likely be taken up after the elections, he said.
The Senate suspended sessions this week as 88 of its on-site workers reported positive for coronavirus. 
"We want to allow the COVID surge with the Senate to simmer down. Too many positives and in quarantine both with the Secretariat and senator's staff," said Mr. Sotto in a Viber message to reporters late Monday.
HOUSE
At the House of Representatives, Speaker Lord Allan Jay Q. Velasco said more than 70 members and employees have contracted the virus since the start of the year and many others are under quarantine or isolation.
The chamber on Monday was able to approve 19 bills on third reading and ratify the bicameral committee report on House Bill 10123 or the Electric Vehicle Industry Development Act. 
Of the 19 approved bills, 10 were national bills including granting more benefits to senior citizens, aid for higher education, rural financial inclusion, and a tax exemption that will help the entertainment industry bounce back from the pandemic's impact.
Among the proposed measures that need to be finalized by the bicameral committee include the bill on creating a separate facility for high-level offenders, regulating the promotion and usage of vape, amended Contractor's License Law, and mandatory installation of communal weighing scales in public and private markets. 
"The House will resume session on Jan. 24 and we hope that the COVID-19 (coronavirus disease 2019) situation has already improved by then so we could finish all pending priority measures before we adjourn for the election period," Mr. Velasco said. — Alyssa Nicole O. Tan and Jaspearl Emerald G. Tan