Home
The Nation
Diokno needs stronger support to win his second try for the Senate 
Diokno needs stronger support to win his second try for the Senate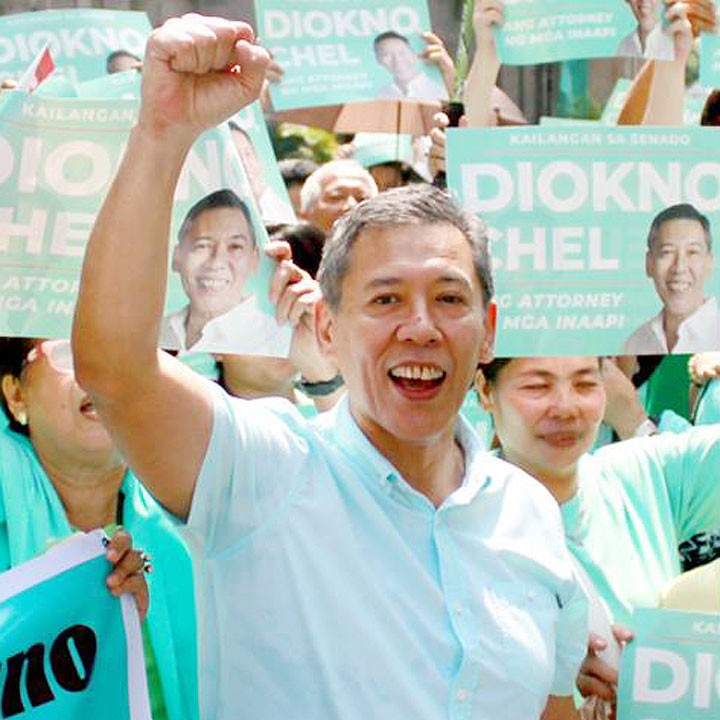 STRONGER SUPPORT from various sectors would be needed for opposition candidates such as human rights lawyer Jose Manuel "Chel" I. Diokno to win a Senate seat in the 2022 national elections, according to a political scientist.   
"In 2019, compared with other Otso Diretso candidates, he has made some headway with some millennials through social media. He needs to have a stronger civil society and youth voters' support this time," said Maria Ela L. Atienza, a political science professor at the University of the Philippines.    
Mr. Diokno confirmed his 2022 senatorial run as an independent candidate in an interview with One News' The Chiefs on Sept. 14, saying that the political landscape has changed since his first run in the 2019 midterm elections with other opposition candidates as part of the Otso Diretso team.  
Mr. Diokno currently serves as chair of the Free Legal Assistance Group, an organization of human rights lawyers that represent activists, urban poor, and journalists, among others.    
"If the genuine opposition can field a complete ticket… that balances principles and stronger presence with more resources and grassroots support, Mr. Diokno will have higher chances," Ms. Atienza said in a Viber message.  
She added that the effect of the coronavirus pandemic on national politics along with conflict between factions of the ruling Partido Demokratiko Pilipino–Lakas ng Bayan (PDP-LABAN) party could open up an opportunity for Mr. Diokno.  
However, Michael Henry Ll. Yusingco, a senior research fellow at the Ateneo de Manila University Policy Center, said that Mr. Diokno will have to differentiate himself from a "crowded" field of re-electionists and traditional politicians running next year.  
He also said that voters can still "tune out candidates who offer nothing but criticism" despite Filipinos being more vocal about their opinions on the government. "I think he should run on a simple and coherent legislative agenda, one that can be easily understood by voters," Mr. Yusingco said.  
Mr. Diokno said that his platform will not only focus on strengthening the justice system but also addressing immediate matters on the government's pandemic response such as delivery of health services, assisting badly-hit small to medium enterprises, and the right to accessible education. — Russell Louis C. Ku