Philippines to resume use of AstraZeneca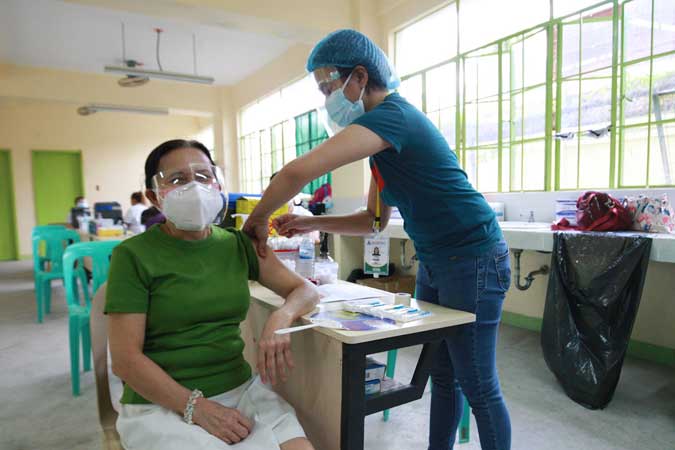 By Vann Marlo M. Villegas and Kyle Aristophere T. Atienza, Reporters
THE PHILIPPINES will resume using AstraZeneca Plc's coronavirus vaccine for people below 60 years old, health authorities said on Monday, noting that the benefits outweigh the risks.
The Department of Health (DoH) had approved the recommendation of the local Food and Drug Administration (FDA) to continue the use, Undersecretary Maria Rosario S. Vergeire told an online news briefing.
"The benefits outweigh the risks," she said, adding that guidelines on the use of the vaccines would be issued.
People especially those taking blood thinners would be asked to take extra precautions.
The Philippines suspended the use of the AstraZeneca vaccine for people below 60 years after European regulators found possible links between the shot and rare cases of blood clots.
Local health authorities earlier said they had not received reports of blood clots.
The Philippines in March took delivery of 525,600 doses of AstraZeneca vaccines under a global initiative for equal access.
CASE TALLY
The Department of Health (DoH) reported 9,628 coronavirus infections on Monday, bringing the total to 945,745.
The death toll rose by 88 to 16,048, while recoveries increased by 9,266 to 788,322, it said in a bulletin.
There were 141,375 active cases, 96.9% of which were mild, 1.5% did not show symptoms, 0.5% were critical, 0.7% were severe and 0.43% were moderate.
The DoH on April 2 reported the highest daily tally of 15,310 cases since the pandemic started last year.
The agency said 16 duplicates had been removed from the tally and 19 recovered cases were reclassified as deaths. Four laboratories failed to submit data on April 17.
About 10.5 million Filipinos have been tested for the coronavirus as of April 18, according to DoH's tracker website.
The coronavirus has sickened about 142 million and killed three million people  worldwide, according to the Worldometers website, citing various sources including data from the World Health Organization.
About 120.6 million people have recovered, it said.
More than 1.4 million coronavirus vaccines have been given as of April 18, according to the presidential palace. Presidential spokesperson Herminio "Harry" L. Roque, Jr. told a televised news briefing on Monday 198,534 Filipinos have been fully vaccinated, while 1.27 million have received their first shot.
He said about 1.16 million health workers have been vaccinated against the coronavirus. Of the total, only 198,543 received their second dose.
Mr. Roque said 573,700 Metro Manila residents have gotten the shots, 68, 522 of whom received their second dose. He said 68% of intensive care unit (ICU) beds for coronavirus patients in the country have been used.
About 49% of isolation beds have been used and more than 50% of ward beds were already occupied. More than 80% of ICU beds in Metro Manila have been used.
The FDA earlier said 16 out of about 200 million people vaccinated with the AstraZeneca drug had reduced platelet counts.
The findings mostly applied to females aged 60 years old and below, FDA Director-General Enrique D. Domingo had said.
Vaccine czar Carlito G. Galvez, Jr. earlier said the country would take delivery of almost a million more doses of AstraZeneca vaccines this month. But the shipment was postponed due to global supply problems.
Manila was using diplomatic channels to get the doses as soon as possible, he added.
The Philippines initially received half-a-million doses of the AstraZeneca vaccine, which it had used together with Chinese-made CoronaVac since it started vaccinating Filipinos on March 1.
The vaccine is 70% effective after the first dose, according to the FDA.