Some PBA teams girding for return to practices in NCR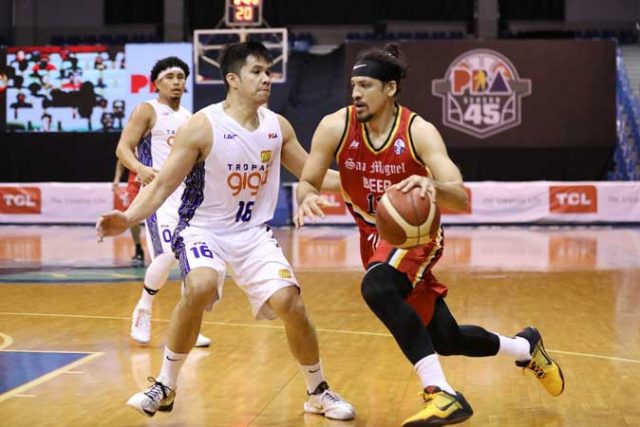 IF plans push through, Philippine Basketball Association (PBA) teams could return to practices within the National Capital Region (NCR) beginning this week.
Following the government's announcement last week that NCR and the nearby provinces of Bulacan, Rizal, Cavite and Laguna would revert under General Community Quarantine (GCQ) setup from May 15 to 31 from Modified Enhanced Community Quarantine, some teams began moves to have their practices held in Metro Manila.
Said teams have already applied for permission in various local government units (LGUs) their training venues are located to allow them to proceed.
Earlier, the PBA secured the approval of the Inter-Agency Task Force for the Management of Emerging Infectious Diseases (IATF-EID) to resume practices in GCQ areas as it positions to start its delayed Season 46.
It made arrangements with the LGU of Batangas City for the area to serve as host for the practices of at least half a dozen teams while other squads eyed GCQ areas up North to train.
But with NCR and nearby areas going back to GCQ, some teams reportedly were eyeing to stay within Metro Manila.
"Everyone's happy hearing the news of Metro Manila shifting to GCQ. They just need to get LGU permits and Metro Manila training is a go," PBA Commissioner Willie Marcial was quoted as saying by the league's official website.
Among the activities PBA ball clubs are allowed to do upon their return in an NCR training are 5-on-5 scrimmages, in line with the resolution issued by the IATF.
They are also expected to adhere to the guidelines under the Joint Administrative Order (JAO) collectively issued by the Games and Amusements Board, Philippine Sports Commission, and Department of Health.
Teams are also required to have the necessary coronavirus tests for all participants.
But while teams have the option to train within Metro Manila, the league is still allowing them to have their training elsewhere in the country as long as it is under GCQ.
The Meralco Bolts, for instance, are already in Ilocos Norte for their 10-day training.
The PBA is banking on the successful holding of the practices as it pushes to get its new season going,
PBA Season 46 was supposed to start on April 18 until it was deferred to a still-to-be-determined date because of a spike in coronavirus cases and the heightened restrictions issued after.
The league got a breakthrough in its push to start when the IATF recently approved its proposal for a resumption of training.
It is now looking at a possible June opening of the season but is focusing first on having a successful holding of training of the teams to show that the staging of PBA games can be done in a safe manner amid prevailing conditions.
"We'll try our very best first to keep everybody safe and protected while doing the scrimmages in the next few weeks. We'll start from there," said Mr. Marcial.
Last year, the PBA was only able to stage one conference amid the pandemic, holding the Philippine Cup in a "bubble" setting at Clark City in Angeles, Pampanga.
The Barangay Ginebra San Miguel Kings were crowned as champions. — Michael Angelo S. Murillo