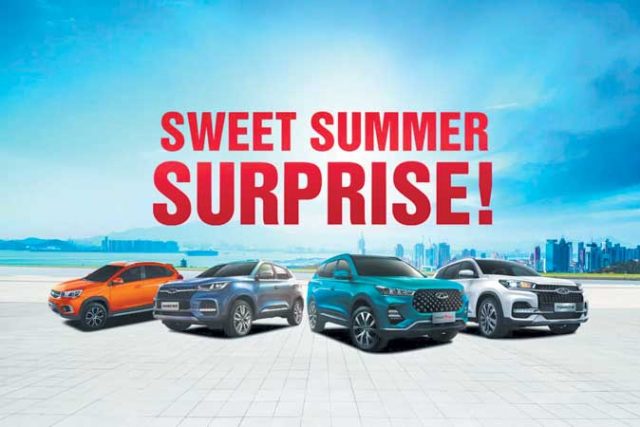 CHERY AUTO Philippines announced that it is keeping the current prices of all its models throughout April.
In a release, Chery Auto Philippines President Rommel Sytin said, "In light of the difficulties of the Filipino families posed by the ongoing pandemic, we have decided to continue absorbing the safeguard tariff instead of passing it on to the consumer in the form of higher vehicle prices."
Early in March, Chery Auto Philippines issued a statement that "it had elected to absorb the price increases from the newly implemented safeguard tariff." Mr. Sytin added, "The use of public transportation stays as a challenge for those who essentially need to travel for work, transport items for business, or attend medical emergencies. We want to give the Filipinos more options — safe, reliable, and affordable options — through our Chery Tiggo crossovers."
The Chery Tiggo 2, Tiggo 5x, Tiggo 7 Pro, and Tiggo 8 will retain their pre-safeguard tariff prices (as follows):
Chery Auto Philippines, through its distributor United Asia Automotive Group, Inc. (UAAGI), expressed its commitment to deliver "safe, secure, and value-packed mobility."
In January, Chery vehicle sales demonstrated growing consumer confidence in its feature-packed, high-value products by exceeding its January sales projections. The all-new Tiggo 7 Pro was introduced just last Jan. 27 but quickly sold out its initial batch within a month. The company reported that the "number of deposits and pre-orders for the upcoming new shipments is fast-growing."
Chery Auto Philippines boasts industry-leading warranty and PMS programs: a 10-year/one- million-km engine warranty, a five-year general warranty, a three-year free full preventive maintenance service, and three years' worth of roadside assistance. Other factors that the company said contributed to strong sales are "easy-on-the-budget auto loan packages given support by Chery's bank partners, the availability of Chery's EC Mobile Home Service, and the fast-growing nationwide network of Chery dealers, which now total 18 dealerships."
For more information, follow Chery Auto Philippines on social media — Chery Auto Philippines (Facebook) and @cheryautophilippines (Instagram) for more updates. The 24/7 Chery Auto Philippines hotline is 0917-552-4379; e-mail chery@uaagi.com.