Stocks rise on bargain hunting, reopening hopes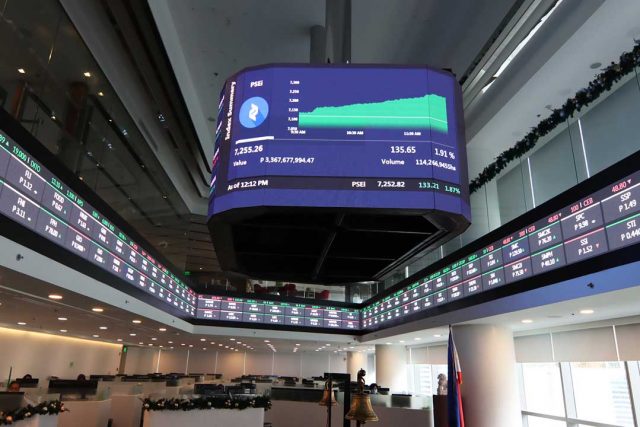 PHILIPPINE STOCKS rose on Tuesday on the back of continued bargain hunting and hopes of a further economic reopening as coronavirus cases drop further.
The Philippine Stock Exchange index (PSEi) soared 118.49 points or 1.62% to end at 7,401.16, while all shares index jumped 58.69 points or 1.51% to 3,937.64.
"The local bourse jumped… as bargain hunting continues… Net foreign buying of P775.75 million lifted the market as well," Philstocks Financial, Inc. Senior Research and Engagement Officer Claire T. Alviar said in a Viber message.
"Moreover, the approval of the House of Representatives on the second reading to extend the validity of the P4.5-trillion 2021 national budget until next year also spurred optimism in the market. Extending the budget is favorable to the economy as it is expected to boost the country's spending," Ms. Alviar said.
Lawmakers on Monday extended all allocations under the 2021 General Appropriations Act until Dec. 31, 2022.
"A lot of reopening plays are being bought as both local and foreign funds bargain hunt with [favorites] like property, aviation, consumer and conglomerates with exposure in the same, all in anticipation of the next year's stronger GDP (gross domestic product) growth," First Metro Investment Corp. Head of Research Cristina S. Ulang said in a Viber message.
Regina Capital Development Corp. Head of Sales Luis A. Limlingan said in a Viber message that there was bargain hunting after US President Joseph R. Biden, Jr. said he will appoint current Federal Reserve Chair Jerome H. Powell for a second four-year term.
Mr. Biden on Monday tapped Mr. Powell to continue as Fed chair, and Lael Brainard, the other top candidate for the job, as vice-chair, Reuters reported.
All sectoral indices closed higher on Tuesday. Services climbed 45.93 points or 2.32% to 2,022.92; financials rose 36.14 points or 2.27% to 1,625.30; mining and oil gained 197.10 points or 2.10% to 9,550.86; holding firms increased by 132.87 points or 1.89% to 7,138.65; property added 32.47 points or 0.97% to 3,361.91; and industrials went up 88.01 points or 0.82% to 10,763.19.
Value turnover on Tuesday reached P9.28 billion with 1.55 billion switching hands, versus Monday's P8.47 billion with 1.06 billion issues.
Advancers outnumbered decliners, 133 to 56, with 53 closed unchanged.
Net foreign buying reached P775.75 million on Tuesday, a reversal of the P461.9 million in net selling recorded the previous day.
"We do hope that this rally can be a little more sustainable and hope that the US (or other markets for that matter) can service to keep itself steady or up through its Thanksgiving holidays and strong discount retail days, as these would help a lot in keeping the buoyant mood open," COL Financial Group Chief Technical Analyst Juanis G. Barredo said in a Viber message. — MCL with Reuters