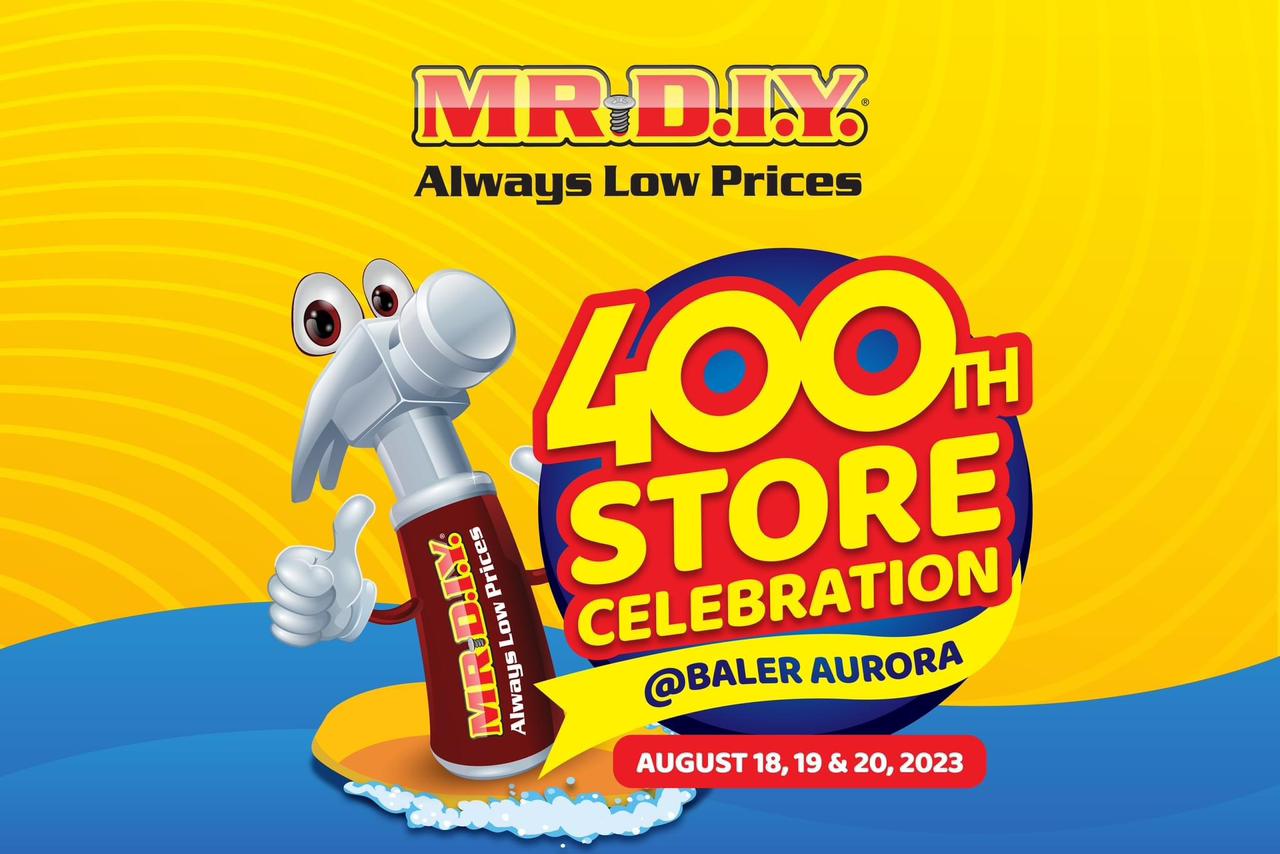 MR.DIY, the leading home improvement and lifestyle retailer, is gearing up for a monumental celebration as it opens its 400th store in the picturesque town of Baler, Aurora. This grand event will take place from Aug. 18 to Aug. 20, and promises an array of exciting activities, promotions, and giveaways for shoppers to enjoy. Simultaneously, MR.DIY will be commemorating the grand opening of several additional stores, reaffirming its commitment to serving communities across the Philippines.
MR.DIY BALER, AURORA STORE HIGHLIGHTS
The Baler store grand opening festivities will be a vibrant display of MR.DIY's dedication to its customers. The event will kick off with a lively motorcade, setting the stage for the main attraction. A ribbon-cutting ceremony and blessing will officially mark the store's entrance into the Baler community graced by Aurora's Local Government Officials together with MR.DIY's CEO Roselle Marisol Andaya and MR.DIY's Business Development Head Ferdinand Gasis. Customers will have the opportunity to take home MR.DIY fans and keychains as exclusive giveaways, and the beloved MR.DIY mascot, panda, will make an appearance to delight both young and old.
PROMOTIONS IN MR.DIY BALER, AURORA STORE
Shoppers visiting the Baler store from Aug. 18 to 20 are in for a treat with fantastic promotions:
Gift With Purchase: Customers who spend a minimum of P500 will receive a free Rainbow Umbrella or Trolley Bag.
Free Milk Tea: A delightful offer awaits those who spend at least P700, as they can savor free milk tea from Aug. 18 to 19.
Lucky Shopper Challenge: From Aug. 19 to 20, shoppers with a minimum spend of P1,000 can partake in the Pachinko game for a chance to win exciting freebies.
CELEBRATING NATIONWIDE EXPANSION:
MR.DIY's celebration goes beyond Baler, as the company is also inaugurating several new stores across the nation. These branches include:
Porac, Pampanga
Prince Baybay
Dapitan, Zamboanga del Norte
Narra, Palawan
Talisay, Cebu
Cauayan, Negros Occidental
Each opening underlines MR.DIY's commitment to providing convenient access to quality products for customers across various regions.
PROMOTIONS IN 400th+ STORES
In tandem with the grand opening celebration, the 400th+ MR.DIY stores will offer enticing promotions from Aug. 18 to 20:
Gift With Purchase: For a minimum spend of P500, shoppers will receive a complimentary Rainbow Umbrella, Trolley Bag, or water bottle, depending on branch availability.
Lucky Shopper Challenge: Shoppers who spend at least P1,000 on Aug. 19 will have a chance to win exciting freebies through the Pachinko game
MR.DIY's 400th store milestone signifies not only a remarkable achievement for the company but also an opportunity for shoppers to experience exceptional products, services, and promotions that reflect MR.DIY's dedication to customer satisfaction. With the grand opening in Baler, Aurora and the simultaneous celebration across multiple branches in the Philippines, MR.DIY is poised to make this an unforgettable event for all.
For more information about MR.DIY's new stores and promotions, visit MR.DIY's official website or follow /mrdiyPH on Facebook, and @mrdiy.philippines on Instagram and TikTok.
---
Spotlight is BusinessWorld's sponsored section that allows advertisers to amplify their brand and connect with BusinessWorld's audience by enabling them to publish their stories directly on the BusinessWorld website. For more information, send an email to online@bworldonline.com.
Join us on Viber at https://bit.ly/3hv6bLA to get more updates and subscribe to BusinessWorld's titles and get exclusive content through www.bworld-x.com.