Convergent platforms for food and beverages in Asia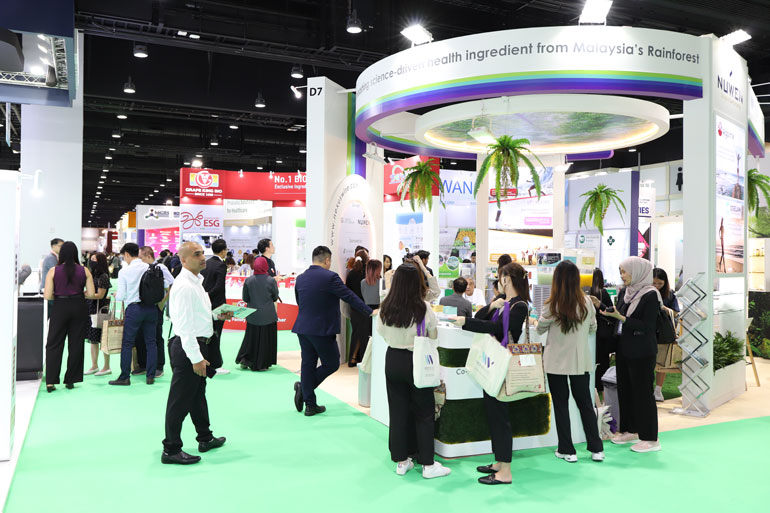 This year's Food Ingredients Asia, Vitafoods Asia convene F&B, nutraceutical industries in Thailand
By Adrian Paul B. Conoza, Special Features and Content Editor
Every single food, drink, medicine, and other edible product we intake is made up of several ingredients and components. Some of these improve the quality of the produce; some provide an alternative to usual ingredients; some provide nutrients that benefit our bodies; and some enhance our experience with these products in terms of flavor or aesthetics.
Such suppliers comprise the wide food and beverage (F&B) and nutraceutical industries, big industries in the world's largest continent as well as in the Southeast Asian region. Testifying to this vastness are two trade exhibitions that were simultaneously held in Bangkok, Thailand last month.
Food Ingredients Asia Thailand (Fi Asia Thailand), considered "the leading event for Southeast Asia's F&B community," and Vitafoods Asia, touted as "Asia's leading nutraceutical event," took up over 45,000 square meters of space in Queen Sirikit National Convention Centre (QSNCC) from Sept. 20 to 22.
Rungphech Chitanuwat, regional portfolio director for ASEAN and country general manager for the Philippines at Informa Markets (the organizer of the two events) shared that Fi Asia Thailand and Vitafoods Asia seek to bring together buyers and suppliers more conveniently in a single location, alongside exploring the latest trends and innovations in the F&B and nutraceutical industries.
"The aim is to get producers to source at the show, buying the ingredients. But… if [attendees] don't have [a] business [but] have the agricultural products, they can come to the show to see what is happening with their commodities," she told the Philippine media who covered the exhibits.
Dr. Chutima Eamchotchawalit, governor of the Thailand Institute of Scientific and Technological Research, noted that aside from opening networking opportunities, the two exhibits open doors for sharing knowledge and innovations within the said industries, as well as exploring points of collaboration in achieving sustainable development goals.
"Food Ingredients Asia and Vitafoods Asia are set up to be a platform for sharing scientific knowledge; latest technology developments; and networking between researchers, professors, entrepreneurs, and those interested in food and nutraceutical product development," she said during the opening ceremony for the two events last Sept. 20.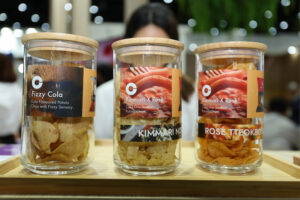 Innovation-driven potential
Moreover, Ms. Chitanuwat added, both events give Southeast Asia an opportunity to showcase the potential of its resources to be maximized into ingredients.
"Our countries in ASEAN mostly are agricultural countries, so we have an abundance of resources," she said. "What we have to do is to encourage and promote the utilization of these resources. This is exactly where ingredients can play a role."
"We need research and innovation to develop the commodities to multiply their value," she added.
Supamas Isarabhakdi, Thailand's Minister of Higher Education, Science, Research, and Innovation, also stressed that F&B and nutraceuticals can further wield research and innovation to improve how they serve consumers.
"Science, research, and [technology] are becoming more important for today's food production and development," Ms. Isarabhakdi said during the opening ceremony, adding that through these three the food industry can be transformed from merely manufacturing mass products to innovating products that cater to consumer's transforming needs.
Manu Leopairote, chairman of Informa Markets Thailand, also notes that these industries should innovate by embracing evolving consumer behavior, which has increasingly focused on health, safety, and sustainability.
"Food and nutraceutical ingredients directly impact the final product quality, safety, and price. They need not only add value to manufacturers but also to consumers — [for instance by] reducing fat and sugar content — without sacrificing taste and texture," he said.
Expansive platform for F&B ingredients
Covering the full spectrum of food, beverage, natural, and health ingredients, Fi Asia Thailand filled QSNCC's ground floor with over 600 exhibitors coming from, among others, color; bakery, egg, and dairy products; edible fats and oils; emulsifiers, firming agents, and food acids; and flavorings and seasonings sectors.
Some of the notable exhibitors in Fi Asia Thailand, among others, include a producer of non-dairy creamers designed for beverages like milk tea and coffee; a rice flour manufacturer with a solution that claims to preserve the crispiness of fried chicken for up to four hours; and a company said to have innovated emulco, a formulation of food flavoring, coloring, and emulsifier, that is widely applicable for bakeries and confectioneries.
A main highlight of Fi Asia Thailand was the special pavilions that highlighted certain segments in the industry, namely the Beverage Ingredients (Bi) Pavilion, Natural Ingredients (Ni) Pavilion, and Health Ingredients (Hi) Pavilion.
There were also pavilions showcasing products from specific markets, such as China, Japan, Malaysia, Thailand, India, Indonesia, Taiwan, Ireland, the European continent, and the United States (US).
Aside from the main exhibition, Fi Asia also hosted numerous technical presentations and conferences from its exhibitors and partners, each delving into emerging trends, practices, and innovations pertaining to F&B.
A spotlight was also shone on startups in Thailand as both student-led, and small and medium enterprises joined Fi Asia's Start-up Innovative F&B Products Competition. Among the winners of the competition is a product called MUU: Cow's Milk Made Without Cows. Such milk, MUU explains, is done by fermenting special microbes and then purifying them to formulate milk proteins into dairy products.
Showcasing growing nutraceuticals space
At the lower ground level of QSNCC, meanwhile, Vitafoods Asia highlighted Asia's growing nutraceuticals industry, which is segmented into dietary supplements, functional beverages, and functional foods.
This exhibit highlighted four key sectors in the nutraceutical supply chain — namely ingredients and raw materials; contract manufacturing and private label; services, equipment, and packaging; and branded finished products — with its over 400 exhibitors.
Notable exhibitors include a supplier of label-friendly excipients and coatings for tablets and capsules of natural supplements; another that transforms native collagen from raw materials into bioactive collagen peptides that have numerous applications for the health of the skin, joints, and bones, to name a few; and a company producing an extract from the ashwagandha herb that has been clinically proven to help reduce stress, improve cognitive function, enhance quality of sleep, and increase endurance, among others.
Alongside these booths, the Main Stage and NutraFocus booths held sessions that explored the latest trends and cutting-edge ingredients in the nutraceutical industry. There were also dedicated spaces for certain ingredients and innovations, such as the Omega-3 Resource Centre, Probiotics Resource Centre, New Ingredients & New Products Zone, and Innovative Health Hub. International pavilions also represented countries like the US, Belgium, Japan, Spain, Taiwan, Korea, and China.
Thailand is considered one of the biggest markets for nutraceuticals in the Asia-Pacific region, as the Thai Ministry of Commerce reported sales of $3.5 billion across the nutraceuticals industry back in 2019. Zooming out to the region itself, nutraceuticals are expected to grow their compound annual growth rate by 7.5% from 2020 to 2025, with a value of $140 billion. China, Indonesia, and Japan are projected to be the three biggest consumer markets in the region.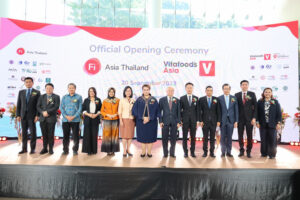 Philippines' place in international market
The Philippines was represented by both the government and the private sector as visitors in the two exhibits.
From the government side, the delegation was led by Blesila A. Lantayona, Department of Trade and Industry's (DTI) undersecretary leading the Regional Operations Group. She also graced the opening ceremony together with other key officials in Thailand and Asia.
She shared after the ceremony that the DTI is looking into how the two trade events can benefit the Philippine food industry, from suppliers of raw materials to buyers who seek to expand their network of suppliers.
"We have to see what the market really requires and what are the opportunities for our MSMEs," Ms. Lantayona said.
The Philippine delegation was also looking for technologies showcased during the events that can be adopted into the country, particularly those involving the transformation of raw materials into products that do not compromise their quality (i.e., keeping okra green even after it is dried).
"[Thailand is] quite advanced in terms of science, technology, and innovation, converting raw materials particularly food into value-added materials or finished products," she observed.
She added that while the technology is "already there," several problems such as acquisition, cost, and availability are hindering the adoption of those in the country.
Representatives from Philippine pharmaceutical companies were also present. Benson Sian, chief executive officer and founder of Nattural Quality Corp., shared that the exhibitions inspire companies like theirs to benchmark themselves in light of the current landscape and rethink how they can further position their products to serve their markets better.
"I'd like to know where we are in relation to all other products, and this gathering provides us that opportunity to learn," Mr. Sian shared during the first day.
Mr. Sian also shared that for Filipino brands, particularly in their industry, to become competitive in the international space, they have to work hard in effectively positioning their products.
"We have an asset. We have over 10 million Filipinos overseas," he continued. "They're not just OFWs. They're decision-makers; they're influencers and potentially [evangelists] of Filipino products. That's something we can be proud of."
Mr. Sian also sees potential even here at home, particularly in industries like business process outsourcing, with whom Nattural can partner in promoting health supplements to support better lifestyles and, in turn, helping professionals prolong their careers.
"Health has a lot of bearing on the sustainability of one's career," Mr. Sian stressed.
The next Fi Asia event is set to be held in Jakarta, Indonesia next year, while the next edition of Vitafoods Asia is still intended to be held in Thailand.