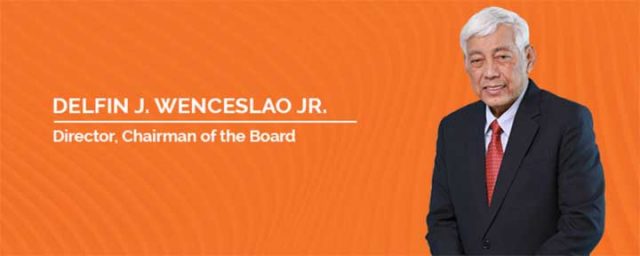 Construction tycoon Delfin J. Wenceslao, Jr. has passed away, D.M. Wenceslao & Associates, Inc. (DMWAI) announced on Friday. He was 77. 
Mr. Wenceslao was president and chairman of the listed property development and construction firm at the time of his death. 
"It is with great sadness that the board of directors and management of [the company] announce that today, it was informed of the death of its President and Chairman of the Board, Mr. Delfin J. Wenceslao, Jr.," DMWAI said in a disclosure to the exchange.   
No other details were given.  
Forbes listed Mr. Wenceslao as the 37th richest man in the Philippines with a net worth of $385 million. 
A licensed real estate broker, Mr. Wenceslao co-founded the listed property company and has held his posts since April 1965.   
He holds a bachelor's degree in economics from Ateneo de Manila University. He pursued graduate studies at the Pamantasan ng Lungsod ng Maynila, graduating with a Master of Business Administration degree and later on earning a Doctorate in Business Administration.  
Mr. Wenceslao was formerly the president of the Philippine Constructors Association, a board member at the International Federation of Asian and Western Pacific Contractors' Associations, and a Chamber of Real Estate & Builders' Associations, Inc. member.  — Keren Concepcion G. Valmonte