Aiming for a sustainable, inclusive digital future

By Bjorn Biel M. Beltran, Special Features Writer
The future is digital. That much is evident by how much everyday life has been dominated by online connectivity, particularly during the COVID-19 pandemic. Even before, the world has been at the cusp of what was dubbed 'the Fourth Industrial Revolution', a digital revolution which sees the convergence of the physical, digital, and ecological worlds.
As the World Economic Forum puts it, "For some time now, we have been in a new stage of transformation where corporations and countries are focused on equipping themselves with advanced technologies and new business models in order to stay relevant and competitive in a fast-changing world."
In that light, the organization identified COVID-19 as one of the most formidable challenges in recent history to governments, businesses, and society, so much that it is considered by many to be 'the ultimate tipping point for the 21st century.'
"The pandemic is a wake-up call for companies to have a plan to deal with disruptions to ensure business continuity. It is also a watershed moment that will signal the fast-track acceleration process for digitization throughout society," the World Economic Forum said.
How should organizations devise such a plan? And what does it actually look like for Filipino companies and enterprises?
The BusinessWorld Virtual Economic Forum 2021 Special Edition aimed to answer such questions by gathering experts like Mark Mulingbayan, chief sustainability officer of Manila Water Co.; and Denis Hew, director of the Asia-Pacific Economic Cooperation's Policy Support Unit, for a Fireside Chat.
Mr. Mulingbayan, who talked about "Building Brands through Sustainability and Purpose", pointed out that a future much worse than COVID-19 could be looming on the horizon, should the world fail to mitigate climate change.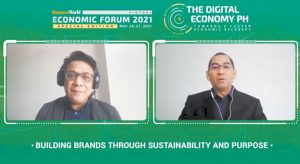 Companies have a social responsibility to champion sustainability before the worst can happen. To this end, Mr. Mulingbayan said that Manila Water has been pushing forward its sustainability initiatives since the beginning, and it has shaped the core of how the company has grown over the years.
"We need to be consistent with our shared value story. That's the heart of it all. Our sustainability framework has not changed. It's still the same. But the nuances have been developing through the years. And it's exciting now that we are moving on to setting new targets," he said.
Manila Water's sustainability framework, he discussed, focuses on key areas, the first of which is centered around servicing the Filipino community. He said that by expanding their services to as many people as possible, even the poor and marginalized communities can be more resilient towards natural disasters.
Another focus area is environmental stewardship. "Interestingly, our relationship with the environment is one based on reciprocity. We depend on ecosystem services to provide us raw water, but we also do services to the ecosystem by treating wastewater," he said.
Most importantly, Mr. Mulingbayan said, they focus on their own employees.
"If we are to grow in the future, we have to have a team of capable and competent employees who are passionate about the work that we do. It's common for all companies to identify talent management as a core sustainability issue," he said.
"We communicate with our employees and ensure they know their contribution to the corporate targets, because that is always aligned with our shared value story. At the same time, we try to engage them with our sustainability story. We believe that getting them on the ground and experiencing the impact of our work is the better way to go about it," he added.
For companies looking to start on their sustainability journey, Mr. Mulingbayan advised looking at the United Nations Sustainable Development Goals and finding out which of the goals are aligned with their business. What is most important is authenticity.
"A company needs to be aligned with what the society needs, and it needs to be relevant. Sustainability work can be a lot of things, or you can do a few things that really matter. A company needs to identify the issues with their stakeholders. A company cannot do it alone," he said.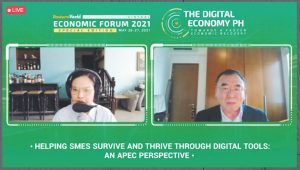 Building on that note, Mr. Hew, who discussed "Helping SMEs Survive and Thrive through Digital Tools: An APEC Perspective," explored how smaller businesses, particularly micro, small, and medium enterprises (MSMEs) can utilize the tools available during this digital revolution to recover from the effects of the pandemic and thrive in a post-COVID-19 world.
"One of the main drivers that accelerated the pace of digitalization for SMEs is COVID-19, which unfortunately continues onto this year. Companies have adopted digital tools to stay in business essentially. It helps them keep afloat during this difficult time," Mr. Hew said.
"Some of these digital tools have become extremely critical to business, whether it's digital payments, fintech financing, logistics services, etc. It provides a kind of lifeline for these businesses to be able to continue operating."
Unfortunately, the rapid transition has created unforeseen challenges that many enterprises are not ready for.
"Critical challenges like data privacy, cybercrime, some of these things have to be taken into account. Unfortunately, SMEs have become the prime target for cyberattacks because they lack the resources to combat them," he said.
Mr. Hew said that APEC's MSME working group has launched initiatives to support MSMEs in the region, including an online repository of information on trade regulations and training and resources for any business.
Among these is the multi-year The Boracay Action Agenda to Globalize MSMEs program, which aims to prepare the region to take advantage of the new opportunities available to them and to allow these enterprises to more significantly participate in global trade.
The Action Agenda aims to build on APEC's extensive work on regional economic integration and ensure that efforts are relevant and responsive to MSMEs' needs. To promote the internationalization of MSMEs and integrate them into global value chains, the program will seek to address barriers to trade and investment that disproportionately impact MSMEs in comparison to larger businesses, reduce and eliminate tariffs and non-tariff barriers in the region, and establish a more trade facilitating environment in alignment with the WTO Trade Facilitation Agreement.
"One important point to recognize is that COVID-19 pandemic has increased the inequalities that we have seen before. It is crucial for organizations like APEC to try to address those gaps, meaning better access to education, training that includes digital literacy, as well as better access to healthcare and other types of infrastructure. That is crucial," he said.