Play to earn: The rise of NFT gaming in the Philippines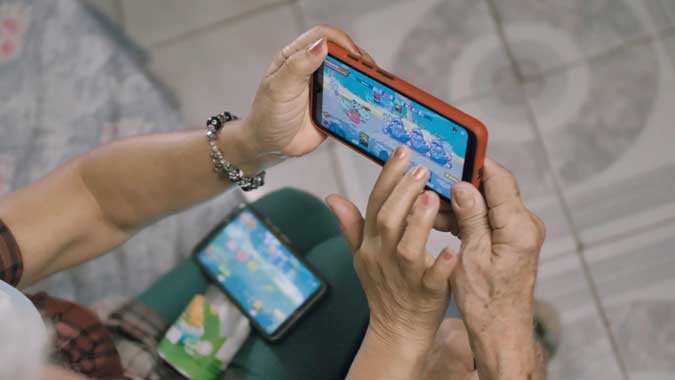 By Brontë H. Lacsamana
WITH the rise of the play-to-earn phenomenon, NFT (non-fungible token) gaming guilds and associations have cropped up around the world to educate people and help them join in.
One of these is Yield Guild Games (YGG), founded by Gabriel "Gabby" Dizon; Beryl C. Li; and a third individual, who goes by the pseudonym Owl of Moistness. The guild invests in NFTs in games and organizes a player community that can earn income from playing. In mid-June, they reported 1,000 scholars around the world playing a Pokemon-inspired game called Axie Infinity, who have earned more than 14 million in-game tokens known as Small Love Potions (SLPs) — equivalent to about $1.9 million.
YGG's $4-million Series A investment, completed this June, will expand this network by purchasing and lending out even more NFT assets.
The investment is led by BITKRAFT Ventures, a venture capital firm focused on gaming, e-sports, and interactive media. In a statement, one of its founding partners, Jens Hilgers, lauded YGG's efforts as a catalyst for the transition towards player-owned economies.
Aside from investing in Axie Infinity, YGG has also partnered with Splinterlands, a blockchain-based trading card game, with which guild members have been granted early, priority access. The game is one of many who see great potential in the play-to-earn model.
"At its core, YGG is a community of play-to-earn gamers," said Mr. Dizon in a statement on their recently completed investment. "Think of it as a massively multiplayer online (MMO) guild, for example, but operating across several games, investing in yield-generating NFTs within those games, and lending those in-game assets and inventory out to our player base."
"Games and virtual worlds are increasingly becoming hosts of real economic activity, enabled and accelerated at scale through blockchain technology," he said.
WHAT IS NFT GAMING?
The "play-to-earn" movement is an emerging phenomenon in gaming, wherein players NFT games collect rewards within the game that can later be converted to real cash. Though this form of cryptocurrency has been around for a few years, it reached new heights during the coronavirus disease 2019 (COVID-19) pandemic, with ensuing lockdowns rendering millions jobless and open to earning money through gaming.
In the Philippines, where the unemployment rate continues to fluctuate, the NFT game Axie Infinity has enjoyed massive popularity. Its Vietnamese developer, Sky Mavis, reported that 29,000 of the 70,000 downloads of the game in April this year came from the Philippines.
"At first, I wasn't convinced that this game (can let you) earn by playing, but I tried it. Out of my curiosity, I bought three Axies for about $4 to $5," said Arthur "Art Art" C. Lapina, one of the first players of the game in Cabanatuan City, Nueva Ecija, where an active community now copes with joblessness by getting income from the game.
In the documentary Play-to-Earn: NFT Gaming in the Philippines, which came out in May, produced by YGG, Mr. Lapina explained that with the cute, in-game pets he bought, called Axies, he could battle other players to earn SLPs, which he would then swap for cryptocurrencies like Ethereum and convert them to pesos via Coins.ph.
UNDERSTANDING THE NFT GAMING MOVEMENT
NFTs are digital properties that can take many forms, from memes and animated GIFs to in-game assets. Using blockchain, an NFT's record of ownership is stored in a digital ledger, so that players — and not game developers — own their in-game collectibles. This means NFT items in blockchain-based games can be moved off the platform and sold or traded in any open market, which is what Mr. Lapina does to turn his SLP into cash.
When Mr. Lapina first tried his hand at Axie Infinity in April 2020, his first cash-out after 15 days of playing amounted to just P1,000, according to his interview with BitPinas. When the value of SLPs increased in July 2020, the pay reached the ballpark of P14,000 and beyond, after which the movement rapidly spread via word-of-mouth in Cabanatuan City.
However, because of Axie Infinity's popularity, starting out in the game has now become difficult and expensive. A team of three Axies, which cost just $5 almost a year ago, now fetches steep prices of about $1,000.
"Our main focus at the moment is to provide scholarships, (where) we offer players Axie teams (so they can) play and actually earn for themselves," said John Emmanuel "Pot" Dela Peña in the documentary. He is one of the three entrepreneurs who came up with the Axie University (AxU) program to address the problem of cost.
The scholarship system involves managers who rent out Axies to those that can't invest money upfront. To earn their income, these "scholars" train and use the NFTs to win tokens. Earnings are split among the scholar, the NFT owner, and the community manager.
One scholar who takes the game very seriously is 22-year-old Howard A. Garancho, a college graduate unable to find work. The Play-to-Earn documentary showed a glimpse of his computer set-up, with sticky notes on the wall containing game-related reminders. "I treat it as work because if you want to earn in that game, you have to commit in that game. You have to play it daily, to play hard," said Mr. Garancho.