BSP has room to keep policy rates low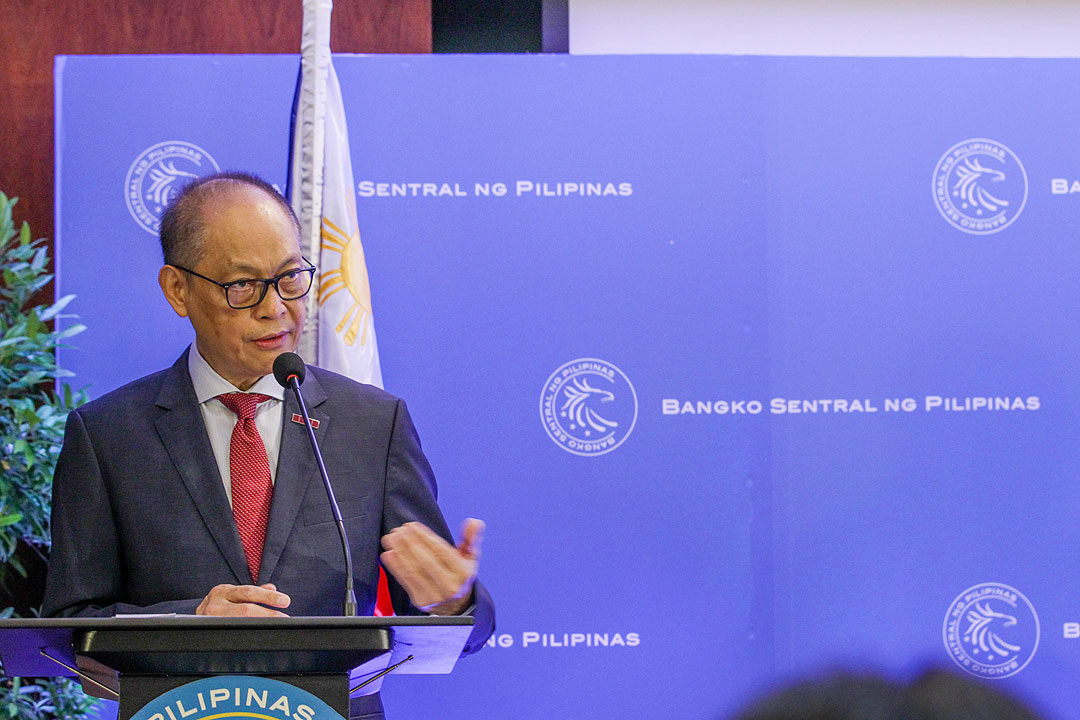 BANGKO SENTRAL ng Pilipinas (BSP) Governor Benjamin E. Diokno said there is "room to maneuver" on monetary policy amid manageable inflation and the improving economy.
"We have decided to wait a little bit… I think we still have room to maneuver because the inflation outlook looks good and of course, growth also is picking up and unemployment is going down," he told Bloomberg Television. 
"We'll wait until [we see] what happens in the US and the extent to which they will tighten [rates]," he added, referring to the anticipated rate hike by the Federal Reserve starting March.
The Monetary Board kept the key policy rate at a record low of 2% on Thursday, as widely expected, to support economic growth amid uncertainty over the pandemic.
The BSP also raised its inflation forecast for 2022 to 3.7% from 3.2%, though still within its 2-4% target and slower than 4.5% in 2021.
Mr. Diokno said there are signs of improvement in the economy as seen in three consecutive quarters of growth and the lower unemployment rate.
The economy grew by 7.7% in the fourth quarter. This brought annual growth to 5.6%, a reversal from the record 9.6% contraction in 2020.
"Our GDP (gross domestic product) grew in the last three quarters, so we have two more quarters to look at. So, we're just right where we want to be," he said.
The BSP chief has said he wanted to see four to six quarters of economic growth before looking into a possible rate hike.
The central bank will hold its next policy review on March 24, a week after the Federal Open Market Committee's meeting on March 15 to 16.
Mr. Diokno said the BSP would evaluate how the impending rate hike by the US Federal Reserve could affect the Philippine economy. Fed officials have signaled they might start increasing interest rates next month.
"If you look at the inflation rate in the US — [it's] 7.5%. Our inflation right now is 3%. So, you have to consider that the real interest rate is what matters. And we evaluate how the Fed's rate will affect our output and, of course, our inflation rate," Mr. Diokno said.
Although the BSP has not touched rates, Mr. Diokno said they have started unwinding support for the National Government, noting a decline in direct advances and participation in the purchase of government securities.
In December, the BSP approved a P300-billion zero-interest loan to the National Government meant to fund pandemic response, the fifth time it extended direct advances. It was smaller than the P540-billion loan in July.
"Our participation in the government securities market… in 2020, we were holding something like 22% of the total volume. It's down to 4% last year. And now, in the first two months of the year, [it's at] 0.25%. So, we're having our own version of slowing down our assistance to the National Government," Mr. Diokno said.
Meanwhile, in a report on Friday, Nomura Global Market Research Chief ASEAN (Association of Southeast Asian Nations) Economist Euben Paracuelles and analyst Rangga Cipta said new signals from the BSP point out to eventual policy normalization. 
"While BSP's forward guidance was changed, we think this was not intended to signal that policy normalization in the form of lift-off in the policy rate is likely soon," they said.
Nomura expects the BSP to start raising rates by 25 basis points in the fourth quarter, noting how the central bank projected that economic output was likely to return to pre-pandemic levels only by the third quarter.
"We still think the economic recovery is facing some headwinds from a combination of domestic factors (in addition to external risks enumerated by BSP), such as relatively low vaccination rates, weak fiscal support despite the elections, and elevated political uncertainty," it added.
WEAKER PESO
Meanwhile, Mr. Diokno said the depreciation trend of the peso versus the dollar should not be a concern, citing the country's "strong macroeconomic fundamentals" reflected by gross international reserves, steady remittance inflows, business process outsourcing receipts, as well as foreign direct investments.
Amid market concern on impending policy tightening by major central banks, the safe-haven dollar has strengthened versus the peso.
The local unit closed 6.2% weaker year on year to P50.999 a dollar on Dec. 31. It closed stronger at P50.95 on Jan. 31, but has been trading weaker within the P51-to-a-dollar level in previous weeks.
"The macroeconomic assumption is P48-53 [until 2024] so we are comfortable. So, should we be concerned with the slight depreciation of the currency? I think not, we should not be concerned because that's what the market supply and demand dictates," he said.
Mr. Diokno said they do not target a peso-dollar rate and have been intervening less in the foreign exchange market in recent months compared with the earlier stage of the pandemic when the peso strengthened due to low import demand.
"We were intervening, I must admit, at the time when the peso was moving towards P48 because that's really not good for our exporters, it's not good for overseas Filipino workers. But right now, there's very little intervention, if at all," he said.
The recent depreciation trend of the peso shows similarities in 2018, when inflation accelerated quickly and the peso weakened amid a policy divergence between the BSP and the Fed, ING Bank N.V. Manila Senior Economist Nicholas Antonio T. Mapa said.
"A quick step breach by inflation induced by elevated energy prices, supply side bottlenecks, a weaker currency and rising domestic demand may force BSP to eventually tighten policy," he said.
He said the BSP would be faced with either having to go for an emergency rate hike like what happened in 2018 or gradually reverse its accommodative policy to safeguard economic recovery. — Luz Wendy T. Noble