Philippine police seized P30B of drugs last year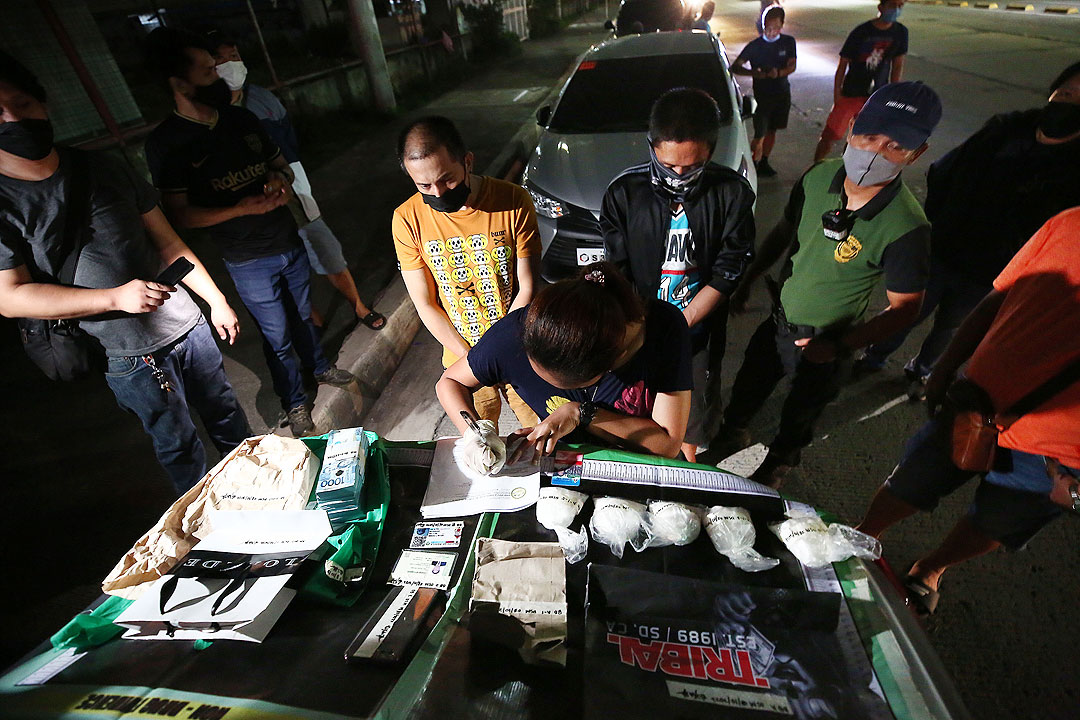 PHILIPPINE police seized P30.9 billion worth of illegal drugs in 37,000 raids last year, according to the presidential palace. It did not say how many died.
They arrested more than 53,000 drug suspects, the Presidential Communications Office said in a statement, citing a report from the Philippine Drug Enforcement Agency (PDEA).
Majority of them were implicated in crystal meth-related cases, the palace said. Marijuana and ecstasy were also among commonly used illegal drugs.
PDEA also "destroyed some P27.8 billion worth of drugs, controlled precursors and essential chemicals, the palace said.
Drug syndicates were exploiting the country's archipelagic nature to bring in drugs, "transporting illegal drugs and controlled precursors and essential chemicals through seaports, airports, mail and parcel services and the vast expanse of the Philippine coastlines," the palace said, citing the PDEA report.
More than 45,000 drug cases were filed last year. Of the 25,306 resolved cases, 21,112 or 83% resulted in convictions, while 1,439 cases or 6% were dismissed by the courts, it added.
PDEA is now strengthening the implementation of its anti-illegal drug strategies, focusing on suppressing supply through intelligence-driven and high-impact operations, arresting drug lords and enhancing inter-agency collaboration in drug entry points to deter smuggling, Malacañang said.
The anti-drug agency is reducing drug demand through its national campaign and by coordinating with anti-drug abuse councils, supporting community-based rehabilitation programs and intensifying information dissemination to promote a stigma-free campaign, while helping drug users, it added.
Justice Secretary Jesus Crispin C. Remulla on Sunday said they had invited a forensic expert from the United Nations (UN) to improve local capacity in investigating extrajudicial killings in connection with the government's war on drugs.
Morris Tidball-Binz, the UN's special rapporteur on extrajudicial, summary or arbitrary executions, had been invited to hold a capacity-building mission in the country.
At least 6,117 suspected drug dealers had been killed in police operations, according to data released by the Philippine government in June 2021. Human rights groups estimate that as many as 30,000 suspects died.
The Philippine Human Rights Commission has said the Duterte government had encouraged a culture of impunity by hindering independent inquiries and failing to prosecute erring cops.
Mr. Remulla said Mr. Tidball-Binz would not be working as a special rapporteur but as an expert in the field of forensic pathology during his stay in Manila.
The United Nations Human Rights Committee has said the Philippines should comply with international human rights mechanisms and cooperate with the International Criminal Court's (ICC) drug war probe.
The ICC pre-trial chamber in January granted its prosecutor's request to reopen its probe of killings and other human rights abuses during ex-President Rodrigo R. Duterte's anti-illegal drug drive.
The Hague-based tribunal said it was not satisfied with Philippine efforts to probe extralegal killings.
Mr. Remulla said the UN official would help local authorities "identify the intricacies of wrongful death tragedies." — K.A.T. Atienza