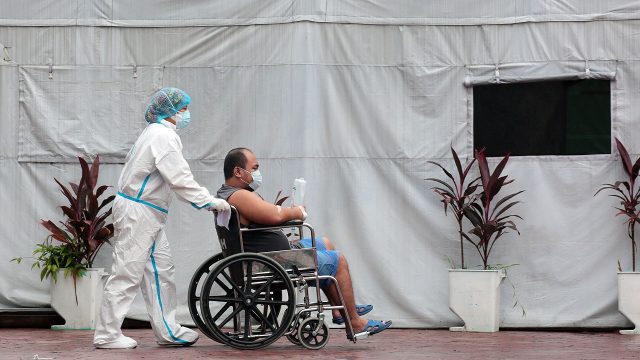 THE DEPARTMENT of Health (DoH) reported 16,361 coronavirus infections on Tuesday, bringing the total to 2.4 million. 
The death toll rose to 37,074 after 140 more patients died, while recoveries increased by 21,974 to 2.19 million, it said in a bulletin. 
There were 171,142 active cases, 92.4% of which were mild, 2.8% did not show symptoms, 1.4% were severe, 2.69% were moderate and 0.6% were critical. 
DoH said 61 duplicates had been removed from the tally, 46 of which were tagged as recoveries, while 60 recoveries were reclassified as deaths. Four laboratories failed to submit data on Sept. 19. 
Meanwhile, President Rodrigo R. Duterte on Monday night said there had been "false positive" results in coronavirus tests done by the Philippine Red Cross, which is headed by Senator Richard J. Gordon who has since turned into his political foe. 
He said 44 of 49 health workers who had tested positive turned out to be negative in a test at another laboratory. 
The tough-talking leader also said at a taped Cabinet meeting more than 200 members of the Presidential Security Guard who had tested positive for the coronavirus turned out to be negative. 
In a statement on Tuesday, Health Undersecretary Maria Rosario S. Vergeire said "it is possible for test results from the same case collectorate at two different time points to vary." 
"The outcome of a laboratory test result is influenced by multiple factors, affecting all the phases of testing from pre-analytic, analytic to post-analytic (from specimen collection, specimen transport, specimen evaluation, nucleic acid extraction, testing, results analysis, verification and releasing)," she added. — Kyle Aristophere T. Atienza