Philippines receives 582,000 AstraZeneca doses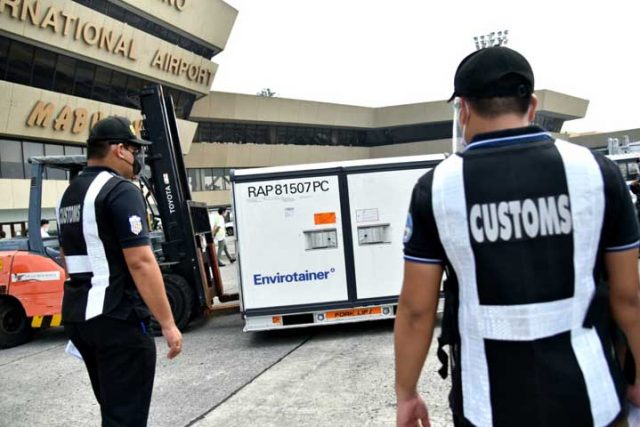 The Philippines on Thursday took delivery of 582,000 doses of the coronavirus vaccine made by AstraZeneca Plc.  
The shipment was procured by the private sector and local government units through a tripartite deal with the national government, vaccine czar Carlito G. Galvez said in an interview with state-run People's Television Network.   
Eighty percent of the AstraZeneca doses were ordered by 39 local government units, while 20% will go to the private sector, Metro Manila Development Authority Chairman Benjamin de Castro Abalos, Jr. said in the same interview.   
Meanwhile, 739,200 doses of the vaccine made by Sinopharm Ltd. are expected to arrive this week.   
The country has already received more than 46 million vaccine doses. About 29.13 million doses have been given out as of Aug. 18. Of these, 16.25 million were first doses and 12.88 million were second doses. 
The national government aims to administer 15 million doses of COVID-19 vaccine this month. 
Also on Friday, Palace spokesman Herminio L. Roque, Jr. said that an inter-agency task force has approved the creation of a sub-technical working group tasked to lead the issuance of vaccination certificates for fully vaccinated individuals.  
The group would be tasked to "deploy, support and recommend relevant policies related to the national certificate for COVID-19 vaccinations, otherwise known as 'VaxCertPH'," Mr. Roque said in a statement  
The Department of Information and Communications Technology will lead the group, he said.  
Members of the group include the departments of health, interior and local government, foreign affairs, tourism, transportation, and labor, and the National Privacy Commission, Mr. Roque said. 
VACCINE PROCUREMENT PROBLEMS 
The country has been struggling to inoculate its entire adult population amid a fresh spike in coronavirus infections believed to be triggered by the highly contagious Delta variant, which has been ravaging Southeast Asian countries. 
League of Provinces of the Philippines chair Presbitero Jose Velasco, Jr. said the procurement requests of some local government units for the purchase of coronavirus vaccines remain unsigned by the national government. 
Citing Health Undersecretary Myrna C. Cabotaje, the Marinduque governor told ABS-CBN News Channel that "there are around four requests for the execution of the tripartite agreement which have not yet been signed by the NTF (National Task Force)." 
"There are some suppliers of vaccines like those of Sinovac, Pfizer, and Sputnik V — if you request for these vaccines, then NTF will not sign the tripartite agreements because they want to prioritize the supply of the national government," the local leader said.  
Vaccine czar Mr. Galvez has said that supply issues delayed the approval of the multi-party deals between the national government and entities planning to procure coronavirus vaccines.  
Earlier this week, Senator Juan Miguel F. Zubiri asked the Senate to look into why the vaccine procurement requests of 42 local government units and about 300 private firms have been left unsigned. — Kyle Aristophere Atienza