Damage in infra, farm output from rains at P1.87B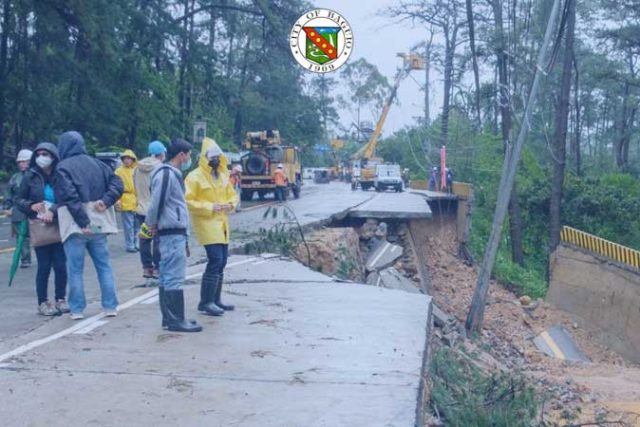 THE GOVERNMENT has so far recorded P1.87 billion worth of damage to public structures and agricultural produce due to weeks of incessant rains brought by the southwest monsoon.   
The Department of Public Works and Highways (DPWH) said Monday that the partial cost of damage to roads and flood-control structures has reached P1.17 billion.  
"As of 6:00 am Monday, Aug. 2, 2021, the DPWH Bureau of Maintenance reported that in Central Luzon alone, partial cost of damage to public infra is at P699.16 million from P349.96-million damage to roads and P301.20 million to flood-control," the department said in a statement.  
It said the CALABARZON region — composed of Cavite, Laguna, Batangas, Rizal, and Quezon provinces — has the second highest cost of damage at P224.2 million from P222.62-million damage to roads and P1.60-million damage to flood-control structures.  
The Cordillera Administrative Region recorded a P113.51-million damage to roads.   
In MIMAROPA — Mindoro, Marinduque, Romblon, and Palawan — cost of damage reached P65 million with P5 million in roads and P60 million in flood-control structures.  
The DPWH also reported a P39.66-million cost of damage to roads in the National Capital Region, and P31.05-million damage to roads and flood-control structures in the Ilocos Region.  
The department said it has cleared 32 national roads in Luzon, but six roads remain closed to traffic, including four roads in Cordillera and two in Central Luzon "due to soil collapse and flooding."  
AGRICULTURE
In the agriculture sector, losses rose to P698.53 million against the previous estimate of P615.72 million, according to the Department of Agriculture (DA).   
The DA's Disaster Risk Reduction and Management Operations Center said in a bulletin on Monday that those affected include 26,994 farmers and 34,029 hectares of agricultural areas across the Cordillera Administrative Region, Ilocos, Central Luzon, CALABARZON, MIMAROPA, Bicol Region, and Western Visayas.  
Farm production losses reached 14,175 metric tons (MT). Affected commodities include rice, corn, high value crops, livestock and poultry, fisheries, and agri-infrastructure.  
Damage to rice totaled P586.01 million, with 11,918 MT of lost production volume and 31,900 hectares of affected agricultural areas.   
High value crops losses totaled P47.85 million. A total of 719 MT of production volume and 1,288 hectares of farmlands were affected.    
Losses to corn amounted to P37.57 million. 1,538 MT of production volume were damaged while 841 hectares of farm production areas were affected.    
Other subsectors that recorded losses include fisheries at P14.2 million, irrigation facilities at P9.53 million, and livestock and poultry at P3.37 million.    
The DA said it is conducting further assessment and validation of agricultural losses and is coordinating with other government agencies and local government units in providing assistance to affected farmers.   
"Based on reports (of the different regions), there are no reported damage on road networks and bridges that can affect accessibility and mobility of food supplies to date," the DA said in the bulletin. — Arjay L. Balinbin and Revin Mikhael D. Ochave