Metro mayors agree on 2-week 8-hour curfew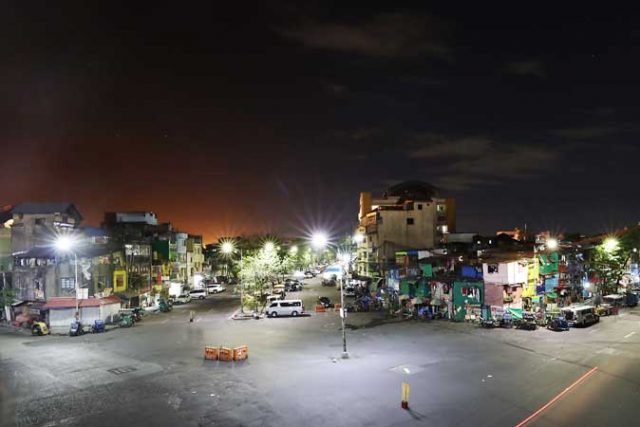 METRO Manila mayors have agreed to impose an 8 p.m. to 4 a.m. curfew starting Aug. 6, when a two-week strict lockdown takes effect to contain a more contagious Delta coronavirus variant.
Cities in the capital region will decide whether to impose a liquor ban, Benjamin de Castro Abalos, Jr., who heads the Metro Manila Development Authority (MMDA), told an online news briefing on Monday.
President Rodrigo R. Duterte has placed Manila, the capital ang nearby cities under an enhanced community quarantine until Aug. 20 amid a surge in infections probably spurred by the Delta variant from India.
The government also extended the travel ban on India and its neighbors until mid-August.
Makati, Taguig, Pasig and Las Piñas probably won't ban liquor, unlike the cities of Valenzuela, Mandaluyong, Parañaque, Pasay, Navotas, Pateros, Quezon City and San Juan, Mr. Abalos said.
"When it comes to the liquor ban, each city will decide," he said in Filipino.
Health Undersecretary Maria Rosario S. Vergeire said health authorities have detected 165 local cases of the Delta variant.
Of 216 patients who got the virus, 17 still have it, nine have died and 190 recovered, she told an online news briefing
Of the 17 active cases, 15 were local and two were returning migrant Filipinos, she said.
Ms. Vergeire said there was still no evidence that the Delta coronavirus is freely roaming in the community. "We need sufficient evidence for us to declare that there is already a community transmission."
The Octa Research Group from the University of the Philippines on Sunday flagged a fresh surge in coronavirus infections in the capital region, suggesting that a more contagious Delta variant was freely moving in the community.
The capital region reported 1,740 infections on July 31, the highest since May 10, it said.
The weekly average of new coronavirus cases in the region rose by 40% to 1,279 from a week earlier, it added.
The increase could not be easily explained by Alpha or Beta variants that have been managed, OCTA Research fellow Fredegusto P. David said. There might be 300 new Delta variant infections daily in Metro Manila.
DAILY TALLY
The Department of Health (DoH) reported 8,167 coronavirus infections on Monday, bringing the total to 1.6 million.
The death toll rose to 28,093 after 77 more patients died, while recoveries increased by 9,095 to 1.51 million, it said in a bulletin.
There were 62,615 active cases, 93.9% of which were mild, 1.3% did not show symptoms, 2.1% were severe, 1.48% were moderate and 1.2% were critical.
The agency said 94 duplicates had been removed from the tally, 20 of which were tagged as recoveries.
Nineteen recoveries were reclassified as active cases, while 29 recoveries were classified as deaths, it added. Three laboratories failed to submit data on July 31.
Meanwhile, Interior Undersecretary Jonathan E. Malaya said Metro Manila residents who will get vaccine during the two-week lockdown would be allowed to leave their homes.
Cargo vehicles may enter and leave the capital region, while other vehicles would need to pass through checkpoints, he told an online news briefing.
Also on Monday, Justice Secretary Menardo I. Guevarra said unvaccinated people would not be discriminated against during the two-week enhanced lockdown in Metro Manila.
"There will be no distinction between authorized persons outside residence who have been vaccinated and those who have not received such vaccines," he told reporters in a Viber group message. 
Mr. Guevarra said an inter-agency task force had made the decision since most Filipinos have not been vaccinated against the coronavirus.
Under the rules, only essential workers and people buying essential goods would be allowed to go out.
President Rodrigo R. Duterte earlier ordered police and village captains to bar unvaccinated people from leaving their homes during the enhanced quarantine period.
"If they refuse vaccination, barangay captains should not let them leave their house," Mr. Duterte said in Filipino at a televised Cabinet meeting on Wednesday.
Meanwhile, Senator Mary Grace Natividad Poe-Llamanzares said vaccination cards should be used to facilitate mobility including that of Filipino workers seeking to travel overseas.
"Now that we are once again about to enter a two-week hard lockdown, we need to have a recovery plan for the economy to keep businesses from closing and more people from losing jobs in the pandemic," she said in a statement.
Ms. Poe has filed a bill seeking to expand the use of the vaccination card from being a purely informative record to a document that a fully vaccinated person can use to travel locally or overseas.
"I totally support the move to have a unified vaccine card because it is easier to verify the authenticity of the information and will make mobility of Filipinos for travel easier," said Sherilyn G. Malonzo, officer-in-charge of the Philippine Overseas Employment Agency.
"It will also make the job of enforcement officers easier," she said in a Viber message. "This will also close the door for discretion and wrong judgment and even bias on the part of enforcement officers at checkpoints." — Kyle Aristophere T. Atienza, Alyssa Nicole O. Tan and Bianca Angelica D. Añago