Duterte says he was wrong about promise to end drug problem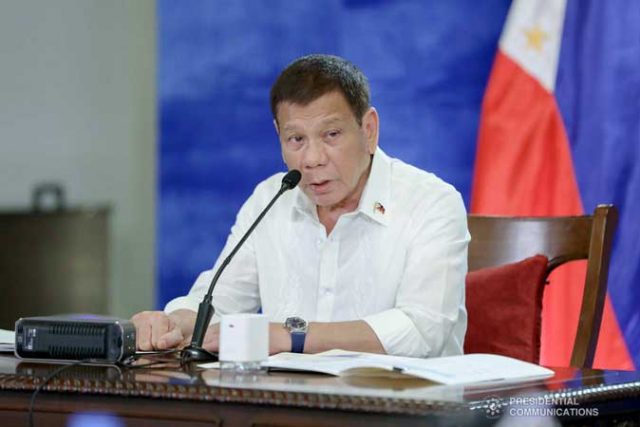 PHILIPPINE President Rodrigo R. Duterte on Tuesday night said he could not end the country's illegal drug problem before his six-year term ends next year.
"I said I can solve the problem in six months," he said in a televised speech on Tuesday night, referring to his campaign promise. "Little did I know that I will be fighting my own government. My critics were correct."
Tens of thousands of drug suspects have been killed in police anti-drug operations, many of them allegedly shot and killed after resisting arrest.
Mr. Duterte said it was only after he appointed his long-time friend, now Senator Ronald M. de la Rosa, as police chief when he discovered that some cops were involved in the sale of narcotics.
Mr. Duterte earlier said his government won't give full access to records on its deadly war on drugs and anti-insurgency drive due to national security concerns.
He said there were records that he was not privy to, adding that he is only briefed by his security officials when big personalities are involved.
Mr. Duterte said he "never, never allowed the killing of young people" under his watch, saying minors had not been at the top of the of the government's drug list.
At least 122 children were killed in the government's deadly drug war between July 2016 and Dec. 2019, according to the World Organization Against Torture.
Fatou Bensouda, former chief prosecutor of the International Criminal Court, had said there was reasonable basis to believe that crimes against humanity had been committed under Mr. Duterte's drug war. Her office said those crimes, including murder and torture, happened between July 2016 and March 2019.
Several petitions had been filed before the International Criminal Court accusing Mr. Duterte and his officials of mass murder.
Mr. Duterte in 2018 admitted that extrajudicial murders happened under his administration's drug war. The Philippine Commission on Human Rights has said the state is participating in rights violations when it does not intervene to stop abuses and protect vulnerable sectors.
Meanwhile, the Justice department has started evaluating 53 records from the Philippine National Police's (PNP) investigations against policemen in anti-drug operations.
The agency is also working on a memo with the PNP for access to the rest of the 7,884 cases, Justice Undersecretary Adrian F. Sugay told reporters in a Viber group message.
The Justice department created a panel last year to review cases of alleged extrajudicial killings, including those involving illegal drugs, as part of its commitment to the United Nations Human Rights Council. — Kyle Aristophere T. Atienza and Bianca Angelica D. Añago