New economic team, policies seen to boost trading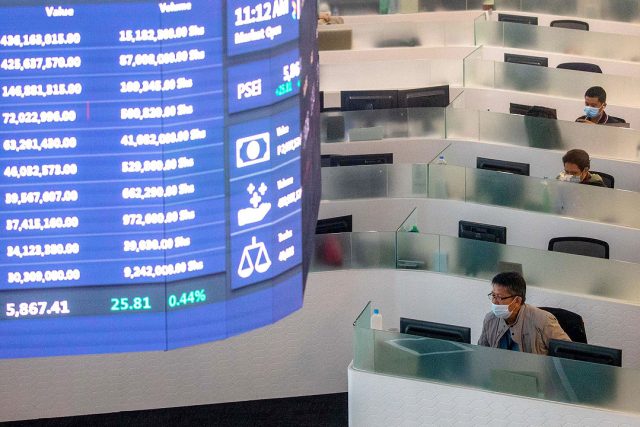 SHARES are seen to move upwards this week as the next administration has begun revealing its economic team and fiscal policy direction, and amid the acceleration of the country's vaccination drive.
The benchmark Philippine Stock Exchange index (PSEi) climbed by 80.62 points or 1.21% to close at 6,726.14 on Friday, while the broader all shares index rose by 27.48 points or 0.77% to close at 3,596.13.
Week on week, the PSEi ended lower by 20.19 points from its close of 6,746.33 on May 20.
"After the positive reception to the incoming administration's choice of economic managers, we think the market will trade sideways with an upward bias on expectations of policy continuity and further economic reopenings," RCBC Securities, Inc. Head of Research Erwin Rommel C. Fuentes said in an e-mail.
Rizal Commercial Banking Corp. (RCBC) Chief Economist Michael L. Ricafort said that the appointment of certain Cabinet members thus far was taken positively by the local market, since the appointees were "seasoned, experienced, with good track record, well respected, and recognized by the local and international investment communities."
"In view of the transition phase before the new administration takes office on June 30, the financial markets and general public are still waiting for more details on the rest of the Cabinet members of the new administration," he said in an e-mail.
Reuters reported that Philippine President-elect Ferdinand "Bongbong" R. Marcos, Jr. gave strong indications that he will maintain continuity in economic policy through his picks for central bank governor and Finance secretary last Thursday by adding familiar faces to his Cabinet.
Benjamin E. Diokno, the central bank governor, would become Mr. Marcos' Finance chief, with Felipe M. Medalla, a current monetary board member, to take over as Bangko Sentral ng Pilipinas governor. The two will be tasked with tackling inflation and joblessness.
Reuters added that Mr. Marcos faces a delicate balancing act to ensure economic recovery is sustained and rising inflation, driven by politically sensitive increases in rice and fuel costs, is kept in check after he starts his six-year term. Still, the economy is seen to be manageable with debt stock at acceptable levels, foreign reserves at record highs, and growth at healthy rates.
Meanwhile, RCBC's Mr. Ricafort said that the possibility of an additional accelerated vaccination or booster program would also contribute to further reopening of the economy.
"Population protection is already achieved nationwide and this could eventually reach herd immunity," he said.
In April, the Philippines started giving second coronavirus disease 2019 (COVID-19) booster doses for immunocompromised adults, joining a growing number of Asian countries offering a fourth vaccine shot, Reuters reported.
The government also already opened inoculations for children 12-17 years old, in preparation for the resumption of face-to-face schooling.
Nearly 61% of the Philippines' 110 million population have been vaccinated, while nearly 13 million people have received first booster doses, according to government data.
For the coming week, RCBC's Mr. Ricafort placed the PSEi's immediate support between 6,530 and 6,570 levels, and resistance at 6,800 to 6,900 levels. — Luisa Maria Jacinta C. Jocson with Reuters