PSE index rebounds as gov't eases restrictions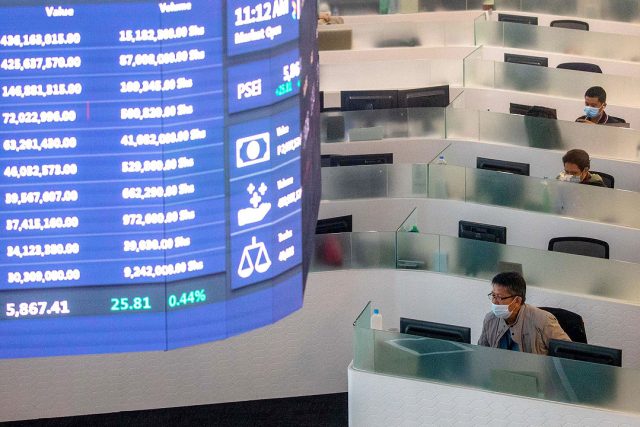 SHARES rebounded on Monday as Metro Manila and other areas will be under eased restrictions for the next two weeks, allowing businesses to operate at full capacity and increased mobility.
The benchmark Philippine Stock Exchange index (PSEi) went up by 98.78 points or 1.37% to close at 7,311.01 on Monday, while the broader all shares increased by 46.24 points or 1.20% to close at 3,889.09.
"Investors digested the government's latest decision on the social restrictions of the country beginning March 1 [and] cheered the downgrade of the alert level status in the National Capital Region and other areas of the country since this is expected to lead to more economic activities which in turn would help in sustaining our recovery momentum," Philstocks Financial, Inc. Senior Research Analyst Japhet Louis O. Tantiangco said in a Viber message.
"Market is domestic oriented and has for now ignored geopolitical risks [and the] war in Ukraine as it prices in gross domestic product growth and corporate earnings sustainability with the implementation of looser mobility restrictions starting tomorrow," First Metro Investment Corp. (FMIC) Head of Research Cristina S. Ulang said in a Viber message.
Metro Manila and nearby cities will be under the Alert Level 1 starting on Tuesday as health authorities reported fewer than 2,000 coronavirus infections and prepared to transition the country to an endemic phase.
Under Alert Level 1, there are no restrictions on indoor and outdoor operating capacities. Intrazonal and interzonal travel will also be allowed.
All establishments can likewise operate at full capacity. Minimum public health standards will still need to be followed.
"Market is up most likely because today is the last day for MSCI index rebalancing. This is also the reason why we are enjoying net foreign buying during the past few days," COL Financial Group, Inc. First Vice-President April L. Tan added in a Viber message on Monday.
Majority of sectoral indices ended in the green except for services, which dropped by 2.21 points or 0.11% to 1,913.55.
Meanwhile, property climbed 138.31 points or 4.06% to 3,540.79; mining and oil rose by 329.50 points or 2.76% to 12,232.74; industrials went up by 245.34 points or 2.43% to 10,341.27; holding firms improved by 49.55 points or 0.72% to 6,895.99; and financials gained by 1.85 points or 0.11% to 1,689.88.
Value turnover increased to P11.61 billion with 2.11 billion shares changing hands on Monday from the P9.94 billion with 2.82 billion issues seen the previous trading day.
Advancers outnumbered decliners, 108 versus 79, while 49 names closed unchanged.
Net foreign buying dropped to P202.74 million on Monday from P748.68 million on Thursday. — L.M.J.C. Jocson