Yields increase on May inflation print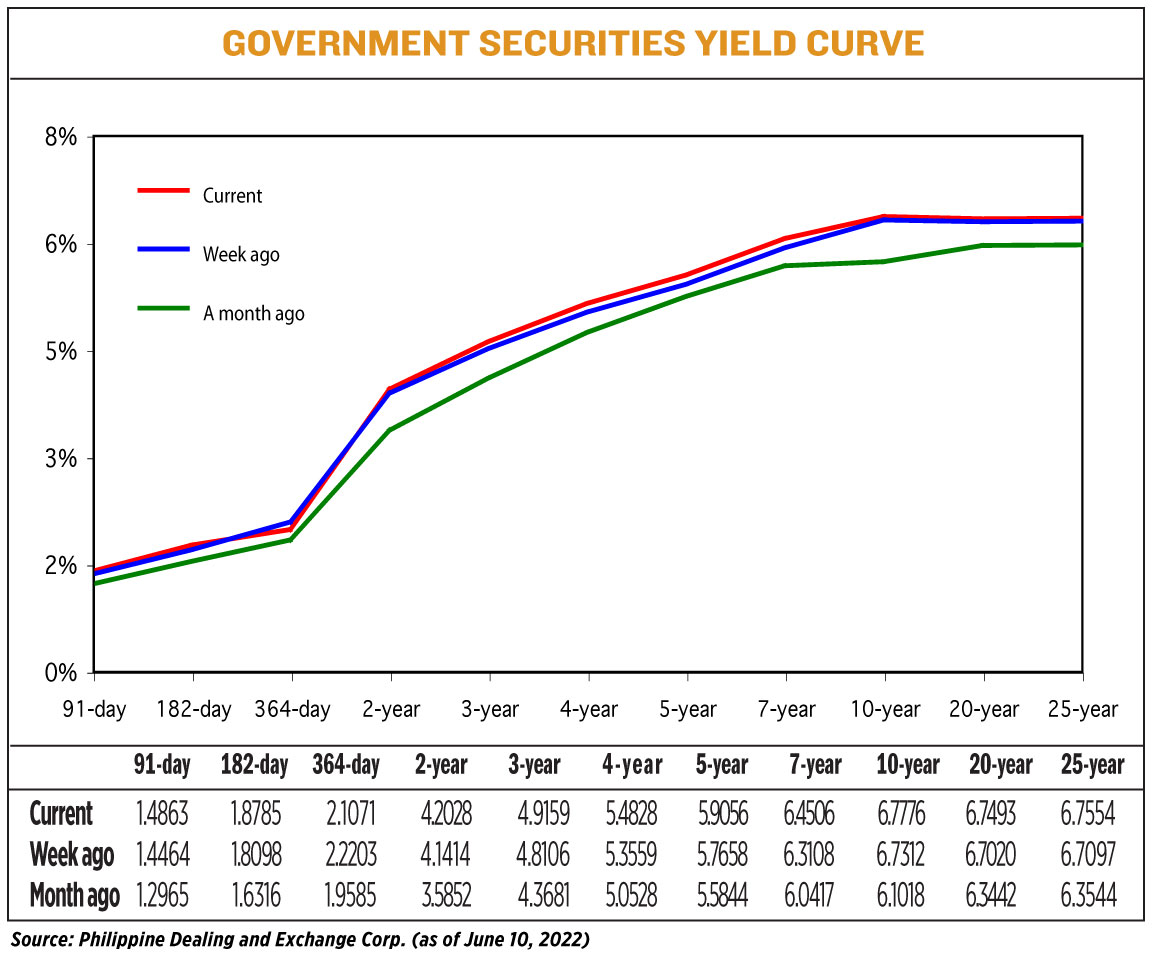 YIELDS on government securities (GS) went up last week after inflation soared to its fastest in three and a half years in May.
GS yields, which move opposite to prices, rose by an average of 6.44 basis points (bps) week on week, based on the PHP Bloomberg Valuation Service Reference Rates as of June 10 published on the Philippines Dealing System's website.
Rates across the yield curve increased week on week on June 10 except for the one-year debt, which declined by 11.32 bps to fetch 2.1071%.
Yields on the 91- and 182-day Treasury bills (T-bills) rose by 3.99 bps and 6.87 bps, respectively, to 1.4863% and 1.8785%.
The belly of the curve likewise increased as rates on the two-, three-, four-, five-, and seven-year Treasury bonds (T-bonds) climbed by 6.14 bps (to 4.2028%), 10.53 bps (4.9159%), 12.69 bps (5.4828%), 13.98 bps (5.9056%), and 13.98 bps (6.4506%), respectively.
Similarly, the long end inched up with the 10-, 20-, 25-year debt papers expanded by 4.64 bps (6.7776%), 4.73 bps (6.7493%), and 4.57 bps (6.7554%).
GS volume totaled to P6.112 billion on Friday, thinner than P13.580 billion on June 3.
In an e-mail, Security Bank Corp. Chief Investment Officer for Trust and Asset Management Group Noel S. Reyes attributed the yield performance on the release of May inflation data.
"CPI (consumer price index) came out as expected which provided some support interest to the new supply from the auctions amid consolidation of yields within the curve," Mr. Reyes said.
"However, a feared second-round effects of inflation on transport costs and merchandise goods and more aggressive hikes by the Fed, faster than the BSP led to the peso to depreciate and demand for GS to become timid and keeping within its current yield range," he added.
"GS yields were mostly sideways as market players are waiting for the upcoming FOMC (Federal Open Market Committee) meeting on Thursday and next week's BSP meeting," a bond trader said in a Viber message.
The bond trader said that the market players are still waiting for clues on future moves following the central bank's planned rate hikes.
Headline inflation rose to a three-and-a-half year high of 5.4% in May as food and transport costs soared amid high oil prices, the Philippine Statistics Authority reported on Tuesday. It was the quickest pace since the 6.1% recorded in November 2018.
May's print matched the median estimate in a BusinessWorld poll and within the 5-5.8% forecast range of the Bangko Sentral ng Pilipinas for the month. However, it marked the second straight month that inflation breached the 2-4% target band of the central bank for the year.
Meanwhile, the Bureau of the Treasury raised just P25.189 billion from the reissued seven-year papers on Tuesday after market players asked for higher yield as May's inflation hit above 5%.
The amount raised was below the P35-billion program despite total tenders reaching P48.80 billion.
The reissued papers, which have a remaining life of three years and eight months, were awarded at an average yield of 5.514%, 78.2 bps higher than the 4.732% quoted for the paper when it was last offered on Jan. 21, 2020.
These papers would have yielded an average rate of 5.579% had the Treasury made a full award last Tuesday.
For this week, Mr. Reyes expects market players to remain cautious and the GS yield curve to remain flat as the BSP is expected to announce two more hikes and a more aggressive policy rate increase from the US Federal Reserve.
US inflation surged to its fastest in 40-and-a-half years to 8.6% in May as food prices soared, fueling bets that the Fed could continue with its 50-bp interest rate hikes up to September to rein in rising consumer prices, Reuters reported.
The Fed's policy-making body FOMC is scheduled to meet on June 14-15.
Meanwhile, the BSP's incoming governor signaled at least two more interest rate hikes starting this month to temper inflation.
In a Bloomberg interview on Tuesday, Monetary Board (MB) member Felipe M. Medalla said it is a "sure thing" that the BSP will hike this month. He will serve the remaining term of Benjamin E. Diokno, the incoming Finance chief of President-elect Ferdinand R. Marcos, Jr., until July 2023.
Mr. Medalla also signaled a "90% chance" of a rate hike in August and hinted at a possibility for more.
The MB, the central bank's policy-making body, will meet on June 23.
"Market will try and demand higher yields for [this] week's auction which will be watched carefully," Mr. Reyes said.
On Tuesday, the Treasury is scheduled to offer another reissued seven-year papers, with a remaining life of six years and 11 months, worth P35 billion.
The bond trader also sees continued upward pressure on local yields following the expected rate hikes of the central banks. — M. I. U. Catilogo with Reuters