Gov't fully awards reissued 20-year bonds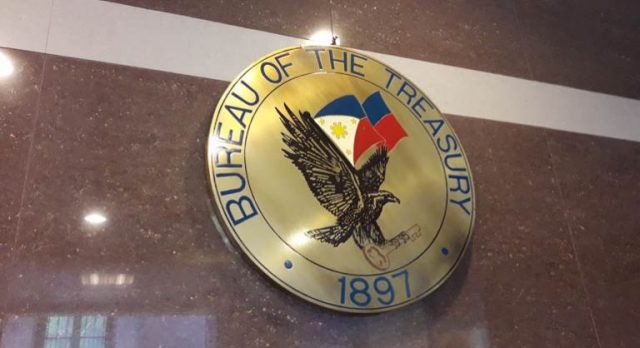 THE GOVERNMENT fully awarded the reissued 20-year Treasury bonds (T-bonds) it offered on Tuesday even as its rate climbed as demand for the papers was strong.
The Bureau of the Treasury (BTr) raised P35 billion as planned via the reissued 20-year T-bonds, which have a remaining life of 11 years and eight months.
The BTr received P65.265 billion in bids for the tenor on Tuesday, making the offering nearly two times oversubscribed. However, this was lower than the P118.33 billion in tenders seen for the maiden issue of the notes on March 21, 2013.
The strong demand caused the Treasury to open its tap facility to raise an additional P5 billion via the tenor.
The reissued 20-year notes fetched an average rate of 4.187%, up by 55.2 basis points from the 3.635% coupon quoted for the series.
This was also higher than the 3.898% rate fetched for the 10-year tenor at the secondary market, based on the PHL Bloomberg Valuation Reference Rates published on the Philippine Dealing System's website. This is the closest benchmark to the remaining life of the reissued bonds on offer on Tuesday.
National Treasurer Rosalia V. de Leon told reporters via Viber that the result of yesterday's auction shows investors remain interested in the long end of the yield curve, as seen in the "good" bid-to-cover ratio for the issuance.
Ms. De Leon said the rate fetched for the tenor reflects the market's expectations of "steady June inflation print," as well as strong liquidity due to the redemption of government securities worth P31 billion this week.
Headline inflation stood at 4.5% for a third straight month in May, easing from 4.7% in February but still above the 2-4% target range set by the Bangko Sentral ng Pilipinas (BSP).
The central bank last week raised its inflation outlook for this year to 4% from the previous forecast of 3.9%. This matches the upper end of the BSP's 2-4% target. If realized, this would be faster than the 2.6% logged in 2020.
On the other hand, inflation is expected to average 3% for 2022 and 2023.
Meanwhile, a bond trader said the increase in the average rate for the reissued 20-year papers still fell within market expectations, noting this "bond required higher yield due to liquidity premium because we don't expect this bond to be traded daily."
Tuesday's bond offer is part of the government's borrowing plan for July, under which the Treasury is programmed to raise P235 billion from the local market: P60 billion via weekly offers of T-bills and P175 billion from weekly auctions of T-bonds.
The government wants to borrow P3 trillion from domestic and external sources this year to help fund a budget deficit seen to hit 9.3% of gross domestic product. — B.M. Laforga