Gov't debt rates seen dropping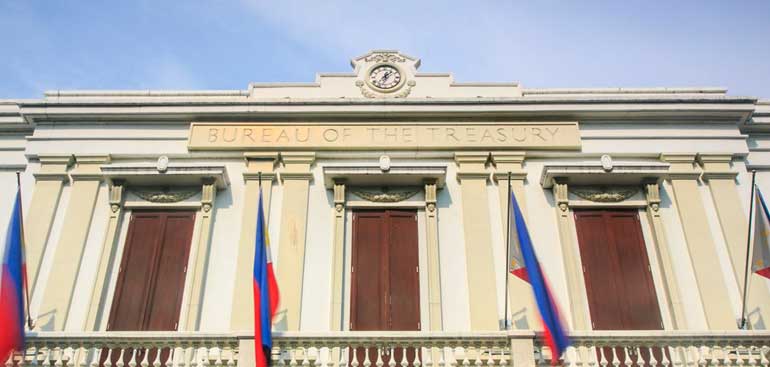 THE RATES of government securities on offer this week would likely continue to decline before the Philippine central bank meets on policy rates on June 24, according to traders.
The Bureau of the Treasury is set sell P15 billion of Treasury bills (T-bills) on Monday — P5 billion each in 91-, 182- and 364-day debt paper.
On Tuesday, it will auction off reissued 10-year Treasury bonds (T-bonds) with a remaining life of five years and 10 months.
The T-bills may fetch lower rates again this week, while T-bond yields could range from 3.175% to 3.3%, a bond trader said in via Viber message.
The auctions would be driven by ample liquidity in the market, with investors factoring in expectations that the Bangko Sentral ng Pilipinas (BSP) will keep its policy rates unchanged on Thursday.
Government security rates could fall further as short-term rates have been falling recently, said Noel S. Reyes, chief investment officer at Security Bank Corp. "The curve is looking to flatten and see longer dates inch lower on yields."
The Treasury bureau increased the volume of T-bills it awarded last week to P21 billion from P15 billion after total tenders hit P100.3 billion and rates declined across the board.
It borrowed P7 billion via the 91-day debt, up from the initial plan to raise just P5 billion. The three-month debt fetched an average rate of 1.118%, lower than 1.176% seen at the June 7 auction.
The bureau raised another P7 billion from the 182-day securities against the original P5-billion program at average 1.372%, down from 1.422%.
It also raised its award for the 364-day securities to P7 billion from P5 billion. The one-year instruments were quoted at 1.577%, down from 1.649%.
The last time the Treasury bureau offered the reissued 10-year bonds was on March 9, when it raised P30 billion from P50.25 billion in bids. The notes fetched an average rate of 3.732%, up by 101 basis points from Jan. 19.
The rates of three-month, six-month and one-year debt were quoted at 1.222%, 1.427% and 1.637%, respectively at the secondary market on Friday, based on PHL Bloomberg Valuation Reference Rates posted on the Philippine Dealing System's website. The rate of the five-year debt, the closest tenor for the T-bonds on offer, was 3.067%.
The Treasury bureau wants to raise P215 billion from the local debt market this month — P75 billion via weekly offers of T-bills and P140 billion from weekly auctions of T-bonds.
The government may borrow P3 trillion from domestic and external sources this year to help fund a budget deficit that is expected to hit 9.3% of economic output. — Beatrice M. Laforga