Yields on gov't debt drop on steady April inflation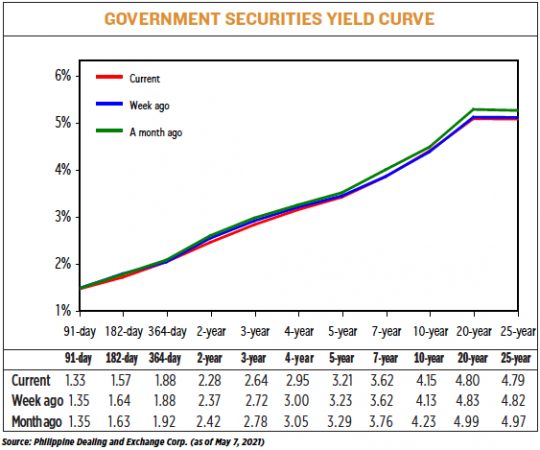 YIELDS ON government securities (GS) went down last week as investors reacted to April inflation data and the result of the five-year bond auction.
GS yields, which move opposite to prices, fell by 3.38 basis points (bps) on average week on week, based on PHP Bloomberg Valuation Service Reference Rates as of May 7 published on the Philippine Dealing System's website.
Yields on Treasury bills (T-bills) closed mixed last week. The rates of the 91- and 182-day papers fell by 1.79 bps and 7.53 bps, respectively, to 1.3279% and 1.5691%. On the other hand, the yield on the 364-day T-bills inched up by 0.19 bp to 1.8835%.
Meanwhile, the belly of the curve edged lower as yields on the two-, three-, four-, five-, and seven-year Treasury bonds (T-bonds) fell by 8.52 bps (to 2.2807%), 7.91 bps (2.6434%), 5.04 bps (2.9483%), 2.54 bps (3.2051%) and 0.27 bp (3.6209%), respectively.
At the long end, the 10-year debt saw its yield rise by 2.21 bps to end at 4.1508%, while the rates of the 20- and 25-year T-bonds decreased by 2.7 bps (4.8029%) and 3.27 bps (4.7912%), respectively.
ATRAM Trust Corp. Head of Fixed Income Jose Miguel B. Liboro attributed last week's yield movement to the five-year T-bond auction and the April inflation data release.
"Prior to the auction, we saw yields on the five- and seven-year adjust higher but the lower-than-expected CPI (consumer price index) print appeared to validate the view of plateauing inflation. In addition, a gradual drift lower in global bond yields throughout the week helped spur additional buying interest," Mr. Liboro said in an e-mail.
"Main factor is the country's growth story given the quarantine status. With CPI coming out within market and BSP's (Bangko Sentral ng Pilipinas) expectations, the shift to the growth narrative is imminent. As a result, yields dropped and we may continue to see this move in the absence of bond supply [this] week," a bond trader said in a Viber message.
The Bureau of the Treasury (BTr) borrowed P35 billion as planned on Tuesday via its offer of reissued five-year bonds, which have a remaining life of four years and 11 months.
Total bids reached P75.716 billion, making the offer more than two times oversubscribed. To accommodate the excess demand, the Treasury opened the tap facility to raise another P10 billion from the papers.
The five-year notes fetched an average rate of 3.295%, slightly lower than the 3.3% coupon quoted when the papers were first offered on April 6.
Meanwhile, inflation remained stable in April, while core inflation eased to a five-month low, leading economists to expect the central bank to keep rates on hold at this week's policy-setting meeting.
Preliminary data from the Philippine Statistics Authority released on Wednesday showed the consumer price index rose by 4.5% year on year last month, unchanged from March but faster than 2.2% in April 2020. This, as price increases for food staples such as rice and vegetables slowed, helping offset a spike in transportation costs caused by higher oil prices.
The April headline inflation print was lower than the median 4.7% in an analyst poll by BusinessWorld late last week, and settled within the central bank's 4.2-5% estimate.
Year to date, inflation averaged at 4.5%, slightly above the BSP's 2-4% target, as well as its inflation forecast of 4.2% for the year. April was the fourth month in a row that inflation went beyond this year's target.
Mr. Liboro said yields may likely drift gradually lower over the coming weeks.
"With inflation seemingly stabilizing, speculation on potential action on the reserve requirement may come into play once more," he added.
The government will report first-quarter gross domestic product data on May 11, while the BSP Monetary Board will meet on May 13 to review its current policy settings. — Lourdes O. Pilar