Arts & Culture (07/21/21)

Philbanda marks 10th year with virtual concert
THE CULTURAL Center of the Philippines (CCP) teams up with the Philippine Band Association (Philbanda) in bringing the latter's decade-long celebration to the virtual screen through a concert billed as PERFECT 10 on July 24, 6 p.m., on the Facebook page of the CCP Office of the President. Featuring the 60-piece Philbanda Wind Orchestra, PERFECT 10 highlights a decade of symphonic performances from the country's sole professional wind orchestra. This special virtual con-cert will also be graced by the Philippine Baton Twirling Association, and will be hosted by OPM artist Ice Seguerra. Herminigildo Ranera of the UST Conservatory of Music is the current conductor of the Philbanda Wind Orchestra. Young talents from Metro Manila and local participants from different regions will also showcase their talents in the premiere performance of Mr. Ranera's New Normal Concert March, a rare opportunity for local musicians to perform alongside professional groups via virtual platforms. For updates and more information, follow the CCP Office of the President on Facebook.
Online kid's puppet show tackles self-expression
THE FREE public interactive show Ang Red Dress ni Makisig, a 30-minute theatrical children-style hand-puppetry production, aids the youth about breaking gender norms while promoting innovative reading and storytelling. Set in the fictional Catacutan Elementary School, the play follows nine-year-old transfer student Makisig who decides to wear a bright red dress on his first day in class. The puppet show was directed by John Gamboa, and written by Jack Denzel Gaza, Arjay Rosales, and Gabby Serafico, all of whom are members of Sining LABinsiyam (SiLAB), a group of Filipino student-artists and thespians. It is produced in collaboration with the Quezon City Public Library and De La Salle-College of Saint Benilde Service Learning Team. Shows — to be livestreamed via Zoom and Facebook — are scheduled on July 23, 10 a.m.; July 24, 2 p.m.; and July 25 at 10 a.m. and 2 p.m. For more information, visit the official Facebook pages of SiLAB (https://www.facebook.com/SiLAB119) or Benilde Theater Arts (https://www.facebook.com/benildetheaterarts).
Gavel&Block 'Interiors' auction
EXPLORE Salcedo Auctions' virtual gallery to view the "Interiors" auction line-up which features a selection of original fine art, decor, and furniture by local and international artists and artisans. The auction is on July 24, 11 a.m. Proceeds from the sale, done in partnership with Hands on Manila, will go to supporting Advancement for Rural Kids' (ARK) Feed Back program to secure food and provide health benefits to a community in Pililia, Rizal. For more information, visit https://salcedoauctions.com/auction/87/interiors.
Rizal hybrid art exhibit in Tagum City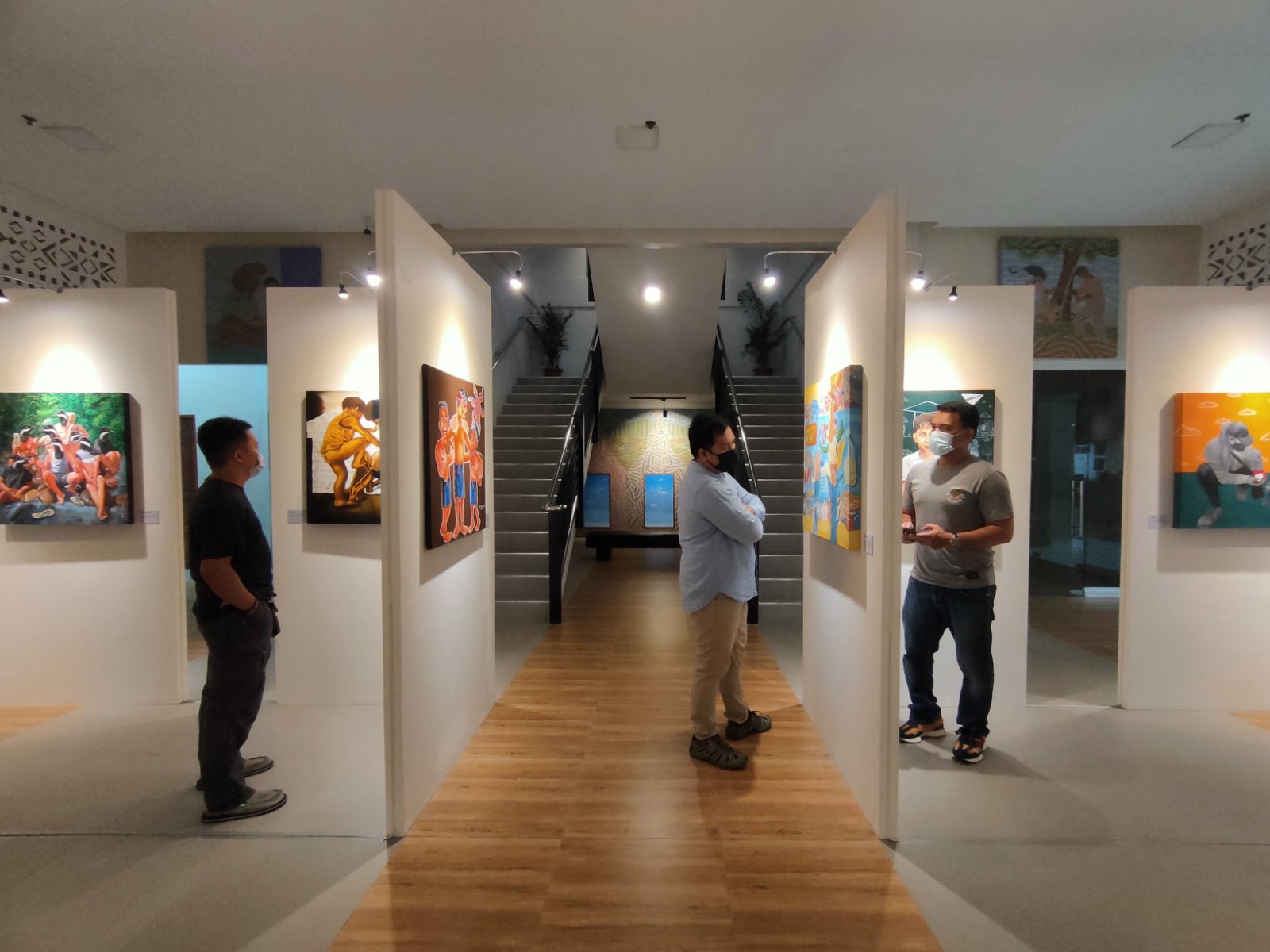 VISUAL artists from Tagum City made sense of Dr. Jose Rizal through the 18 artworks currently exhibited in the "1st Rizalian Values Art Competition and Exhibition," the first-ever art exhibit mounted at the Tagum City Historical and Cultural Center. Themes on Rizalian values dominate the art pieces of mostly-millennial Tagumenyo artists, tackling the wide spectrum of the virtues the country's national hero that he wanted to instill in the Philippine nation. The exhibition, originally scheduled last month in time for the 160th Birth Anniversary of Dr. Jose Rizal, is a hybrid as the artworks are physically exhibited at the Center's lobby, while also part of a virtual exhibition. The winner of the competition is Reden Paa, whose intricate details in his work entitled Tapang ng Pangarap made his piece a solid standout. Elvis Goloran's Kuya Rizalito Jr., and Roger Gamoro's Gawa, Gabay, Pagmamahal were declared run-ners-up. Eleven of 18 artworks in the exhibit have already been sold to local art collectors. The works can be viewed via this link: bit.ly/RizalArt. The exhibition will end on July 25.
Two exhibits at Silverlens
SILVERLENS will open two exhibits on July 31 to run until Aug. 28. These are Gary-Ross Pastrana's "Things That Came to Light" which focuses on his collages, and Chati Coronel's "Celestial Data for Daydreaming," a study of cosmol-ogy with each painting titled after one of the seven classical planets of ancient Greece. The gallery is at 2263 Don Chino Roces Ave. Ext., Makati City; opens Tuesdays to Saturdays from 10 a.m. to 4 p.m. Appointments can be made through 8816-0044, 0917-587-4011, and via e-mail at info@silverlensgalleries.com.
UST students bag NY Young Performers Prize
FOUR students from the University of Santo Tomas (UST) Conservatory of Music earned recognitions in the 2021 New York Young Performers Prize (NYYPP) Competition held on April 18. Michael Valenciano, a student under the Bachelor of Music in Performance, major in Piano program, bagged the first prize in the Lucy Boyan Balakian Awards category, College division. Anyah Therese De Guzman, a student under the Bachelor of Music, major in Music Theater program, received the first prize in the Olly H. Kukepuu Vocal Awards, College–Musical Theatre division. For strings, Violin major Alain de Asis won the 2nd prize in the Aaron Rosand Memorial Prizes Category, College divi-sion. Fellow Violin major Victor Jan Luigi Torres received the Honorable Mention distinction in the same category. The NYYPP is an international competition organized by the Associated Music Teachers League, founded in New York City in 1925. The winners earned cash prizes. Their performances can be viewed on NYYPP's final round video playlist: http://bit.ly/UST_NYYPP.
RIZAL@160 TULARAWAN Digital Art Contest
THE NATIONAL Commission for Culture and the Arts (NCCA) presents the RIZAL@160 TULARAWAN Digital Art Contest 2021 for Overseas Filipino Youth. The contest — open to overseas Filipinos ages 18 to 35 — aims to encourage participants to immerse themselves in Dr. Jose Rizal's poetry and transform his literature to original creative digital artworks. RIZAL@160 TULARAWAN runs until Oct. 15. The winning entries will be announced in December in time for the commemoration of the Month of Overseas Filipinos and the 125th anniversary of Rizal's martyrdom. Inquiries and submission of entries may be coursed through Sentro Rizal branches which can be found here: https://ncca.gov./sentro-rizal-3/sentro-rizal-branches/.
Still musical series on Viu
THE FIRST Filipino Viu Original musical, Still, is an eight-episode musical series about a group of aspiring artists who find themselves stuck in a music camp during the first couple of months of the pandemic. The series, directed by Treb Monteras, stars singers/actors Julie Anne San Jose and Christian Bautista, Bituin Escalante and Gab Pangilinan. Also in the cast are Gabby Padilla, Lance Reblando, Abe Autea, MC Dela Cruz, Chaye Mogg, Roco Sanchez, Ian Hermogenes, and Shaira Opsimar. It features music and lyrics by Nica Del Rosario, Matthew Chang, and Mike Shimamoto, and is produced by Viu Philippines and This Side Up, in collaboration with Arkeofilms, TheaterFansMa-nila.com, Flip Music, and Black Box Collab. Still will have a limited-time release on Ticket2Me before its scheduled showing on Viu. The Exclusive PreViu tickets will not only allow viewers to watch the episodes earlier but also enjoy a six-month Premium subscription to Viu Philippines and a digital Still chord book containing the songs from the Viu Original series. For ticket, visit https://bit.ly/ViuStillSeries.
CCP donates books to Lahat ng Bata
THE CULTURAL Center of the Philippines (CCP) has donated books and other publications to a youth group called Lahat ng Bata in Singalong, Manila. A variety of publications ranging from books for children from the Philippine Board on Books for Young People, publications of the National Commission for Culture and the Arts, as well as book donations collected from the Performatura Festival 2019, were turned over to Lahat ng Bata on May 27. Some of these books served as admission tickets during the three-day Performance Literature Festival in 2019 during which time one book was equivalent to a whole day admission. The youth group intends to make reading accessible to the poorest families in the neighborhood, putting up the Lahat ng Bata Community Library along Pag-asa St. in Zapanta, Singalong, Manila. Learning materials from grade school to college are also available. Lahat ng Bata is also open for hygiene kit donations such as alcohol and facemasks. For inquiries, contact 0929-377-9865, visit its Instagram and Facebook pages at instagram.com/lahatngbata.ph and facebook.com/lahatngbataph