Home
Arts & Leisure
National Artist for Literature Cirilo Bautista commemorated in zine collection
National Artist for Literature Cirilo Bautista commemorated in zine collection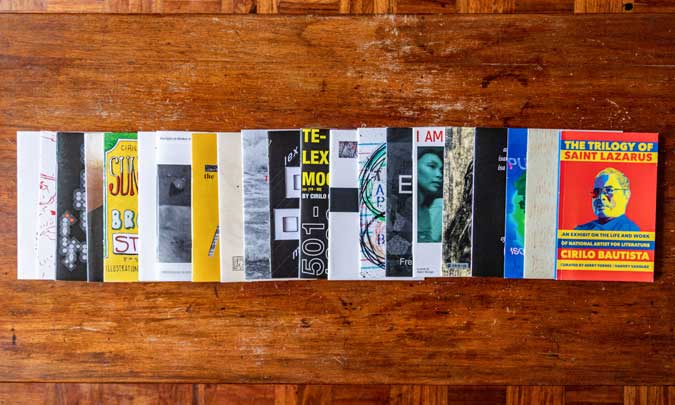 TWENTY-ONE visual art zines celebrate the life and work of the late National Artist for Literature Cirilo Francisco Bautista, through a compilation entitled The Trilogy of Saint Lazarus.
According to Wikipedia, a zine is a small-circulation self-published work of original or appropriated texts and images, usually reproduced via a copy machine. The zine set is produced by the Center of Campus Art of De La Salle-College of Saint Benilde (DLS-CSB).
The zine set is inspired by the multi-awarded poet, writer, essayist, critic, and educator's renowned epic poem The Trilogy of Saint Lazarus, comprised of The Archipelago (1970), Telex Moon (1981), and Sunlight on Broken Stones (1999.)
The series, which took 30 years to complete, retells Philippine history and earned Mr. Bautista a number of recognitions including the National Centennial Commission First Prize in Epic Writing, the Manila Critics Circle National Book Award, and the Book Development Association of the Philippines Gintong Aklat Award, among many others.
The anthology was illustrated by contemporary artists and architects, to include Nel Banaag, Gringo Benedicto, Blic, Gab Brioso, Tricia Castillo, Julius Clar, Mariah Concepcion, Jackie Cruz, Bayani Galera, Winna Go, Miguel Infante, Doktor Karayom, Charles Mañez, Stephen Matti, Regina Morales, Walther Ocampo, Levyn Purcil, Robin Ravago, Gabby Rosario, Isola Tong, and Thea Torres.
DLS-CSB Manila and La Salle Green Hills President Brother Edmundo Fernandez FSC wrote the introduction for the zine series.
The collection is part of an exhibit on the life and work of the National Artist, presented in book form. Meanwhile, a digital installation entitled House of Words, reimagines the Quezon City home of the late poet and his wife architect Rose Marie, the former dean of DLS-CSB School of Design and Arts.
Using the concept of "Text as Image," DLS-CSB architecture students Tracie Bejar, Bea Carague, Jackie Cruz, Janelle Gan, Kevin Nuñez, Emilio Tenorio and Aaron Yu, together with Multimedia Arts students Marco Ajero, Gelo Fabian, Enrique Masias and Raine Sanciangco selected phrases and stanzas from the epic poem and recreated the house using environmental graphics and architectonic volumes.
Mr. Bautista taught at the Waseda University in Japan and Ohio University in USA. He was the only Filipino granted with an honorary degree from the International Program of the University of Iowa, USA. He had honed aspiring writers as the Professor Emeritus at DLSU Manila, San Beda University Manila, and St. Louis University Baguio.
He was a Don Carlos Palanca Memorial Awards Hall of Famer, given to those who have won more than five times, the 2012 Cultural Center of the Philippines (CCP) Gawad CCP Para sa Sining Awardee, and the 2013 National Commission for Culture and the Arts (NCAA) Achievement Awardee.
Originally created as a physical exhibition in 2020, the virtual gallery may now be accessed at www.thetrilogyofsaintlazarus.com.