Home
Editors' Picks
Terrafirma Motors, Chengdu Dayun forge deal for modern jeepney, electric truck
Terrafirma Motors, Chengdu Dayun forge deal for modern jeepney, electric truck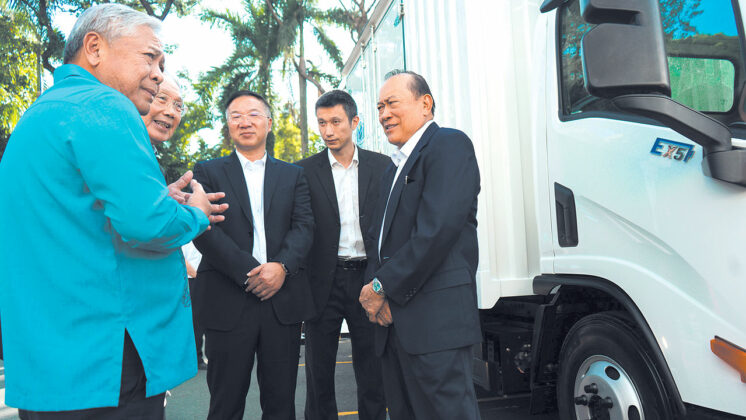 By Kap Maceda Aguila
DESPITE the misgivings and protestations of some quarters, it's clear that the public utility vehicle modernization program of the government is gaining momentum and is heading to an inevitable fruition. To reach the end goal much more easily and quickly, the private sector needs to get on board.
Columbian Auto Group subsidiary Terrafirma Motors Corp. (TMC) is obviously heeding the clarion call, as it recently signed an agreement with Chengdu Dayun Automobile Co. Ltd. (Chengdu Dayun) for a commercial vehicle assembly and distribution partnership.
Under the deal, Chengdu Dayun, the fourth largest private auto firm in China, will supply TMC with "drive-away chassis" units — comprised of an Isuzu engine, chassis, transmission, axles, and tires. TMC President Felix Mabilog, Jr., speaking with this writer, said that TMC will then design and assemble the body and other components onto the units. These vehicles are to be deployed as modern jeepneys under the aforementioned Public Utility Vehicle Modernization Program. An initial 25 vehicles have already been delivered to the San Pedro Transit Cooperative in San Pedro, Laguna. Mr. Mabilog said that another cooperative has ordered 60 units as well.
The executive revealed that TMC previously sourced units from Mahindra in India, but the latter's vendors had been adversely affected by the COVID-19 pandemic, and "could not keep up" with a proposed ramp-up of production. However, the deal with Chengdu Dayun has an added benefit of having only five percent duty, on account of a standing trade agreement with the country. The Mahindra arrangement called for 30% duty.
"Founded by Chamber of Automotive Manufacturers of the Philippines, Inc. (CAMPI) Chairman Emeritus Gov. Jose Ch. Alvarez, TMC is part of the Columbian Auto Group, which has traditionally been involved in the manufacture, assembly, distribution and retail of vehicles," said TMC in a release. It cited past partnerships with automotive brands BMW, Kia, Mazda, Range Rover, Peugeot, and Mahindra. Presently, TMC is "focusing on contributing to nationwide development by shifting from private vehicle distribution to the assembly of commercial vehicles meant to spur economic development. On a macro scale, the Columbian Auto Group has business interests in the land, sea and air transportation industries."
Chengdu Dayun, on the other hand, is engaged in automotive manufacturing, real estate development, logistics, construction, and film investment.
The ceremonial signing was executed by TMC Chairman Bienvenido Santos and Chengdu Dayun Executive Vice General Manager Xie Ping in Makati City, attended by industry partners and guests led by Department of Transportation Secretary Jaime Bautista.
Aside from the modern jeepneys, TMC is looking at the importation and distribution of configurable, battery-powered light trucks. The company displayed during the event a prototype of the Dayun Dragon EX5. "With Terrafirma's expertise in vehicle assembly, the Dragon EX5 is set to become a fixture on Philippine roads. Eventually, with the help of our local distribution partner Astara Philippines, this product will contribute to the vehicle modernization program as a champion of clean air technology. We look forward to contributing to a brighter, cleaner future for the Philippines with this partnership with Chengdu Dayun," said Mr. Santos.
Mr. Alvarez revealed to this writer that TMC is also looking at local suppliers for parts of the all-electric truck.
Concluded Mr. Mabilog, "We can use this (model) later on to shift from internal combustion engines to electric. That's the direction we're seeing. While our modern jeepneys will be internal-combustion-engine-powered for now, we're offering this electric delivery van option."