Home
The Nation
Rep. Teves considers returning after Marcos' security assurance
Rep. Teves considers returning after Marcos' security assurance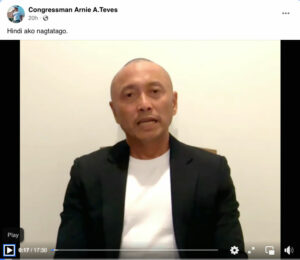 NEGROS Oriental Rep. Arnolfo A. Teves, Jr., who has been linked to criminal activities and been absent from the House without authorization, has hinted that he is ready to return to the country after President Ferdinand R. Marcos, Jr. gave assurance that he will be provided with ample government security.   
In a video posted on his Facebook page on Wednesday afternoon, Mr. Teves said in Filipino, "If it is already you (the president) who's asking me to go home, it will be harder to say no because you have more authority to give me protection."  
Mr. Marcos, in an interview earlier on Wednesday, debunked the lawmaker's claim that he was being linked to the recent killing of Negros Oriental Governor Roel R. Degamo due to his ties to e-sabong or online cockfighting. 
"The real issue is the killing of Gov. Degamo. We already had a problem with e-sabong before. But that's not what this is about," Mr. Marcos said in mixed English and Filipino.  
"This is about the killing of Governor Degamo. Pure and simple."  
Authorities said at least two arrested suspects in Mr. Degamo's killing have tagged Mr. Teves as the mastermind.  
Mr. Marcos urged Mr. Teves to come home and face the criminal cases against him lest the government be forced to "move without any discussions with him."  
Mr. Teves has denied involvement in the crime and cited threats against him and his family for refusing to return to the country.   
However, he was recently charged with murder complaints over three killings in 2019.   
The Philippine National Police (PNP) on Wednesday said it is looking into possible death threats against Mr. Teves and his family.
"We are currently validating if there are legitimate death threats against Congressman Teves and his family, which is why we urge him to let us know if he has received any of these," PNP spokesperson Colonel Jean S. Fajardo told a televised briefing. 
"We are ready to ensure his security once he returns to the Philippines."  
Ms. Fajardo added that the PNP Criminal Investigation and Detection Group (CIDG) is also looking into allegations of officers planting evidence in Mr. Teves' properties during a recent raid for firearms.  
She said the police team followed operational procedures and that the raid was based on a search warrant.  
"If people have questions and allegations on police operations, they must present them through the legal process and the PNP CIDG is ready to answer these questions," Ms. Fajardo said in FIlipino.  
MORE OPTIONS
"My only advice to Cong. Teves is that as time goes by, your situation will become harder. If you come home earlier, there will be more options for you," Mr. Marcos said. "But if you come back too late… the government would be forced — we will have to move without any discussions with him."  
The Philippine leader reassured the lawmaker that the government would provide "all kinds of security" for him.   
"After all, he's rich, and he has a private jet, so just land wherever you want to, even in the air force base… where he will be surrounded by soldiers," the president said.  
Meanwhile, the House of Representatives unanimously voted on Wednesday to sanction Mr. Teves with a 60-day suspension for his continued absence.  
The House ethics committee initially gave Mr. Teves five days to explain his whereabouts and another 24 hours to physically appear in Congress after his travel clearance expired on March 9. — Beatriz Marie D. Cruz, Kyle Aristophere T. Atienza, and John Victor D. Ordonez