Analysts say Leni's campaign continues to gain momentum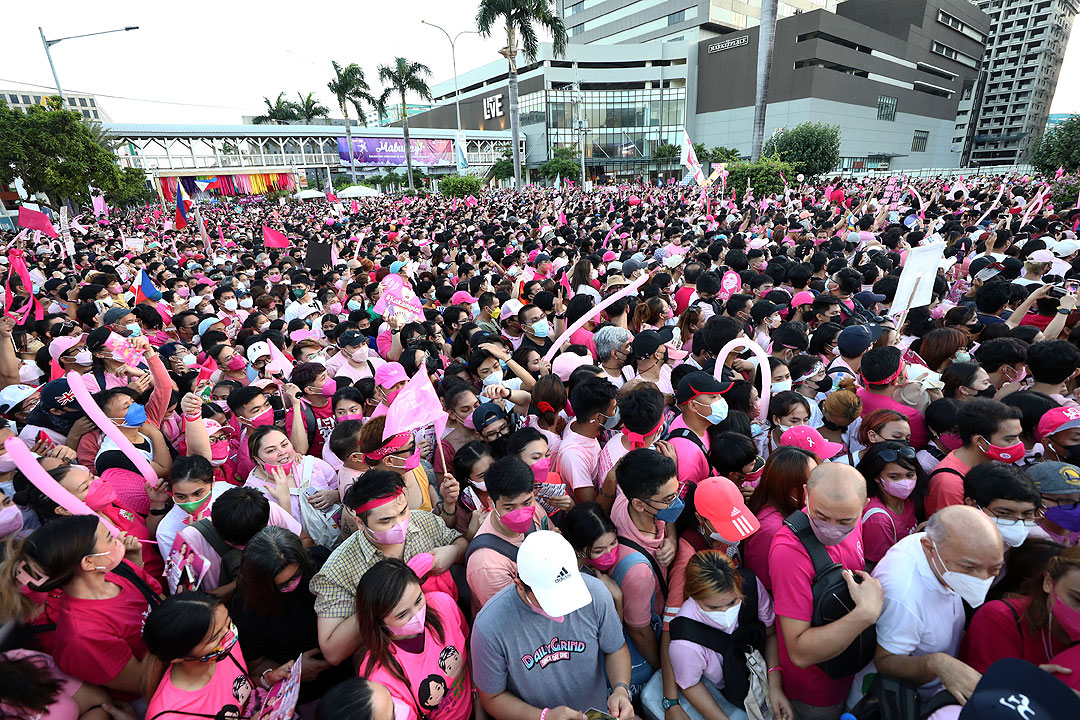 By Kyle Aristophere T. Atienza, Reporter
VICE-PRESIDENT Maria Leonor "Leni" G. Robredo's presidential campaign is expected to gain more momentum two weeks before the elections, political analysts said, as her rally near the Philippine capital drew almost half-a-million supporters at the weekend.
"All available evidence suggests that the Robredo-Pangilinan group has strong momentum heading into the elections," Ador R. Torneo, a professor and director of De La Salle University's Institute of Governance, said in an e-mail.
He cited the increasing turnout in the campaign rallies of Ms. Robredo and her running mate, Senator Francis "Kiko" N. Pangilinan.
Ms. Robredo attracted more than 400,000 people — the biggest crowd in her presidential campaign so far — at a rally in Pasay City on Saturday, according to estimates by her office.
In Manila, the only son and namesake of the late Philippine dictator Ferdinand E. Marcos attracted about 14,000 people, the Philippine Star reported, citing police estimates.
Mr. Marcos campaigned with his senatorial candidates who have been endorsed by the PDP-Laban faction headed by President Rodrigo R. Duterte. The President's party was set to hold rallies with the tandem of Mr. Marcos and his running mate Davao City Mayor and presidential daughter Sara Duterte-Carpio in the coming days.
Mr. Torneo said Ms. Robredo's campaign has been boosted by endorsements from local leaders and her supporters' house-to-house activities.
Former Senator Ferdinand "Bongbong" R. Marcos, Jr. kept his lead in Pulse Asia Research, Inc.'s presidential opinion poll last month, with 56% of Filipinos saying they would vote for him, even if his rating fell by 4 points.
Still in second place was Ms. Robredo, whose rating rose by 9 points to 24%. She was followed by Manila Manila Mayor Francisco "Isko" M. Domagoso (8%), Senator and boxing champion Emmanuel "Manny" D. Pacquiao (6%) and Senator Panfilo "Ping" M. Lacson (2%).
"They reinforce each other and provide clear evidence of a strong momentum," Mr. Torneo said of Ms. Robredo's rising ratings and crowd number. "However, it is difficult to ascertain this whether buildup of momentum this late in the campaign period would be enough to pose a serious challenge to the Marcos-Duterte tandem in the May 9 elections."
Mr. Torneo said the heavy involvement of volunteers in the opposition tandem's campaign activities is something new in Philippine politics.
"The lack of party machinery of the opposition and their lack of presence on the ground is being supplemented by an organic volunteer movement that is largely decentralized and mostly autonomous," he said.
The grassroots-backed presidential run of Ms. Robredo is similar to that of the late President Corazon C. Aquino, who unexpectedly beat the late dictator — based on the count by the watchdog National Citizens' Movement for Free Elections — in the 1986 snap elections, said Maria Ela L. Atienza, a political science professor at the University of the Philippines.
"It was more difficult then because of the authoritarian regime, the lack of resources, and the fact that mainstream media at that time was controlled by the regime," she said in a Viber message. "Now, there are more venues for campaigning."
Ms. Atienza said the resources of the Marcos camp are "formidable" and should not be underestimated.
She said the advantage of Ms. Robredo's people-led campaign is the "volunteerism and dedication of supporters who are invested in the campaign compared with paid supporters whose support is transactional or conditional."
The challenge for a campaign pushed by a movement of volunteers is messaging discipline, Michael Henry Ll. Yusingco, a research fellow at the Ateneo De Manila University.
"Many of her volunteers continue to snipe against the other candidates and continue to attack their supporters," he said in a Facebook Messenger chat.
"They are more inclined to burn bridges which can diminish the positivity VP Leni is trying to project," he said. "This lack of messaging discipline can minimize the benefits of an energized and engaged army of volunteer supporters."
People tend to hold on to ther beliefs if they are attacked, said Jean Encinas-Franco, who teaches political science at UP. "Building bridges is key to understanding each other and where they are coming from," she said in a Messenger chat.
Arjan P. Aguirre, who teaches political science in Ateneo, said the opposition tandem's supporters must painstakingly listen to people who have opposing views.
"This necessitates the effort to listen to the potential supporter. To know his or her reasons why he or she is supporting a different candidate," he said in a Messenger chat. "This listening should evolve into a conversation — an engagement where two or more people exchange their ideas on an equal footing."
He said conversation efforts must not result in "the antagonization and total negation of the other."
Meanwhile, Aksyon Demokratiko, the party of Mr. Domagoso, at the weekend said his candidacy is backed by a large group of people who do not express their opinions publicly.
The so-called silent majority "will ultimately be the game changer in his quest for the presidency," it said in a statement.
The mayor's spokesman last week said he would use the rest of his campaign period to present himself as an alternative to the top two presidential poll frontrunners.
Mr. Domagoso has been aiming for the endorsement of Mr. Duterte, who joined a campaign rally for his party's senatorial candidates last week.
The mayor's claim to be an alternative candidate "remains a claim," said Jan Robert Go, an assistant political science professor from the University of the Philippines.
He said the Manila mayor had not tried to engage the camp of Mr. Marcos on issues that hound his candidacy, except for his family's unpaid estate tax that has ballooned to more than P200 billion due to interests and other penalties.
"On a more substantive plane, there is not much discussion — not exactly the alternative that we would expect."