Philippines reports 677 more Omicron infections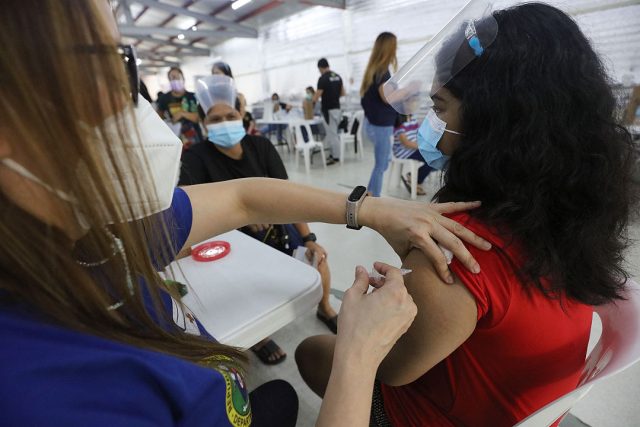 By Kyle Aristophere T. Atienza, Reporter
PHILIPPINE health authorities reported 618 more infections involving the highly mutated Omicron coronavirus variant on Thursday, bringing the total to 1,153.
Thirteen of the cases were active, two have died, 560 recovered and 43 were still being verified, the Department of Health (DoH) said in a statement.
The agency said 497 of the local cases mostly came from Metro Manila, while 121 were returning migrant Filipinos.
The stealth Omicron or BA.2 subvariant, which was first detected in the country on Dec. 31, accounted for most of the Omicron cases in the latest sequencing, DoH said.
The Health department has said the BA.1 and BA.2 subvariants don't differ much in terms of how transmissible or severe they are.
"The DoH shall continue to investigate why BA.2 has become more prevalent than BA.1," it said. "But so far, the detection of BA.2 does not entail any significant change in the COVID-19 response."
The Philippines posted 18,191 coronavirus infections on Thursday, bringing the total to 3.49 million. The death toll hit 53,736 after 74 more patients died, while recoveries rose by 22,014 to 3.21 million, DoH said in a separate bulletin.
It said 35.2% of 61,013 samples on Jan. 25 tested positive for COVID-19, way above the 5% threshold set by the World Health Organization (WHO).
Of the 226,521 active cases, 6,875 did not show symptoms, 214,857 were mild, 2,971 were moderate, 1,509 were severe and 309 were critical.
DoH said 97% of the latest cases occurred from Jan. 14 to Jan. 27. The top regions with new cases in the past two weeks were Calabarzon with 2,101, Metro Manila with 2,073 and Davao Region with 2,011 infections.
It said 37 duplicates had been removed from the tally. 17 of which were reclassified as recoveries and two were tagged as deaths, while 26 recoveries were relisted as deaths. Two laboratories failed to submit data on Jan. 25.
DoH also reported 35 new Delta cases, bringing the total to 8,647.
Meanwhile, the number of Filipinos who refuse to get vaccinated against the coronavirus has dropped, according to the OCTA Research Group from the University of the Philippines.
Vaccine hesitancy among Filipinos dropped to 5% in December from 22% three months earlier, it said in a report, citing the results of its poll.
"There is less resistance among adult Filipinos from getting vaccinated," it said. Only 6% of the respondents were unsure, compared with 18% from the previous poll.
OCTA said vaccine hesitancy was highest in the Visayas and Mindanao regions at 9%, while it was 3% in Luzon.
"Across socioeconomic classes, adult Filipinos in Class D and E had higher percentages of vaccine hesitancy at 6%, compared with only 4% for class ABC," it said.
The group said 94% of hesitant Filipinos were concerned about the safety of vaccines, while 26% said they were unsure if it is effective. It added that 12% did not feel the need to fight the coronavirus.
Meanwhile, 7% said they had preexisting medical conditions that prevented them from getting vaccinated, while 6% said no vaccine was available in their areas. "Moreover, 1% from class D and E were hesitant to be vaccinated because it might not be free."
OCTA said among those who said they were unhesitant of getting vaccinated, 51% had been fully vaccinated, 25% had received their first dose and 15% were yet to get inoculated against coronavirus disease 2019 (COVID-19).
Meanwhile, OCTA said 2% of adult Filipinos still got the coronavirus even after getting fully vaccinated.
Among those who got COVID-19 after being fully vaccinated, 47% used both antigen and RT-PCR tests, 28% used antigen tests only and 4% used RT-PCR tests only. It said a fifth of the respondents who got infected did not get tested at all.
OCTA said the poll had a 95% confidence level and an error margin of at ±3 percentage points.
The Philippines had fully vaccinated 58.15 million Filipinos as of Jan. 26, while more than 60 million people have received their first dose, data from the Health department showed. Almost 6.9 million booster shots have been given out.