Duterte successor should assert sea rights, analysts say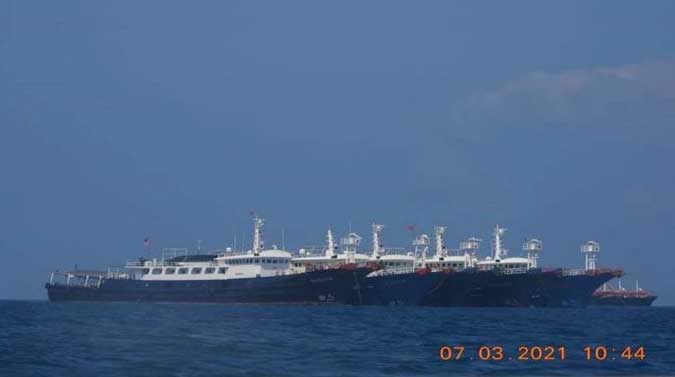 By Alyssa Nicole O. Tan
THE PHILIPPINES under President Rodrigo R. Duterte's successor should assert its South China Sea claims by resuming oil exploration in the waterway, according to political analysts.
It should also call out illegal fishers in the sea within its exclusive economic zone, said Jay L. Batongbacal, director of the University of the Philippines Institute for Maritime Affairs and Law of the Sea.
"In doing so, it may lawfully disregard China's protests and attempts to discourage or prevent such activities from pushing through," he said in an e-mail.
"The most we can do is to minimize and prevent further losses in the West Philippine Sea," Renato de Castro, a professor from De La Salle University's International Studies Department, said via Zoom, referring to areas of the sea within the country's exclusive economic zone.
He said the tough-talking leader had made a "wholesale effort to overhaul the very structure of Philippine foreign policy." "We cannot afford another president like him," he said, citing Mr. Duterte's failure to consult experts on the matter.
Mr. Duterte's predecessor should rally international support for a 2016 United Nations-backed arbitration ruling that invalidated China's claim to more than 80% of the waterway, he added.
Mr. Duterte has sought closer trade and investment ties with China since he became President in 2016, saying the country could not afford to go to war with its neighbor.
"China is really bent on maritime expansion, whether or not we befriend China, whether or not we appease China," Mr. de Castro said. "China will pursue its goal which is to control 85% of the South China Sea."
Mr. Batongbacal said Mr. Duterte for the most part did not do well in handling the country's sea dispute with China.
"He simply accommodated all of China's demands, sometimes almost to the point of abdicating the Philippines' exclusive rights and jurisdiction under the United Nations Convention on the Law of the Sea," he said.
Mr. Duterte only started speaking about Philippine sovereignty in the waterway this year, less than a year before he finishes his six-year term as President, Mr. Batongbacal said. For most of his term, the President allowed China to illegally fish in the South China Sea, he added.
"Continuing Duterte's over-accommodation of China in the West Philippine Sea is clearly not a sustainable position," he said. "If the next President swings back to Duterte's appeasement policy and defeatist posture, the credibility of Philippine policy on the West Philippine Sea will be completely destroyed."