President may seek tax break for makers of medical oxygen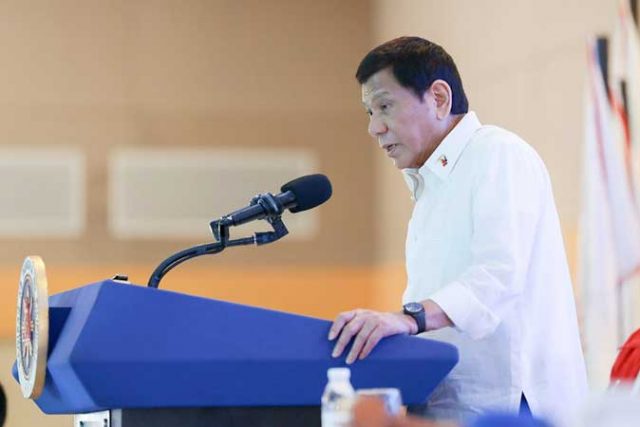 PRESIDENT Rodrigo R. Duterte on Monday night said he might ask Congress to give tax relief to makers of medical oxygen, as the country battles a more contagious Delta coronavirus variant.
The Philippines, which has been tagged as a high risk for the coronavirus, needs more oxygen supplies, he said in a taped meeting with his Cabinet. "If it really goes out of control, we would need all the oxygen that they can produce for the people."
"Maybe, I'll talk to Congress to provide you a tax relief on your manufacturing, for you are producing a very vital component in the fight against COVID-19 and the Delta variant," he added.
The Department of Health (DoH) reported 8,560 coronavirus infections on Tuesday, bringing the total to 1.68 million.
The death toll rose to 29,220 after 92 more patients died, while recoveries increased by 7,964 to 1.57 million, it said in a bulletin.
There were 79,016 active cases, 94.4% of which were mild, 1.7% did not show symptoms, 1.7% were severe, 1.18% were moderate and 1% were critical.
The agency said 118 duplicates had been removed from the tally, 114 of which were recoveries. Seven recoveries were reclassified as active cases, while 29 recoveries were reclassified as deaths. Thirteen laboratories failed to submit data on Aug. 8.
Meanwhile, Health Secretary Francisco T. Duque III said he would not yet recommend the vaccination of minors given supply issues.
"We need to consider the current vaccine supply before we decide to allow the vaccination of children," he said at the meeting with Mr. Duterte. "That's why the recommendation of the DoH stays — to give priority to adults based on our prioritization framework."
The government might consider vaccinating  children who are seriously ill, he added.
The Food and Drug Administration (FDA) in June approved the use of the vaccine made by Pfizer, Inc. for children aged 12 to 15 years.
Sinovac Biotech Ltd. has a pending application for the emergency use of its vaccine for children aged three to 17.
Mr. Duterte thinks the tax break would attract manufacturers to produce more medical-grade oxygen that the country might need in case of a spike in infections due to the Delta variant, his spokesman Herminio L. Roque, Jr. told a televised news briefing on Tuesday.
FDA Director General Enrique Rolando D. Domingo said the Philippines had enough supply of medical oxygen.
There are 81 licensed makers of medical-grade oxygen in the country, he said at the televised meeting with the President. Fifty-one are manufacturing plants that exclusively supply medical-grade oxygen, while the rest are hospitals with oxygen-generating plants.
Health Undersecretary and DoH Spokesperson Maria Rosario S. Vergeire said the government might regulate the sale of medical oxygen as demand rises amid a spike in coronavirus infections. The government is discussing the plan, she said in a Viber message.
DoH earlier flagged the worsening coronavirus situation in Metro Manila, the Cordillera Administrative Region, Ilocos Region, Cagayan Valley, Southern Tagalog, Central Visayas and Northern Mindanao.
Cases and the average daily attack rate in Metro Manila rose in the past two weeks, it said. The region was placed under a two-week enhanced lockdown that started on Aug. 6.  Health Undersecretary Leopoldo J. Vega said the healthcare use rate in Metro Manila was at a "threshold of moderate risk."
Intensive care units (ICUs) in some hospitals in the region were in the high-risk category, he told a televised news briefing on Tuesday.
Meanwhile, 641,717 more migrant Filipino workers have come home after being quarantined and testing negative for the coronavirus, the Labor department said.
Labor Secretary Silvestre H. Bello III told an online news briefing 9,000 more workers were waiting to be sent home and were trying to complete requirements for their return. — Kyle Aristophere T. Atienza and Bianca Angelica D. Añago