Manila and nearby cities kept under general quarantine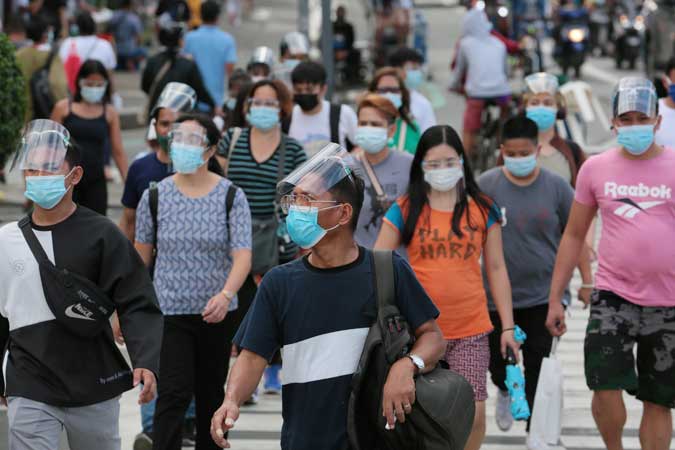 By Kyle Aristophere T. Atienza, Reporter
MANILA and nearby cities would remain under a general lockdown until July 31, the presidential palace said on Thursday, after some cities in the capital region experienced a spike in coronavirus infections.
The capital region was under a general community quarantine "with some restrictions" before Thursday's announcement.
Bulacan, Cavite, Rizal, Quezon, Batangas and Puerto Princesa would also be placed under a general quarantine, presidential spokesman Herminio "Harry" L. Roque, Jr. said in a statement.
Also placed under the same lockdown level were Baguio City, Apayao, Isabela, Nueva Vizcaya and Quirino.
At least 15 areas in the Mindanao region were also placed under a general quarantine. Cagayan, Laguna, Lucena City and Naga City were placed a general quarantine "with heightened restrictions," Mr. Roque said.
Zamboanga del Sur, Davao City, Aklan, Bacolod City, Antique and Capiz were also placed under the same lockdown level.
Meanwhile, Bataan and Cagayan de Oro would be placed under a modified enhanced community quarantine until the end of the month, Mr. Roque said. Same goes for Davao Occidental, Davao de Oro, Davao del Sur, Davao del Norte and Butuan City.
Iloilo will be under the same lockdown level until July 22. "All other areas in the country will be placed under a modified general community quarantine," Mr. Roque said.
The Department of Health (DoH) reported 5,221 coronavirus infections on Thursday, bringing the total to 1.49 million.
The death toll rose to 26,314 after 82 more patients died, while recoveries increased by 4,147 to 1.42 million, it said in a bulletin.
There were 45,495 active cases,91.4% of which were classified as mild, 2.1% were asymptomatic, 2.8% were severe, 1.96% were moderate and 1.7% were critical.
DoH said 13 duplicates had been removed from the tally, 10 of which were tagged as recoveries.
The agency said 52 recoveries had been reclassified as active cases and 46 recoveries were tagged as deaths. Four laboratories failed to submit data on July 13.
Also on Thursday, the Philippines took delivery of about 250,800 doses of the vaccine made by Moderna, Inc., according to the Bureau of Customs.
The government bought 194,400 doses, while private companies paid for the rest, Mr. Roque told a separate news briefing
He said about 1.1 million doses of the vaccine made by AstraZeneca Plc bought by local governments and the private sector would arrive on Friday.
The Philippines on Wednesday banned travelers from Indonesia, Asia's new coronavirus epicenter, after it overtook India in daily infections.
The travel ban will be from July 16 to 31 and will cover passengers from Indonesia and those with travel history to Indonesia in the past 14 days, the palace said.
Passengers already in transit from Indonesia and who arrive before 12:01AM of July 16 will be allowed entry as long as they get quarantined for two weeks even if they test negative.