Presidential daughter being considered as 2022 standard bearer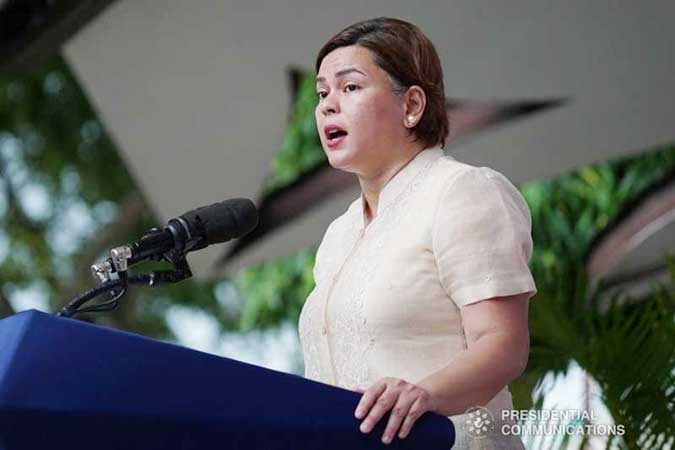 DAVAO City Mayor Sarah Duterte-Carpio is among those being considered by President Rodrigo R. Duterte to become the ruling party's standard bearer in the 2022 elections, according to the presidential palace.
Presidential spokesman Herminio L. Roque, Jr. on Thursday said Mr. Duterte's daughter remained undecided about running. The President earlier said his daughter would not follow in his footsteps.
Also included in the list of Mr. Duterte's presidential bets are former Senator Ferdinand R. Marcos, Jr., Manila Mayor Francisco M. Domagoso, Senators Christopher Lawrence T. Go and boxing champion Senator Emmanuel D. Pacquiao, Mr. Roque told a televised news briefing.
He said Mr. Duterte does not want his daughter to run for President. "His recommendation is for her not to run," Mr. Roque said in Filipino.
Albay Rep. Jose Maria Clemente S. Salceda on Wednesday night said Ms. Carpio would run for President and is building an alliance with various political groups.
"I have exchanged texts with her and I can tell you that she is really running," he told OneNews in mixed English and Filipino. "And my sources say that."
Mr. Salceda, a member of the ruling PDP-Laban party, said at least five political parties would support Ms. Carpio's presidential bid.
Meanwhile, the congressman said a possible Duterte-Duterte tandem is not a wise idea because the administration party needs a geographical balance.
Mr. Salceda said the presidential daughter should look for a running mate who can get a significant number of votes from other regions.
PDP-Laban this week passed a resolution urging Mr. Duterte to run for vice president. It also allowed him to choose his running mate.
Ms. Carpio had rejected calls for her to seek the presidency in next year's elections, asking her supporters to wait for her bid in 2034. She said policy continuity should not be based on kinship.
The Davao mayor heads a coalition that started as a regional political party.
The President has repeatedly said his daughter would not run for president, adding that he had warned her against seeking the position that he said is not a woman's job.
Meanwhile, Mr. Roque said the 1987 Constitution does not bar Mr. Duterte from running for vice president. "What is not prohibited is allowed."
Howard Calleja, a convenor of the opposition coalition 1Sambayan, earlier said the push for a Duterte vice presidency is a mockery of the 1987 Charter.
"Anybody who sat as president cannot be reelected," he told the ABS-CBN News Channel. "The spirit and intent of the law is that no person can do the dictator role just like Marcos before."  Mr. Duterte's bid for vice president is not illegal but may "violate the spirit of the Constitution," Antonio La Viña, a professor of constitutional law at the Ateneo de Manila University, told OneNews on Wednesday night. — Kyle Aristophere T. Atienza