Stocks decline as market awaits inflation report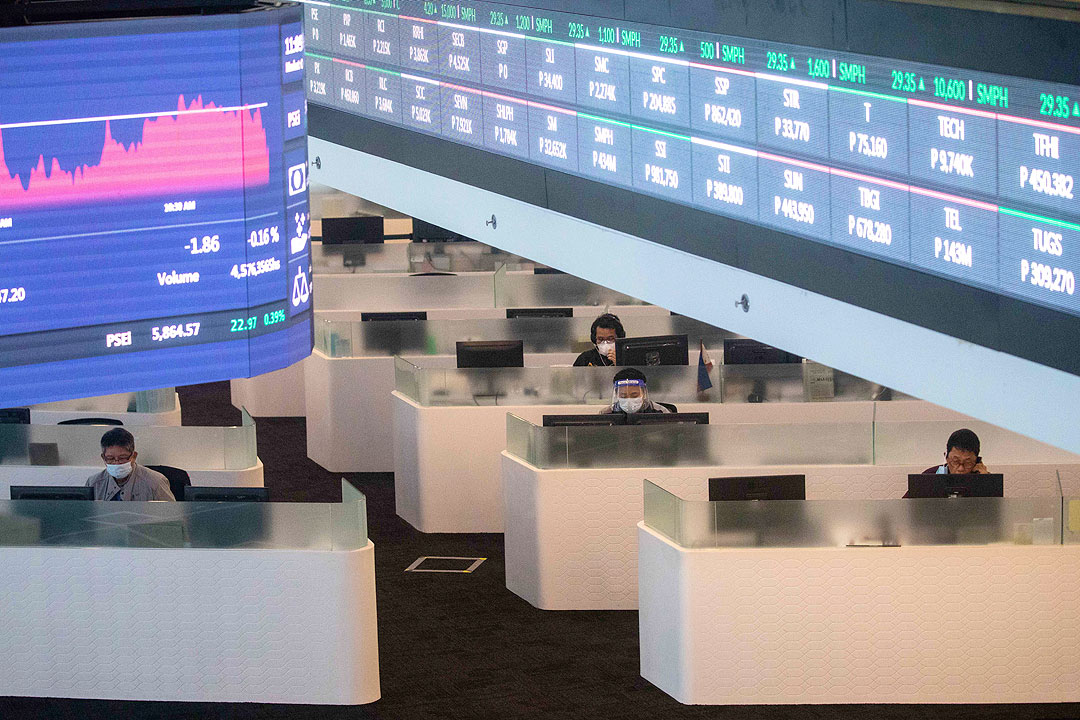 STOCKS dropped on Monday as investors remained cautious as they await the release of September inflation data this week.
The Philippine Stock Exchange index (PSEi) went down by 16.71 points or 0.26% to end at 6,304.53 on Monday, while the broader all shares index shed 1.71 points or 0.05% to 3,399.12.
"The PSEi ended lower as several index names continued to take a breather after last week's rally, which was driven by the extra liquidity resulting from the index rebalancing and MPIC's (Metro Pacific Investments Corp.) tender offer," Unicapital Securities, Inc. Senior Equity Research Analyst Carlos Angelo O. Temporal said.
"Investors may have also taken profit ahead of key inflation reports this week," Mr. Temporal added.
Investors "adopted a cautious stance and stayed on the sidelines" before the release of September inflation data, AB Capital Securities, Inc. Vice-President Jovis L. Vistan likewise said in a Viber message.
"The significance of this data release lies in its potential to influence the Bangko Sentral ng Pilipinas' (BSP) decisions regarding interest rates," Mr. Vistan said.
September consumer price index (CPI) data will be released on Thursday.
A BusinessWorld poll of 17 analysts yielded a median estimate of 5.4% for September inflation, near the low end of the BSP's 5.3-6.1% forecast for the month.
If realized, the September CPI would pick up from the 5.3% print in August but would be lower than 6.9% in the same month in 2022.
September will also be the 18th straight month that inflation was above the BSP's 2-4% annual target.
The majority of sectoral indices dropped on Monday. Mining and oil went down by 48.71 points or 0.45% to 10,745.38; property fell by 13.61 points or 0.52% to 2,600; financials dropped by 9.40 points or 0.5% to 1,852.38; and holding firms declined by 9.86 points or 0.16% to 6,023.71.
Meanwhile, industrials rose by 27.78 points or 0.31% to 8,943.44 and services climbed by 1.61 points or 0.1% to 1,509.90.
Value turnover went down to P3.86 billion on Monday with 591.37 million shares changing hands from the P13.11 billion with 1.71 billion shares seen on Friday.
Advancers outnumbered decliners, 92 versus 75, while 63 shares closed unchanged.
Net foreign selling stood at P402 million on Monday versus the P5.49 billion in net buying recorded on Friday.
For the rest of the week, Mr. Vistan placed the PSEi's support at 6,100 and resistance at 6,400.
MPIC is one of the three key Philippine units of Hong-Kong based First Pacific Co. Ltd., the others being Philex Mining Corp. and PLDT Inc.
Hastings Holdings, Inc., a unit of PLDT Beneficial Trust Fund subsidiary MediaQuest Holdings, Inc., has a majority share in BusinessWorld through the Philippine Star Group, which it controls. — SJT