The new year opens a lot of possibilities to welcome another important milestone in your life. One of which could be finally acquiring your own smart home at the heart of the city.
Young professionals who aim to find a stable lifestyle in the Metro, one that could keep up with their fast-paced ways, are a match to RLC Residences' The Sapphire Bloc South Tower. Located in the bustling Ortigas Central Business District, this development boasts of residential units with Smart Home features equipped with advanced technologies that can help you make room for bigger responsibilities and spend more time indulging in the things you love.
Embrace Exclusivity
Each unit greets residents with exclusive deliverables that promote efficiency and safety. Feel secure whether you're inside or outside the condo with Smart Lock — a device that gives you full control over who can access your home via an encrypted physical keycard that uses anti-clone technology, or a fingerprint, by setting up a numeric passcode, and through an exclusive app.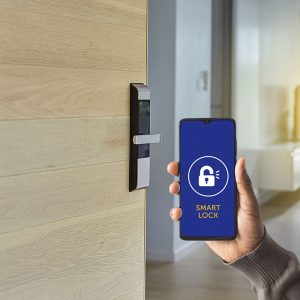 To add another layer of security to your home, your door no longer requires a key or even a doorknob for you to enter as you can simply generate an access code to type in, therefore preventing unwanted access inside.
What's more, is the built-in Audio-Video Intercom which connects to the building lobby that allows you to identify guests through a screen panel or using a mobile app. This way, you can screen expected or unexpected visitors.
Be Cost-Efficient
Additionally, smart power outlets are installed inside units to give you seamless command across devices and appliances.
Paving the way for a more energy-efficient way of living and saving you the worry of electricity-related accidents, you can check these anytime on your phone via the said exclusive app. Speaking of control, The Sapphire Bloc South Tower also puts your mind at ease when it comes to unnecessary expenses. Heading out and unsure if you turned off the lights? Fret not because Smart Light Switches can be accessed wherever you are with just a few clicks on your mobile device.
Likewise, get rid of needless hassle through the Mesh Gateway Router, where you can manage smart devices like air-conditioner, television, among others via the app.
Stay Connected
There is still more to a smart home in The Sapphire Bloc South Tower.
Two years into the pandemic has solidified the need for a stable internet within every household. On top of the Smart Home features mentioned above, all studio, one-bedroom, executive one-bedroom, and two-bedroom units in this tower are made fiber-optic ready to ensure fast and reliable Wi-Fi connectivity, an essential for those working remotely and are homeschooling.
Change your daily life for the better by investing in a future-ready home. Make the smart choice and connect with an RLC Residences Property Specialist today or visit rlcresidences.com for more information about The Sapphire Bloc South Tower and other top-notch developments.
---
Spotlight is BusinessWorld's sponsored section that allows advertisers to amplify their brand and connect with BusinessWorld's audience by enabling them to publish their stories directly on the BusinessWorld Web site. For more information, send an email to online@bworldonline.com.
Join us on Viber to get more updates from BusinessWorld: https://bit.ly/3hv6bLA.