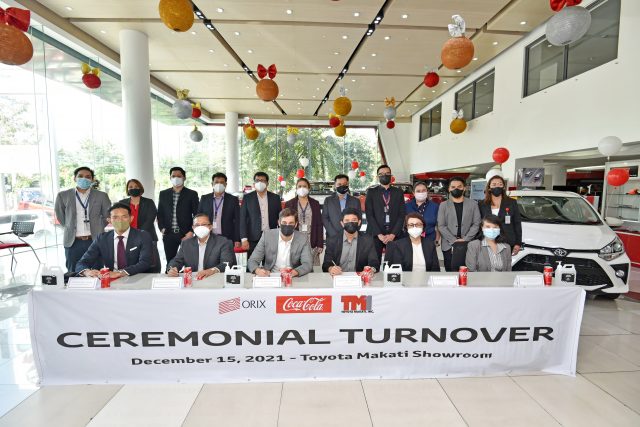 Coca-Cola Beverages Philippines, Inc. (CCBPI)—the bottling arm of Coca-Cola in the country—strengthens its partnership with ORIX Rental Corporation (ORC), one of the country's leading companies engaged in Full Service Operating Lease (FSOL) of cars, vans and light trucks—with the latest delivery of almost 300 new service vehicles for Coca-Cola's sales force under ORC's FSOL solutions.
The procurement of new Toyota service vehicles is part of CCBPI's Tools of Trade refresh program, which decommissions older vehicles to upgrade the fleet with new models. Once the delivery tranches of vehicles are finalized, CCBPI will have a total of close to 800 units with active operating leases with ORC.
The delivery of the first batch composed of 202 units started in December 2020 and was completed last April. Last September, CCBPI awarded ORC a contract to provide close to 600 more units, which are scheduled to be turned over from December 2021 onwards.
"Our Company's top priority has always been to look after our people. Part of our People First commitment is to make sure that our associates have the proper resources for a more fulfilling career," says Richard Schlasberg, CCBPI Commercial Vice President. "Amid the challenges we face, we are pursuing our People initiatives and we continue to empower our people through initiatives like refreshing our tools of trade."
Schlasberg adds, "We are excited to complete the deliveries and to fully transition to the new vehicles very soon. We are very grateful for our partnership with ORC, and for their help and support."
"We are truly honored to have been chosen as the corporate fleet solutions partner of CCBPI. ORIX Rental Corporation is a Business Process Outsourcing (BPO) company. Our full service operating lease offers worry-free solutions that help improve the efficiency and productivity of the sales and operating officers of companies. We manage all the time-consuming administrative tasks such as vehicle purchase, maintenance, registration and insurance, thereby allowing our clients to concentrate on their core business," ORC President Constancio Tan said during the ceremonial turnover held recently at Toyota Makati, Inc. (TMI) showroom in Makati City.
Present at the turnover ceremony were Ronald Tamayo (CCBPI Procurement Director), Mike Gamo (Procurement Category Manager), Shintaro Yamaji (ORC Director), Helen Aguilar (ORC Executive Group Head), Lito Ondevilla (ORC Marketing and Operations Group Head), Blesilda Rodriguez (President, Toyota Makati, Inc.), and Cristina Fe Arevalo (Senior Vice President of New Mobility Business Division, Toyota Motor Philippines).
FSOL benefits and advantages
ORC services multinational companies and big local corporations by providing vehicles for lease to cater to their various transportation needs. Its FSOL product is the best option for acquiring brand new vehicles since companies do not need to allocate any funds and pay outright. The monthly rental payments are fixed throughout the term of the lease period.
The company's FSOL offers a complete service package – from the purchase of vehicles, periodic service maintenance, insurance claims, LTO renewal and disposal of units. Each client will have one central contact (Fleet Service Advisor) who will oversee all matters related to their fleet such as scheduling of preventive maintenance, assisting during accidents and addressing technical concerns for the entire lease agreement.
Companies can rest assured that vehicles are in prime condition since maintenance is carried out regularly. ORC has close to 400 accredited dealers and repair shops nationwide that can provide servicing maintenance of the leased vehicles.
The full range of ORC's value-added services include 24-hour roadside assistance, seminars on defensive driving techniques, carnapping prevention, basic vehicle maintenance and fuel saving tips, and access to Fleet Portal to view various vehicle reports.
ORC's proven track record in FSOL and its extensive network of dealers help companies manage their businesses more efficiently, saving both time and money. With its presence nationwide, ORC is able to adapt its services to the needs of each client and help them make the best decisions for their company fleet.
ORC is a wholly-owned subsidiary of ORIX METRO Leasing and Finance Corporation, a joint venture between Metropolitan Bank and Trust Company (Metrobank) and ORIX Corporation, a pioneer in the leasing industry in Japan. For more information about ORC's FSOL solutions, call (02) 8804-0800 / (02) 8858-8888 locals 231, 156 and 801 or email lpondevilla@orix.com.ph, oqromanillos@orix.com.ph, jglizada@orix.com.ph or visit www.orix.com.ph.
---
Spotlight is BusinessWorld's sponsored section that allows advertisers to amplify their brand and connect with BusinessWorld's audience by enabling them to publish their stories directly on the BusinessWorld Web site. For more information, send an email to online@bworldonline.com.
Join us on Viber to get more updates from BusinessWorld: https://bit.ly/3hv6bLA.