MG Philippines offers essential workers and their family members access to exclusive promos, including zero-percent down payment offers or cash discounts on select,brand-new MG vehicles.
MG Philippines launches MG Live Chat Support: a website tool on mgmotor.com.ph which allows users to engage in a real-time, live chat session with accredited MG Philippines consultants for sales, aftersales, and product inquiries.
MG Philippines dealerships nationwide adhere to strict sanitization protocols and social distancing practices for the safety of its clients. For physical dealership visits, clients are encouraged to call ahead or book an appointment with their preferred dealership using the My MG App, through the 24/7 MG Hotline, or via the new MG Live Chat Support.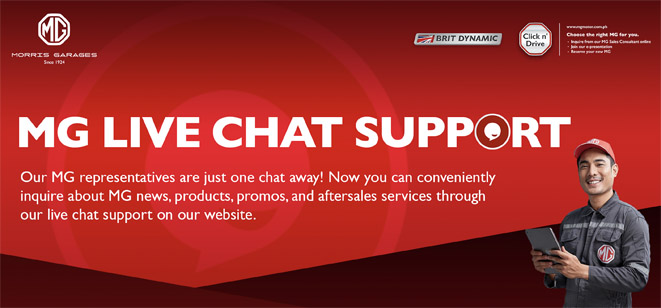 The global pandemic that is COVID-19 has changed our way of life and, as we all adjust to the new normal, we cannot deny the significant contributions made by our front liners and essential workers. Their efforts impact everyone's lives and it is safe to conclude that without them, progress in areas such as medical research advancement, healthcare, mobility, service, and infrastructure would come to a screeching halt.
MG Philippines acknowledges the work and the sacrifices put in by these modern day heroes and offers all MG-owning front liners and essential workers exclusive perks. These include a 20% discount on parts and labor, and access to a priority lane completely dedicated to service front liners and essential workers. More information on this may be obtained by calling your MG dealership of choice or calling our 24/7 MG Philippines hotline (02-5328-4664).
Likewise, MG Philippines also announces its latest sales promo called "MG Forward With All Front Liners." This isour way of saying "Thank You" to those who, despite the threat of the COVID-19 virus, carry on and fulfill their roles for everyone's benefit. With this latest promo, front liners and essential workers (as well as their family members)gain access to competitive zero- or low down payment options,or a choice of generous cash discounts on select, brand-new, British heritage MG cars.