Gilas girls remain in Division B after semis loss to Samoa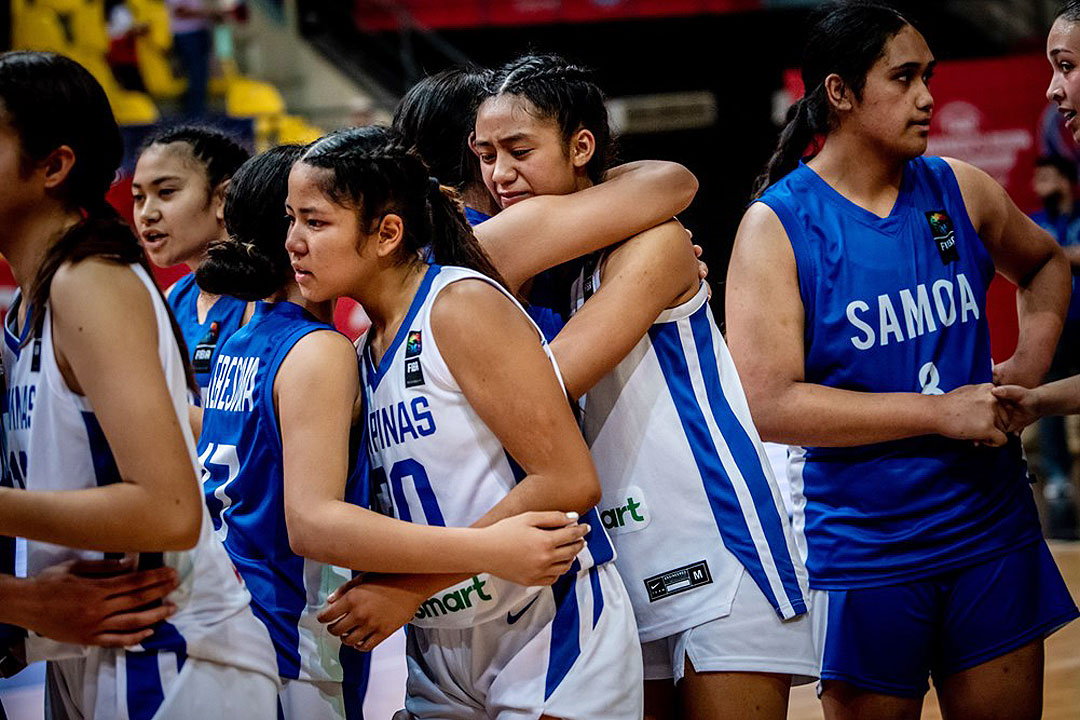 GILAS Pilipinas girls' youth team kissed its Division A promotion hopes goodbye after a stinging 88-73 defeat at the hands of Samoa in the Division B semifinals of the 2022 International Basketball Federation (FIBA) U16 Women's Asian Championship in Amman, Jordan.
The previously unbeaten Gilas struggled big time when it mattered most, firing blanks and getting outworked by the Samoa side that it just trounced in the group phase with a commanding 94-65 win.
With a finals slot on the line that could have bolstered their Division A bid, the Nationals started flat and stared at a mammoth 27-point deficit in a wild turnaround before running out of steam in a comeback attempt to stay in Division B.
Naomi Panganiban led the fight with 15 points, three rebounds, three assists and four steals for the Filipina teens, who only shot 28% from the field and were outrebounded, 39-72.
Even the contributions of Ava Fajardo (14) and Kristan Yumul (13) were not enough for Gilas, which also bled for a 22% clip from downtown after lighting it up in the Group A play with a 3-0 card.
Kira-May Filemu went berserk in Samoa's complete reversal with 36 points and 15 rebounds to best Ms. Yumul's tournament-best of 33 markers in the group stage.
Aside from a big win over Samoa, Gilas also trampled Indonesia, 104-68, before escaping Syria with a close 92-86 victory in the preliminaries to boost its Division A bid only to fumble in the Final Four.
Interestingly, Samoa will face Syria in a Cinderella finals matchup after the latter's 78-63 upset of Lebanon in the other semis pairing for the Division B supremacy and a promotion ticket to the Division A.
Gilas, for its part, was to play Lebanon last night to salvage the bronze medal. — John Bryan Ulanday
The Scores:
SAMOA 88 – Filemun 36, Oloapu 18, Tutani 11, Manumaleuga 9, Keresoma 6, Hiko 4, Gasu 2, Talosaga 2, Brown 0, Kiliva 0, Hogben 0, Walshe 0.
PHILIPPINES 70 – Panganiban 15, Fajardo 14, Yumul 13, Ramos 8, Nolasco 8, Lopez 6, Patricio 4, Villarin 3, Medina 2, Elson 0, Nair 0.
Quarterscores: 25-18, 53-30, 72-53, 88-70.