Newly-branded Nissan enhances customer experience with virtual showroom
Safety can never be underestimated. From the beginning motorist to the experienced automobile enthusiast, safety is a crucial factor in choosing a car. Many car features continue to be further improved through innovation to keep drivers safe on the road.
Japanese automobile manufacturer Nissan recognizes this premium on safety in cars, and as it continues to evolve with its refreshed branding, it enhances its focus to provide safer mobility for everyone through its improved services.
Nissan's new brand logo, characterized by its refined, familiar, and digital-friendly look, conveys Nissan's pioneering efforts in electrification, driver assistance, and digital connectivity. Moreover, it signals the evolution of Nissan from a traditional vehicle manufacturer to an enabler of mobility.
Here in the Philippines, Nissan shows its commitment to safe mobility for its customers across various experiences—from purchasing one of Nissan's cars all the way to availing its aftersales service.
Through Nissan Intelligent Mobility, Nissan's cars are equipped with features to ensure safe driving and give drivers peace of mind. These driving assistance technologies include AVM (around view monitor), blind spot warning, intelligent rear view mirror, lane departure warning, and hill descent control.
Furthermore, in terms of canvassing and buying cars, Nissan makes that easier and safer for customers with the introduction of its first virtual showroom in the Asia & Oceania region, giving customers immersive online access to the current Nissan line- up.
Accessible in the newly-updated Nissan Philippines website, the virtual showroom allows customers to move around and interact with every Nissan vehicle 'on display'.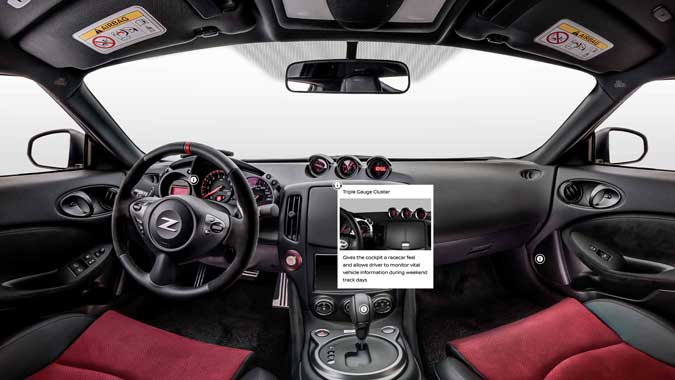 The virtual showroom, a global first for the brand, simulates the experience inside physical Nissan dealerships around the country with its 360-degree view of both the virtual space and each Nissan model. Customers can zoom in and out of this virtual space and navigate to every direction.
Each of the vehicles on display has clickable 'hotspots' that instantly show more information about the car and its key features. Specifically, there are 'exterior hotspots' that lead to a carousel view of the main vehicle information and the vehicle's landing page. 'Interior hotspots', on the other hand, lead to a 360-degree view inside the vehicle, additionally providing more digital hotspots to deliver information on car specifications.
In addition, the landing pages for each vehicle on the enhanced website are equipped with an interactive viewing feature, adding a colorizer option where customers can view the vehicles' various color variants in various angles.
Each vehicle's landing page also has new product walk-around videos that share the excitement of discovering Nissan products and highlight the benefits of Nissan Intelligent Mobility for vehicles with these features.
For Nissan Philippines President and Managing Director Philippines Atsushi Najima, the virtual showroom shows the automaker's dedication to shaping an innovative, human- centric future for the Philippines.
"The launch of the first virtual showroom in the region for Nissan is a strong example that we consistently innovate to benefit the customer journey, especially in the face of challenges such as the pandemic," Mr. Najima said.
Under a secure and safe 'new normal,' he added, the virtual showroom is one innovative way for Nissan to push possibilities so that customers can seamlessly experience the brand from a digital platform right until they drive its vehicles.
Nissan also continues to attend to car-related needs safely and more efficiently with its current safety protocols at the dealerships. Its "Service On Wheels", a mobile solution that delivers scheduled on-site aftersales services and repairs, provides excellent vehicle care and services to customers outside Nissan service centers.
Get an immersive online experience with Nissan's virtual showroom. Visit www.nissan.ph/virtual-showroom.