Home
The Nation
Meralco unit energizes 1-MW solar farm in La Mesa pumping station  
Meralco unit energizes 1-MW solar farm in La Mesa pumping station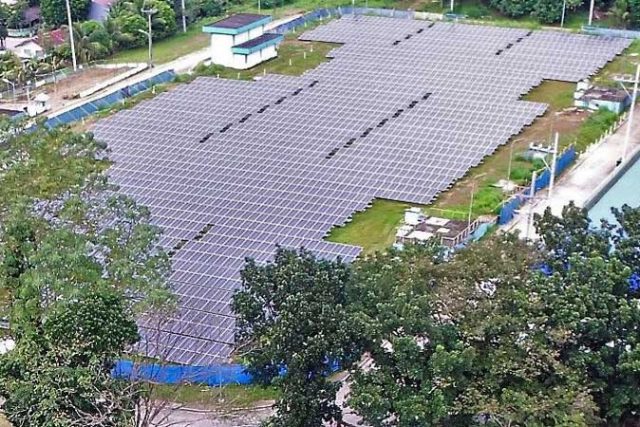 A SUBSIDIARY of Manila Electric Co. (Meralco) has recently energized a one-megawatt (MW) solar farm within Maynilad Water Services, Inc.'s La Mesa Pumping station in Quezon City.   
Meralco said in a statement on Thursday that its renewable energy unit, Spectrum, has energized the solar farm composed of 2,592 pieces of 390W Sunpower solar panels laid out across 8,250 square meters of land.   
The solar farm is projected to generate 1.32 million kilowatts hour (kWh) per annum while cutting the company's carbon footprint by 943.32 tons, comparable to planting 1.94 million trees.   
"This enables the pumping station to generate clean energy for its own use via solar power. With this new solar farm, Spectrum helps Maynilad take a step further in their journey towards sustainability and eco-friendliness," Meralco said.   
According to Meralco, the solar facility in La Mesa is one of Spectrum's projects that has a capacity of at least 1 MW. Other projects are in the City of Dreams, International Rice Research Institute, and the Cagbalete solar farms.   
Meralco's controlling stakeholder, Beacon Electric Asset Holdings, Inc., is partly owned by PLDT, Inc. Hastings Holdings, Inc., a unit of PLDT Beneficial Trust Fund subsidiary MediaQuest Holdings, Inc., has interest in BusinessWorld through the Philippine Star Group, which it controls. — Revin Mikhael D. Ochave