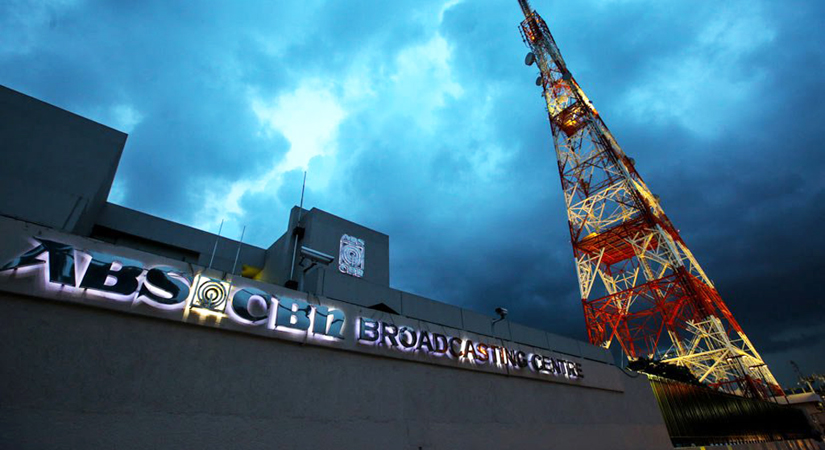 THE Supreme Court (SC) asked ABS-CBN Corp. and its unit ABS-CBN Convergence, Inc. to comment on the petition of the state's top lawyer to cancel the Lopez-led network's franchise, as lawmakers stepped in to assert their authority over franchises.
SC Public Information Office Chief Brian Keith F. Hosaka told reporters in a mobile-phone message that the companies were given a "non-extendible period" of 10 days from receipt of notice to file their comment.
He said the order to comment also pertains to the prayer of Solicitor General Jose C. Calida to issue a temporary restraining order against the operation of pay-per-view KBO Channel of ABS-CBN Convergence's TV Plus, an encrypted digital terrestrial television provider.
No TRO is issued to KBO Channel for now, the spokesperson confirmed when asked.
Mr. Calida on Monday filed a quo warranto petition against ABS-CBN to have its franchise canceled for allegedly violating several laws, including foreign ownership, and "highly abusive practices."
The petition came weeks before ABS-CBN's franchise expires on March 30.
Eleven bills in the House of Representative and one in the Senate were filed for the extension of ABS-CBN's franchise.
The solicitor-general said the network allowed foreign investors when it issued Philippine depositary receipts to foreigners, similar to what online news site Rappler did, which he claims to be a violation of the Constitution.
Mr. Calida said the network went beyond what was allowed by its franchise by "broadcasting for a fee" through the KBO Channel feature of TV Plus without the approval of the National Telecommunications Commission.
He also claimed that ABS-CBN Convergence committed "ingenious corporate layering scheme" for the transfer of its franchise without congressional approval and for failing to publicly offer its shares in the Philippine Stocks Exchange within five years since the start of its operations, which is required in its franchise.
ABS-CBN in a statement on Monday said that it complied "with all pertinent laws governing its franchise and has secured all necessary government and regulatory approvals for its business operations."
President Rodrigo R. Duterte previously claimed the network failed to air his campaign ads for the May 2016 national elections.
Vice-President Maria Leonor G. Robredo said the process of the franchise renewal of ABS-CBN should be monitored.
"Kaya mahalagang bantayan ang kasalukuyang panggigipit sa prangkisa ng ABS-CBN dahil higit sa lahat tungkol ito sa kapangyarihan: Sino ang magtatakda ng totoo at ng mahalaga? Kapag sinamsam ng gobyerno ang kapangyarihang ito, sinasamsam din nila ang kolektibong tungkulin nating kilatisin ang katotohanan," she said in a statement.
(It is important to watch closely the pressure in the renewal of the ABS-CBN's franchise because this is about power: Who will dictate the truth and what is important? If the government seizes this power, it also seizes our collective responsibility to scrutinize the truth.)
"Linawin natin: Taliwas sa karaniwang proseso ng pag-renew ng prangkisa ang nangyayari. Panggigipit ito, ayon sa pansariling agenda ng iilang nasa poder. Samakatuwid: Pang-aabuso ito ng kapangyarihan," she said.
(It is clear: the franchise renewal happening is contrary to the normal process. This is harassment, in line with the agenda of those in power. Therefore: It is an abuse of power.)
She urged those in Congress authorized to renew franchises to join in protecting press freedom.
Senator Franklin M. Drilon said the petition of the Office of the Solicitor General will become moot and academic if the franchise is not renewed, with barely 50 days until the franchise of ABS-CBN expires.
"Now, if the Congress will grant the franchise, it must be Congress which will hear of the arguments of the alleged violation of the existing franchise and take this into account in renewing or not renewing the franchise of ABS-CBN. The jurisdiction is with Congress at this point," he said in a chance interview.
Meanwhile, Senate President Vicente C. Sotto III said ABS-CBN may continue its operation despite the franchise's expiration as long as a bill is pending in the 18th Congress.
"Even provisional authority is not necessary because as long as there is a pending franchise, or pending bill for extension of franchise, they are deemed extended," Mr. Sotto, who chaired the Committee on Public Services in the 10th Congress, said in a briefing.
He said the termination will take effect if the franchise is not renewed by 2022. "If it is not approved until March of 2022, that is the only time that it is terminated."
Mr. Sotto said he might initiate a call to convene the small Legislative-Executive Development Advisory Council (LEDAC) to discuss the franchise with their counterparts "hopefully next week."
"We haven't been called into the mini-LEDAC, but perhaps it's just proper that I initiate it already para magkaalaman na (to settle the issue)."
He said he wants to be clarified whether the Senate can expect an ABS-CBN franchise bill to be transmitted.
Franchise bills, like the revenue and appropriations measures, have to emanate from the House of Representatives.
Mr. Drilon, however, said ABS-CBN has to cease operations if Congress fails to grant the 25-year extension.
"They need a franchise to operate," he said in a separate briefing, Tuesday. — Vann Marlo Villegas, Genshen L. Espedido and Charmaine A. Tadalan