Home
Editors' Picks
To combat sedentarism and lockdowns, people are turning to exercise videos — fitness app
To combat sedentarism and lockdowns, people are turning to exercise videos — fitness app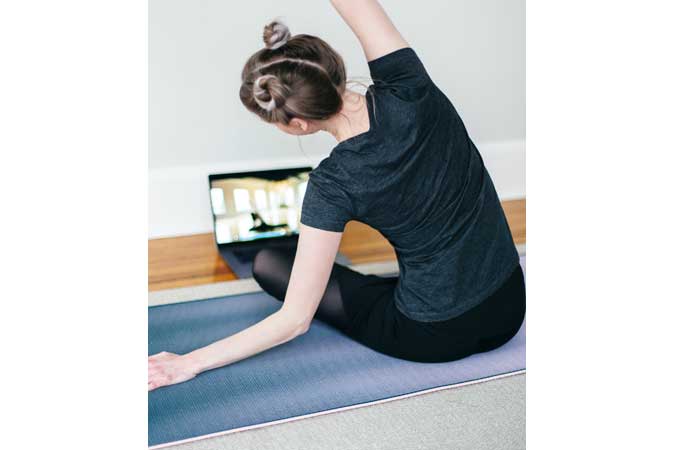 LIMITED OPERATIONS of gyms and fitness studios have made Filipinos more comfortable with working out at home, according to Rebel, a Filipino health and fitness app that conducted a home fitness survey in June within its social media community. 
The pandemic itself has made people more mindful of their health, motivating them to find ways to keep fit at home.  
"Waves of fitness and health, the level of intensity, comes and goes, but the one thing I see now, or the one thing I anticipate, is the baseline — people won't let themselves go as much anymore — and the baseline will start to be higher. They're well aware of the fact that this is for your health, this is something you need to do," said Vince Velasco, a Rebel trainer and fitness instructor, in an interview with BusinessWorld. "Aside from the social aspect of it, people are realizing how important it is, how valued it is." 
The fitness app's survey of 700 respondents showed that 40% choose to work out at home for safety and convenience while 38% do it to focus on their overall health and well-being, an awareness brought about by fear of the pandemic. Meanwhile, 35% of respondents revealed that they did not really exercise prior to the pandemic, but now work out regularly. 
"Everybody sees the potential for growth in the fitness and health industry. Because of the pandemic, a lot of people are shown the reason why people work out. You have to stay healthy. You have to stay in good shape or form," said Mr. Velasco. "It's not about the six-pack abs. It's making sure we're all healthy." 
Lifestyle-related diseases, for example, can be partially addressed by staying fit, according to Dr. Linda L. Varona, a lifestyle medicine specialist and director of medical education at Adventist Medical Center. 
"Let's do a lifestyle check this pandemic… is it truly a life style, or a dead style?" she asked a recent webinar organized by the Philippine College of Physicians. 
The World Health Organization has even tagged sedentary lifestyles as responsible for non-communicable diseases, or diseases that are the result of a combination of genetic, physiological, environmental and behavioral factors.  
In the Philippines, where 28% of the population has high blood pressure, the cost of remaining unaware of one's condition could lead to medical emergencies like a stroke, setting back individuals approximately P17,141.50 in public hospitals. 
Biking, yoga, and outdoor boxing have experienced a resurgence when and where these activities are allowed, said Mr. Velasco. Given the quarantine and restrictions that continue to limit physical mobility in the country, he observed that Filipinos have had to adapt by finding new routines.  
Rebel's fitness survey showed that almost half of the respondents (42%) prefer on-demand videos that they can watch in their own time while 27% of those surveyed prefer live, online classes — the closest thing to group fitness sessions. 
"Some people haven't actually maximized home workouts since they hopped onto the programs late. Other people are in and out. Others only got workout equipment in maybe the last two or three months," said Mr. Velasco, of the natural ebb and flow of fitness as a trend. Those who have already invested in home equipment and health apps for their routines, he added, find it easier to jump back into it. 
"People are realizing the overall lifestyle change. It's not just mentality, health, or wellness because all of these things will go hand in hand. Hopefully, when all of this is over, wouldn't you want to step back into the world again being your best self and not having to start over again?" said Mr. Velasco. — Brontë H. Lacsamana with Patricia B. Mirasol