RCBC net profit rises to five-year high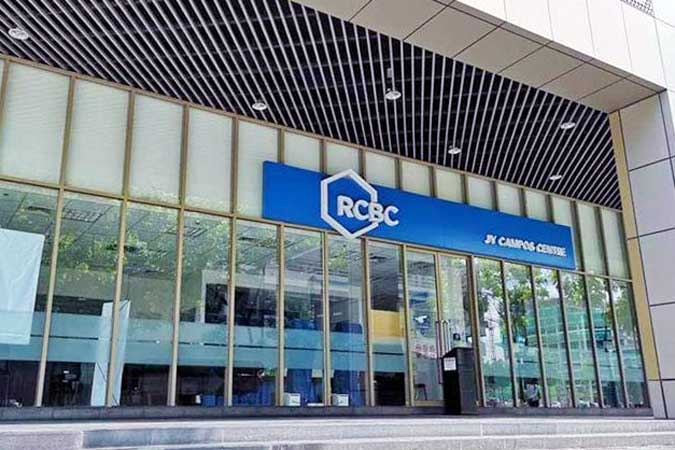 RIZAL COMMERCIAL Banking Corp. (RCBC) booked a five-year high net income of P7.083 billion in 2021 following the improved performance of its core businesses and the normalization of its loan loss provisions.
The lender's net income rose by 41.1% from the P5.02 billion it booked in 2020, based on a presentation by RCBC Corporate Planning Head Ma. Cristina P. Alvarez on Tuesday. She said the bank's 2021 net income was highest in five years.
This translated to a return in equity of 6.7% in 2021 from 5.5% in 2020, while return on assets was at 0.8% from 0.7%.
In the fourth quarter alone, RCBC's net income increased by 71.6% to P1.745 billion from P1.017 billion a year earlier.
"From the start of the year, the bank never lost focus on its view on the country's ability to return to an acceptable growth trajectory," RCBC Senior Executive Vice-President and Treasurer Horacio E. Cebrero III said at the same briefing.
The bank's net interest income rose by 9.7% to P28.831 billion in 2021 from P26.281 in 2020. Net interest margin stood at 4.1% from 4.3%.
"Higher volume of loan and treasury assets, coupled with lower funding costs, propelled net interest income higher," Ms. Alvarez said in her presentation.
Meanwhile, fee income improved by 6.7% year on year to P4.941 billion in 2021 from P3.829 billion in 2020.
"Another notable increase came from service fees as underwriting activities in the capital markets picked up relative to the previous year," Mr. Cebrero said.
RCBC's loans and receivables rose by 13% to P508 billion as of end-2021 from a year earlier.
Ms. Alvarez said the bank's loan growth of 12% is faster than the 5% industry average.
"Data analytics contributed to this expansion, unlocking opportunities for customer acquisition and cross selling," Ms. Alvarez said.
She said their loans extended to top conglomerates increased by 20%, while small- and medium-sized enterprises accounts rose by more than three times. She added there was a 51% increase in credit card issuances while ensuring they are extending financing for clients with better credit profiles.
"With the review and strengthening of our credit models and the level of provisions that we have set aside, we are confident that the lending to the sectors that we choose will bring about positive results in the coming year," Mr. Cebrero said.
As of end-2021, net nonperforming loans (NPLs) held by RCBC stood at P18.3 billion. This brought the NPL ratio to 3.3%, inching up from 2.9% mainly due to the rise in bad loans from their consumer segment. 
The bank's loan loss reserves went down by 35.5% year on year to P6.048 billion from P9.375 billion.
RCBC Head of Credit Management Group Benett Clarence D. Santiago said loan delinquencies since the second half of 2020 have been generally within expectations. He said they expect the bank's nonperforming loan (NPL) ratio to be below 4% by the end of 2022.
"We basically feel the NPL has peaked. Provisions moving forward will basically be driven by just business as usual type of delinquencies," Mr. Santiago said.
"Part of our NPL reduction plan for the whole year is as we start building in traction on all of those that we have helped through the crisis in terms of loan modification as we get traction in their payments, which has started already," he added.
Meanwhile, operating expenses increased by 2.2% to P22.535 billion from P22.045 billion in 2020.
Ms. Alvarez said they are looking to continue to reduce their headcount to lessen operating expenses.
"This came from the rationalization of our branches [because] we reduced branches in 2020. Yes, it will continue to improve and affect the cost-to-income ratio," Ms. Alvarez said.
For his part, Mr. Cebrero said their digitalization efforts will also help bring down expenses in the next years.
"Although we still do not see the decline in our cost- to-income ratio, we do feel that the digitization process in our processes has begun contributing in decreasing costs in various areas on how we do things," Mr. Cebrero said.
Meanwhile, deposits rose to P672 billion in 2021 from P536 billion the prior year, backed by the low-cost current and savings accounts as well as time deposits, which grew by 23% and 28%, respectively.
The bank's capital adequacy ratio and common equity Tier 1 ratio slipped to 15.2% (from 16.1%) and 12.2% (from 12.6%) in 2021, but both remained above minimum regulatory levels.
Amid concerns on the Russia-Ukraine conflict and how it could impact local businesses, Mr. Cebrero said Philippine banks are well-capitalized and will be able to withstand the crisis' possible impact on the financial system.
"The regulators have prepared us for a long time now, for several years, beefing up our capital ratios, making sure that the capital ratios of banks can absorb whatever negative developments happening in the international market," he said.
For this year, RCBC expects the economy to grow by 6-6.5%, slower than the 7.9% target by economic managers. The bank also sees the key policy rate to reach 2.75% to 3% by the end of 2022 from a record low of 2% currently.
The Yuchengco-led lender's shares closed unchanged at P21 apiece on Tuesday. — Luz Wendy T. Noble