Yields on government debt end flat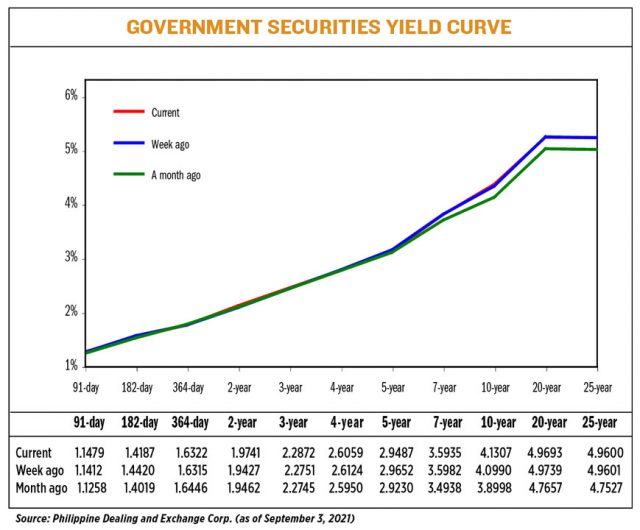 YIELDS ON government securities (GS) ended flat on Friday from their week-ago levels as investors wait for fresh leads.
GS yields inched up by an average of 0.24 basis point (bp) week on week, based on the PHP Bloomberg Valuation (BVAL) Service Reference Rates of Sept. 3 published on the Philippine Dealing System's website.
Yield movements were mixed at the secondary market. At the short end of the curve, the 91- and 364-day Treasury bills (T-bills) inched up by 0.67 bp and 0.07 bp to yield 1.1479% and 1.6322%, respectively. Meanwhile, the 182-day paper saw its rate fall by 2.33 bps to 1.4187%.
At the belly of the curve, the rates of the two- and three-year Treasury bonds (T-bonds) increased by 3.14 bps to 1.9741% and 1.21 bps to 2.2872%, respectively. Meanwhile, yields on the four-, five-, seven-year papers dipped by 0.65 bp (to 2.6059%), 1.65 bps (2.9487%), and 0.47 bp (3.5935%), respectively.
At the long end of the curve, the 10-year T-bonds climbed 3.17 bps to 4.1307%. On the other hand, yields on the 20- and 25-year T-bonds edged down by 0.46 bp and 0.01 bp to 4.9693% and 4.96%, respectively.
"GS yields increased…after the BSP (Bangko Sentral ng Pilipinas) projected a higher domestic inflation for August 2021 [at] between 4.1% to 4.9%. However, the increase was limited as [US Federal Reserve Jerome H. Powell] failed to provide a clear policy guidance on a potential asset taper plan during his speech in the Jackson Hole meeting," a bond trader said in an e-mail.
In a separate e-mail, Security Bank Corp. Chief Economist Robert Dan J. Roces  said yields were flat due to a "lack of local catalysts" and some relief on the back of Mr. Powell's dovish comments. He added that the five-year T-bond auction was "well-received."
Mr. Powell on Aug. 27 said they are not in a hurry to hike interest rates. He also did not hint on a specific timing for their plan to taper asset purchases, although he said they could start by this year.
Meanwhile, BSP Governor Benjamin E. Diokno last week said inflation likely rose by 4.1%-4.9% in August, exceeding the central bank's 2-4% target, as prices of food staples and utility rates rose.
Inflation averaged 4.4% in the first seven months. The BSP expects it to average 4.1% this year.
The Philippine Statistics Authority will release August inflation data on Tuesday.
On the other hand, the Bureau of the Treasury on Wednesday raised P35 billion as planned via its offer of reissued five-year T-bonds, which have a remaining life of four years and seven months.
The notes attracted total tenders worth P76.167 billion, more than twice as much as the initial offer and slightly higher than the P75.72 billion in bids recorded when the bond series was last offered on May 6. The reissued five-year bonds fetched an average rate of 2.746%, dropping by 54.9 basis points from the 3.295% logged in the previous auction.
"Local yields might move slightly higher amid likely strong GDP (gross domestic product) growth reports from Japan and the Eurozone," the bond trader said.
"Domestic yields might also increase from expectations of a higher Philippine inflation report for August 2021. However, the increase in yields might be capped by lingering worries over the global and local COVID-19 (coronavirus disease 2019) situation," the trader added.
The Health department logged 20,019 new COVID-19 cases on Sunday for a 27.5% positivity rate. The country's case tally now stands at over 2.08 million, with 157,438 active infections.
COVID-19 infections in the country crossed the two-million mark after the Health department reported 14,216 more cases on Wednesday. — Lourdes O. Pilar