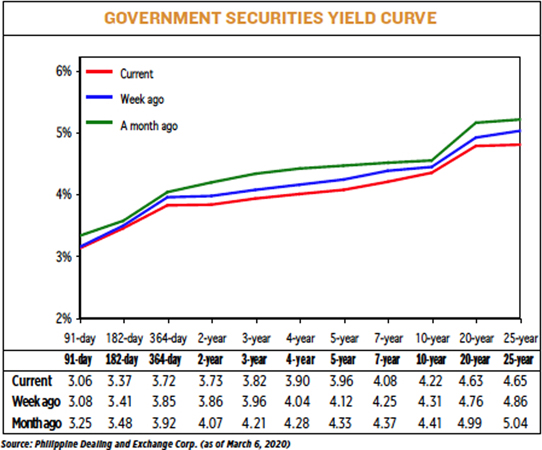 By Mark T. Amoguis
Assistant Research Head
YIELDS ON government securities (GS) declined further last week after the US Federal Reserve implemented an emergency half-percentage-point cut to its key rates to counter the impact of the spread of the coronavirus disease 2019 (COVID-19).
Bond yields, which move opposite to prices, decreased by a week-on-week average of 12.3 basis points (bps), according to the PHP Bloomberg Valuation Service Reference Rates as of March 6 published on the Philippine Dealing System's website.
"Local yields declined from the impact of the unexpected 50-bp cut of the US Federal Reserve. This decline was also amplified by market expectations of more policy easing from the Bangko Sentral ng Pilipinas (BSP) and other various central banks abroad," a bond trader said in an e-mail interview.
The trader added that the weaker-than-expected February inflation also "provided strong downward pressure" on GS yields."
Meanwhile, another bond trader said this decline in yields was still due to COVID-19 and its effect on the global growth outlook.
"[Bond] prices were pretty much steady already after the CPI (consumer price index) result as market took it as an opportunity to take profit," the second trader said in a mobile phone message.
Last Tuesday, the Fed trimmed its key rates by 50 bps — largest cut in more than a decade — to a target range of one percent to 1.25% in an unscheduled meeting to shield the world's largest economy from the impact of the COVID-19.
This action was ahead of the scheduled Federal Open Market Committee meeting from March 17 to 18.
BSP Governor Benjamin E. Diokno said last week the Monetary Board (MB) will not have an off-cycle meeting to cut interest rates.
Mr. Diokno also said the recent Fed cut and the February inflation data, among others, will serve as inputs for the MB policy meeting on March 19.
He said earlier last week another 25-bp cut is on the table for this year, adding that they will reassess the impact of the COVID-19 on the economy during the MB meeting.
Last month, the BSP chief said he's not ruling out a cut worth 50 bps or 75 bps this year.
Current policy rates range from 3.25% to 4.25%, with the key rate at 3.75%.
Meanwhile, headline inflation eased to 2.6% in February from 2.9% in January and 3.8% in February last year amid softer prices of food and non-alcoholic beverages and nonfood items, the Philippine Statistics Authority reported on Thursday.
The February inflation print missed the three percent median estimate in a BusinessWorld poll, but was within the 2.4%-3.2% forecast range given by the central bank.
For the year, inflation settled at 2.8%, within the central bank's 2-4% target range and below the revised three percent forecast for the full-year 2020.
There now are more than 100,000 confirmed cases of COVID-19 around the world with close to 3,300 reported deaths.
The Philippines now has six confirmed COVID-19 cases, the Health department announced over the weekend.
Yields on benchmark tenors declined across-the-board last Friday from their week-ago levels with the three-month, six-month, and one-year Treasury bills decreasing by 1.8 bps, 4 bps, and 12.7 bps, respectively, to yield 3.058%, 3.367%, and 3.719%.
The belly of the yield curve likewise fell as the two-, three-, four-, five-, and seven-year Treasury bonds dropped 13.2 bps, 13.2 bps, 14.2 bps, 15.9 bps, and 16.5 bps, respectively, to end at 3.731%, 3.824%, 3.895%, 3.958%, and 4.084%.
At the long end, yields on the 10-, 20-, and 25-year papers went down by 8.8 bps, 13.2 bps, and 21.4 bps, respectively, to 4.221%, 4.631%, and 4.65%.
Traders see GS yields further trending lower this week as markets expect central banks abroad to slash their interest rates.
"Local yields might continue to head south amid possible resurgence of safe-haven demand due to expectations of weaker economic growth from Japan and the euro zone," the first bond trader said.
"Furthermore, increasing market views of further monetary and fiscal policy easing abroad are also expected to drive down bond yields," the trader added.