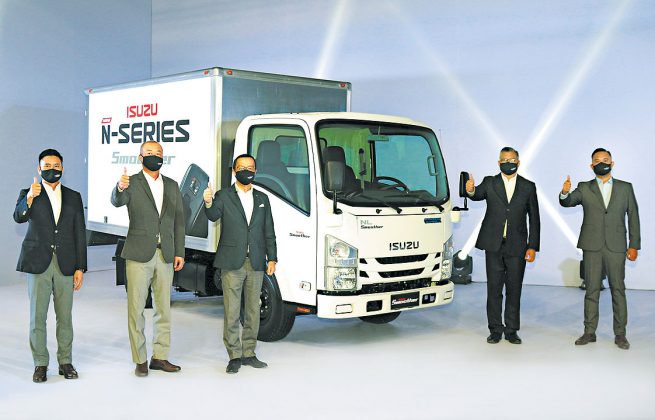 Isuzu Philippines wants sweet-driving trucks to be the norm
IT'S ALL IN the name: the new, Isuzu N-Series Smoother. It's the latest product offering from Isuzu Philippines Corp. (IPC) in the light-duty truck segment — an N-series truck that uses a special transmission that enables it to be driven clutch-free like an automatic, while still maintaining the fuel efficiency of a manual.
This best-of-both-worlds scenario is made possible by its so-called automated manual transmission (AMT) technology — an intelligent gearshift system which has already been used widely in Japan over the last 10 years!
Basically, the truck driver's job is made relatively easier via the elimination of the clutch pedal — offering him, instead, two-pedal operation that leaves less room for shifting inaccuracy or mistakes.
The truth is, truck drivers usually have to work long hours; a simple change like this may significantly reduce driver fatigue in the long run. Less driver mistakes also mean less mechanical stress on the vehicle, and ultimately, less cost to the company (in the form of reducing maintenance costs and truck downtime). The absence of a clutch pedal also means one less part of the vehicle to break.
IPC President Hajime Koso shares, "In the Philippines, trucks are maximized and utilized almost at 24/7 operations. And with the increasing demand for delivery, especially in logistics, truckers deal not just with the increase in their operation expenses — particularly fuel and maintenance — but also the need for more professional drivers, which has become quite a problem. So, we thought, why not make our next truck address all these challenges and more?"
Therefore, the mantra of Isuzu's new N-Series truck is to provide "smoother" business operations alongside a "smoother" driving experience for its drivers. And to further supplement with driver niceties, the new N-Series Smoother now also includes a tuner radio with a USB port, two speakers, a built-in charger port, reclining seats, centralized door locks, and a cab tilt warning system. The cab is now also equipped with power windows.
Mr. Koso adds, "Being the number-one truck brand in the country, Isuzu's success comes from working closely with our customers, assessing their every need, and coming up with the best business solutions in every step of the way."
Powering the new Isuzu N-Series Smoother is a 3.0-liter Blue Power diesel engine that can spit out a maximum power of 124ps alongside 354Nm of torque. Its transmission is a six-speed AMT. Of course, being an Isuzu N-Series, it can be fitted — as the model is well known for — with various body applications. For example, it can be customized as a refrigerated van, a dump truck, a fire truck, an aerial platform, or a tanker, among other applications.
The declared three main pillars of the Isuzu N-Series Smoother are: 1) It is easy to drive, since two pedals mean less complications; 2) It is generally economical, because the transmission promotes fuel efficiency and the absence of a clutch means one less part to maintain; and 3) It relatively improves safety because it allows the driver to focus his attention onto the road, without having to think about shifting gears.
And the good news is that the Isuzu N-Series Smoother is now available in all Isuzu dealerships nationwide. Pricing may be viewed via their website www.isuzuphil.com.