Aid for boat repairs urgent need for Leyte fisherfolk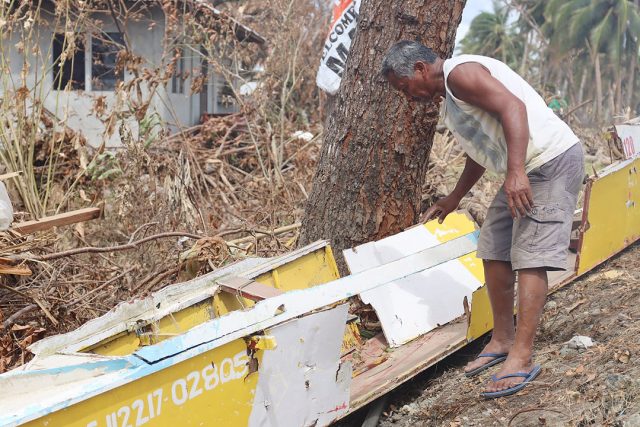 FISHERFOLK in Leyte's coastal communities are in need of aid to repair their boats battered by typhoon Odette so they can immediately resume livelihood activities, the fisheries bureau's regional office said following on-site damage assessment that started Dec. 21.    
"Who and where do we turn to for help? A little help will still be a great help for us to go back fishing. We will be truly grateful to whoever can provide assistance to us," 58-year old fisherman Jojo Leña told teams from the Bureau of Fisheries and Aquatic Resources-Eastern Visayas (BFAR-8).   
Mr. Leña's three bancas, or dugout canoes used for small-scale fishing, were damaged by the strong winds and rain brought by typhoon Odette, with international name Rai.   
BFAR-8, in a press release on Friday, said several of the fishermen have temporarily turned to construction work for damaged houses as an alternative income source.   
"To date, materials for boat repair and construction are being transported by the multi-mission offshore civilian patrol vessels of the BFAR to provide temporary assistance to several fisherfolk communities," the regional office said.   
Additional materials and other fishery-related interventions will be prepared after the damage assessment report is completed by end-December.   
"This on the ground assessment will provide the Bureau with the quantitative information on the overall value of the destroyed assets of the fisherfolk communities in the said covered areas, which will then enable the Office to determine the appropriate, immediate and practical short-term and long-term disaster financing necessities and assistance for the typhoon victims," it said.   
The Eastern Visayas economy contracted in 2020, with gross regional domestic product at -7.6% from a growth rate of 5.6% in 2019.   
The region, which was the worst hit by super typhoon Yolanda (international name: Haiyan) in 2013, has been posting positive growth rates since 2014.  
National Economic and Development Authority Regional Director Bonifacio G. Uy, in his statement during the economic performance report in April, said the coronavirus pandemic disrupted the "growth momentum," with most sectors posting a decline.   
"The agriculture, forestry, and fishing grew but at a slower pace of 0.9 percent from 2.1 percent a year ago as significant cuts on the production value of commercial fisheries and aquaculture were noted," he said.  
"Weather disturbances, coupled with the intensified law enforcement activities, have led to this downturn. Moreover, the partial and at least two months of almost total closure of operations in the restaurants, hotels, and other food and food-processing establishments removed a key market for farmers and fishers, which dampened agri-fishery production," he said.   
BFAR-8, which set up eight emergency operations sites across the region for the assessment teams, is also accepting donations of food, drinking water, clothes, and hygiene kits for the coastal communities. The office may be contacted through mobile numbers 09704508876 or 09263677328. — Marifi S. Jara