Sustaining the Philippine mining industry under balanced interests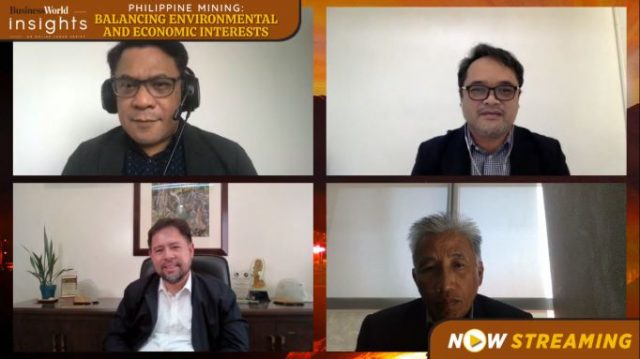 Opportunities can be maximized if miners are backed by improved policies, mining industry leaders agree
By Adrian Paul B. Conoza, Special Features Assistant Editor
Amid a gradual move towards economic recovery in the 'now normal', as well as a greater call for sustainability among businesses, how does the mining industry aim to move forward and further harness the country's mineral riches?
Last July 7, during a BusinessWorld Insights forum, themed "Philippine Mining: Balancing Environmental and Economic Interests," representatives from private mining players and organizations shared how the industry can help in stabilizing the economy through further maximizing the country's mineral resources while ensuring sustainability in the environments and communities they work in.
Atty. Ronald S. Recidoro, executive director of the Chamber of Mines of the Philippines (COMP), stressed that the Philippines has a great mining potential, which can yield large revenues if properly developed.
Mining companies have shown themselves to be pandemic-resilient, able to operate with minimal risk of infection and under self-contained environments, Mr. Recidoro noted. "Mining did not just survive during the pandemic; it thrived," he said.
Among mining's potential, COMP's executive director shared, are creating raw materials needed for future industrialization as well as its indispensability to a green future.
"Electronic vehicles, batteries, solar panels, wind turbines, all these green technologies will require space-age materials and metals which can only be extracted through mining," he explained.
Mr. Recidoro also shared estimates from Mines and Geosciences Bureau which states that the country's mineral endowment for copper, gold, nickel, chromite is at around US$ 1.4 trillion or over P60 trillion; while over US$ 5 billion were gained in exports in 2020, equivalent to over 6% of the country's total exports. Miners also paid over P25 billion in taxes, fees, and royalties.
"If [our minerals stay] underground, it has very little value," he reiterated. "It's better if we extract it responsibly and use the benefits and revenues of mining to leapfrog our economy forward."
In addition, Atty. Dante R. Bravo, president of Global Ferronickel Holdings, Inc. (FNI) and president of Philippine Nickel Industry Association (PNIA), shared that the Philippine nickel industry posted 4% production growth and 18% increase in export value year-on-year amid the current pandemic.
"Looking at the broader performance of the industry, the members of the PNIA supply approximately half of the 2020 nickel production and 31% of total production from January to March 2021," he added.
The PNIA president noted that new mining projects, once rolled out, can promote employment, as well as contributions in tax and exports, which together can help boost the economy.
"The mining industry definitely can be one of the important drivers of the economy, and they can provide a lot of employment and taxes to the government without sacrificing the environment," Mr. Bravo said.
Engr. Eulalio B. Austin, Jr., president and chief executive officer of Philex Mining Corporation, spotted the growth of demand for copper and gold since the pandemic. "We would be losing out in a voluminal opportunity if we do not hinge ourselves to this bandwagon," he said.
He added that products such as copper cathode and copper concentrates, which Philex Mining's Silangan project produce, will be delivered overseas, contributing to the country's exports and so translates to revenue for the country.
In light of these potentials, however, where does sustainability fit in? Mr. Austin noted that mining does include environmental interest in the picture.
"Contrary to popular belief, balancing economic, environmental, and social interests in mining is not a difficult task," the Philex Mining CEO said. "In fact, there shouldn't be much of a balancing act at all because they are all one and the same."
Concerns on IPs, environment
On addressing issues concerning indigenous peoples (IPs) living in communities where mining projects take place, the panel noted that the Indigenous Peoples Rights Act or IPRA Law, together with corresponding guidelines from the National Commission on Indigenous Peoples, should be sufficient in protecting the rights of such residents.
"Under that law, indigenous peoples have primary rights over mineral resources under their ancestral domains, which means mining can't take place without their free and prior informed consent," Mr. Recidoro of COMP reminded, adding that the law gives them the guarantee to have a share in mining revenues as well as the power to enumerate projects they would like the mining company to provide them in their communities.
IPs, he continued, should be "capacitated on how they can better take advantage of their royalties" so that the benefits they receive would be enough to ensure the health and welfare of their communities even after the mines within their premises have closed.
In addition, Mr. Bravo of PNIA suggested that there should be "extra effort in determining which are considered ancestral domains."
In terms of serving environmental interests, Mr. Bravo notes that existing legislation, particularly the Mining Law, provides safeguards to protect the environment, among them undertaking environmental protection and enhancement programs and creating a mine rehabilitation fund. There are also best practices, accrediting measures, and framework improvement efforts being initiated by COMP.
"It's not an overnight process, we expect this to continue developing and improve," he said.
Policy changes
A key agreement from the panelists is that while recent regulations such as Executive Order (EO) 130 are commendable, there must be key policy changes.
EO 130 was signed last April 14, lifting the nine-year moratorium on new mineral agreements and allowing the government to review existing mining deals for possible renegotiation.
"The passage of EO 130 is the right policy, and if it's going to be coupled with policies that are supportive of this one, it's the right direction," Mr. Bravo said.
The PNIA president suggested that the government has to be open in giving incentives to major mining projects. "The incentive has to be stable and cannot be changed midway since it is going to affect the viability of the project," he said.
For Mr. Recidoro, meanwhile, there should be a "clear and consistent mineral development policy from the government, much more than just the lifting of the moratorium that EO 130 provides", as this will help stimulate growth in the sector.
"Local government units (LGU) must toe the line by harmonizing national laws and recognizing mining permits issued by the DENR (Department of Natural Resources). The fiscal regime for mining must also be finalized… to assure investors of a safe regulatory and fiscal regime. Environmental, social, and governance standards for operating mines must also be improved and implemented," he explained.
Agreeing with the COMP chief, Mr. Austin of Philex Mining has harmonizing national laws with LGU ordinances among his recommendations. "While the national law allows mining, there are LGUs that issue resolutions saying no to mining in their provinces," he observed.
Mr. Austin also recommends harmonizing IPRA Law with the Mining Law, as there are existing "conditions there that are not prudent or acceptable to both IPs and operators", as well as lifting the constitutional provision to restrict foreign ownership on mining in order to attract more investors.
Connecting mining and manufacturing
The panel also pointed out that much has to be done to connect mining and manufacturing industries, which can bring further potential once it is done.
To enable such connection, Mr. Austin said, downstream industries of mining should be developed. "[Copper cathodes] should not be shipped out. It should be used in the country to generate copper wires and other copper products," he explained as an example.
Mr. Recidoro also observes a lack of domestic markets for mining products. Apart from the central bank, he explained there are no domestic markets for the volume of gold that the country can produce. There are also no local steel manufacturers that can take up nickel ore and convert it to metal.
While a copper smelter in Leyte exists, he added, most copper concentrates are exported overseas. "On the other hand, our copper cable manufacturers import their copper overseas, and the steel manufacturing plants in Iligan and Bulacan would mostly rely mostly on imports and recycled iron to make their steel bars."
Once mining and manufacturing get connected, the country can expect to gain more value from the minerals that it produces, Mr. Recidoro pointed out.
This session of #BUSINESSWORLDINSIGHTS is supported by Nickel Asia Corp.; partner organizations British Chamber of Commerce Philippines, Bank Marketing Association of the Philippines, Management Association of the Philippines, Philippine Association of National Advertisers, and Philippine Chamber of Commerce and Industry; with media partner The Philippine STAR.