PHL stocks may move sideways as elections near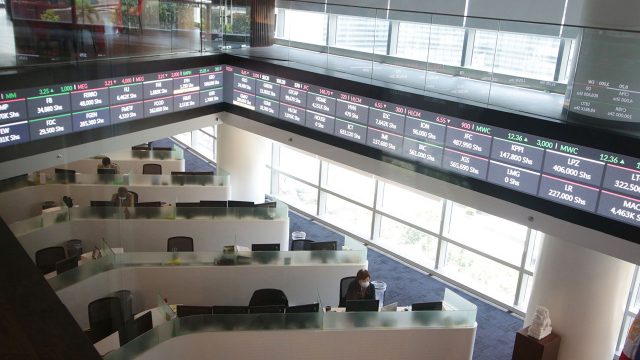 SHARES may move sideways on increased spending ahead of the national elections on May 9 and rate hike fears due to hawkish statements from the US Federal Reserve's chief.
The benchmark Philippine Stock Exchange index (PSEi) declined by 62.90 points or 0.89% to close at 6,998.59 on Friday, while the broader all shares fell by 30.94 points or 0.82% to 3,721.60.
Week on week, the PSEi inched up by 13.69 points from its finish of 6,984.90 on April 13.
"We expect the PSEi to trade higher this week, boosted by election-related spending as the campaign season draws to a close," RCBC Securities, Inc. Head of Research Erwin Rommel C. Fuentes said in a Viber message.
"Elections will still be the main concern of investors moving forward. Few days left before the election day, but uncertainty is what most investors see as Ferdinand 'Bongbong' R. Marcos, Jr. continues to lead on the surveys," Mercantile Securities Corp. Analyst Jeff Radley C. See said in a Viber message.
Mr. Marcos kept his lead in Pulse Asia's latest presidential opinion poll even after his rating fell.
Pulse Asia said 56% of Filipinos would vote for the former senator, 4 percentage points lower than his February rating.
Vice-President Maria Leonor "Leni" G. Robredo, whose rating rose by nine points to 24%, kept her second-place lead.
"Sentiment has been slightly tilted to the downside over the past few weeks [and] arguably, months, ahead of a speculated landmark 50-basis-point rate hike by the Fed in early May," 2TradeAsia.com said in a report.
The online brokerage said this would lead to higher yielding assets but a less attractive equities market.
"The silver lining is that local rate hikes are not to tango 1:1 with the Fed's, which means the ripple effect should be cushioned in favor of equity holders," it added.
"High inflation driven by the Russia-Ukraine conflict and COVID-related shutdowns in China remain a key risk as central banks, including the BSP, signal the end of accommodative monetary policies," RCBC Securities' Mr. Fuentes said.
A half-point interest rate increase "will be on the table" when the Federal Reserve meets on May 3-4 to approve the next in what are expected to be a series of rate increases this year, Fed Chair Jerome Powell said on Thursday in comments that pointed to an aggressive set of actions ahead, Reuters reported.
With inflation running roughly three times the Fed's 2% target, "it is appropriate to be moving a little more quickly," Mr. Powell said in a discussion of the global economy at the meetings of the International Monetary Fund.
For the coming week, Mercantile Securities' Mr. See said market sentiment is leaning towards bearish.
Meanwhile, 2TradeAsia.com placed the PSEi's immediate support at 6,900 and resistance between 7,100 and 7,200. — Luisa Maria Jacinta C. Jocson with Reuters